A NOTE FROM CHRISTINA:

Been busy these last few weeks fulfilling fall courses as well as coaching various private clients with their outer and inner work.

As I wrote about last issue, the 2015 cohort of Visual Coach Certification is rapidly coming down the finish line as they complete requirements for coaching their own clients via visual means.
Very gratifying to see this international group develop their visual coaching skills and integrate them into their own unique practices. And tackle the new technological advantages that us Visual Coaches now have at our disposal ... if we are willing to jump in and bear with an additional learning curve.



Fifteen years ago I was imagining how nice it would be technology-wise to have tools where my distance clients could have the same level of interactivity with the coaching visuals that my in-person clients did ... and now those tech tools exists!

It's sooooo worth it to get interactivity into our virtual/distance work. Amazing times we are living in! Takes Visual Coaching to a whole new level of flexibility and range.
Talking about interactivity ... the fall online cohort of Fundamentals of Working Visually is rapidly approaching their completion too, with 16 out of 18 online webinars completed.

I'm always delighted with the rapid progress of those who apply themselves in this heavy-duty skills course. This course is not for the weak of heart as it's intensive ... as I seriously challenge the participants to jump in and try all four ways of working visually. It's real, functional process work not just doodling.
I'm happy to report that this cohort has done that in spades and the leaps in development are a joy to behold! Join us next season if you are intrigued, as I've got both online and in-person coming up next season.
I've also been holding down the fort on the new Practical Energy Work course ... brand new course that kicked off last month. We take a break over the holidays and return in the New Year. So far we've created a common framework around energetic basics and have begun to dive into Law of Attraction concepts and techniques. Next comes trauma awareness, frequency/brain wave management and other juicy stuff.

It's hard work (the creation of a new course always is) however I'm REALLY enjoying the challenge of teaching out this content that I've been personally swimming in for years. This topic is a bit out there for some of my clientele, however, I gotta go there because it's authentic for me and what is happening in my journey.
Being authentic is something I'm increasing reassuring my coaching clients that they can do too if it's their desire to also stretch the range of their own services. And there are ways to do that in safe, doable steps rather than in one gigantic jump. Sooooo this is the topic that I've decided to write this issue's article on ... for several clients who desire to expand their work/identity/brand but are a tad concerned about how to go about doing that in a smooth way.
Yours in SHIFTing IT,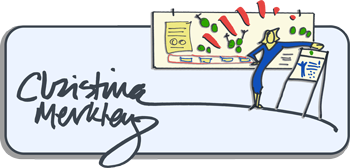 The SHIFT-IT Coach
& Process Skills Mentor
I DON'T THINK I'VE EVER SEEN SUCH AN EFFECTIVE
PROCESS FOR PERSONAL CHANGE AND ACTIVATION.
I CANNOT IMAGINE COACHING ANY OTHER WAY NOW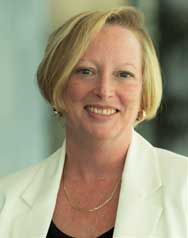 Andrea Gibbons
Change Consultant &
Certified Visual Coach®
"Working with Christina has been a life-changer for me. I've learned new skills and processes, embraced and polished others that had been laying dormant/ unacknowledged/ unappreciated for a long time, gained clarity about who I am, what matters to me and most importantly about how I want to live my life and spend my time.
Confidence was a significant issue for me, as it can be for so many. The support that Christina provides (both in real tangible ways with skill development and the intangible encouragement and belief in me) has been so valuable as I make my personal transition from behind others to stand at the front of the room again. Her courses, her coaching and the people that she brings together are quite simply phenomenal. The connections I've made during the courses I've taken with her are so valuable in the moment and very encouraging.
I resonated with The SHIFT-IT Visual Coaching System® and am now a Certified Visual Coach® so I can use these powerful tools with my own clients. With a background in strategic planning, this process strongly aligns with the principles and activities I'm so used to applying organizationally. Having a process to guide coaching conversations is a fantastic additive for clients to explore their desires, define their goals and purposely activate their chosen path.
The clients that I've used SHIFT-IT with just love it! Having a visual record of their sessions is hugely valuable. Clients have posted their maps in their homes as daily reminders ... one even made screen savers for her phone and computer! And wow – people make such rapid, significant shifts in thinking and feelings with massive change in such a short period of time with this process ... it's actually awe-inspiring. I don't think I've ever seen such an effective process for personal change and activation. I cannot imagine coaching any other way now. And it's a flexible system that allows me to customize to specific client needs and desires too.
I am living a purposeful, authentic and aligned life and I'm excited and grateful to be doing this work. And Christina – her presence, coaching and courses - has been a big part of my ability to realize my goals. Christina's talents and skills are outstanding - and her desire to support others in their development is a model for me in my work."
Andrea Gibbons
Change Consultant & Certified Visual Coach®
Vancouver, British Columbia, Canada
SHIFT-IT School: Classes, Products & Mentoring
In order to help you get organized for your training and development needs in 2016 I'm giving you an advanced heads up that we will be running a New Years event January 1 - 5, 2016. Upcoming courses (all the ones listed below), private training and private coaching are included. Treat yourself to quality training, coaching and mentoring to advance your professional and personal goals in 2016.
Stay Tuned: More Info Coming January 1st!
Get Clarity & Change in Work and/or Life:
SHIFT-IT ONLINE®
Online Class Supported By Visual Coaching Tools
Ready to get what you want?! My signature coaching group - gets you what you next want in your personal and/or professional life. You develop a crystal clear vision, unravel your resistance ... and rapidly SHIFT your world. Real-world strategic planning coupled with leading-edge energy alignment --- all in my innovative 'Visual Coaching' style. Join this supportive community with other like-minded SHIFTers from across the globe. The SHIFT-IT Home Retreat Kit® with 17 visual maps is included, plus handy Repeater Option for those joining us for your next round of manifestation!
Secure Your Space Now!
7 Weeks Online: Feb. 6 - Mar. 19, 2016
Live Webinars: Saturdays, 10-11:30 a.m. Pacific
Full Details and Online Registration
Note: Pre-requisite for Visual Coach Certification. FYI, Repeater Option available for those who have taken this program before and are ready for your next shift.
For Beginners Or Repeaters:
FUNDAMENTALS OF WORKING VISUALLY®
Visual Skills for Process Work with Groups and Individuals
This professional skills training (fully online) thoroughly covers the four main ways of working visually: Studio Work, Graphic Recording, Graphic Facilitation and Graphic Coaching. Over 87% of your consulting, facilitation, training, teaching and coaching clients are Visual Thinkers - these powerful visual skills boost the effectiveness of how you work with groups and/or individuals. This is the online version of my popular fundamentals training (no travel required). Attracts folks from across the English-speaking world - your Visual Tribe! Fully recorded, if you miss classes or want to watch at a time more convenient for you.
Currently on Early Bird

ONLINE VERSION VIA LIVE WEBINARS:
9 Weeks Online: Feb. 22 - Apr. 27, 2016
Live Webinars: Mondays & Wednesdays, noon-1pm Pacific
---
Currently on Early Bird
IN-PERSON VERSION:
3 Day Intensive: June 2-4, 2016
Beautiful Victoria, British Columbia, Canada
Full Details and Online Registration
Note: Pre-requisite for Visual Coach Certification. FYI, Repeater Option available for those who have taken this program before and desire another round.
For Process Professionals Who Work With Individuals:
2016 VISUAL COACH CERTIFICATION®

10-Weeks Online: April 5 - June 14, 2016
Tuesdays Noon-1:30 pm Pacific

For coaches, counselors, therapists and others who work deeply with individuals. Add the power and innovation of Visual Coaching to your professional practice. Includes advanced Visual Coaching techniques, use of my SHIFT-IT System® with your clientele (17 visual maps), guidance in the 'template-izing' of your own intellectual property, plus marketing and biz development support.


New 2016 Cohort Forming
Apply Now!
Two Pre-requisites: SHIFT-IT Online and Fundamentals of Interactive-Visuals (or equivalent experience).
For Visual Keeners:
MAGIC MARKER RETREATS ®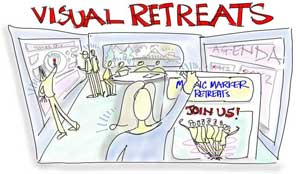 Getting your visual basics is half the equation - the other is competency and creation of a viable practice (whether you are internal or independent). This 2-day Boot Camp takes your visual practice to the next level: chock full of at-the-wall drills, project brainstorming (bring work for feedback and ideas), and identity/brand/financial coaching. Work your brain, your fingers and dissolve your resistance, all in deep community with Visual Practitioners.
Just 5 Spots Left
IN-PERSON:
2 Day Intensive: June 6-7, 2016
Victoria, British Columbia, Canada

Full Details and Online Registration
Note: Pre-requisite is Fundamentals of Working Visually (or equivalent experience).
FEATURED ARTICLE:
THEY ARE CONCERNED ABOUT BEING THEIR REAL SELVES ... HOW ABOUT YOU?!
To Listen Or Download Mp3 Version of This Article, Click Here.
I have several clients in my practice currently who are dealing with issues of innovation, identity and visibility. About, in essence, being concerned about the practicalities and costs of being their 'real self'. And, given the Law of Attraction (that like attracts like) I too am dealing with another layer of the onion on these issues in my own business and life too.
| | |
| --- | --- |
| Most of these clients come from what could be defined as 'traditional' or 'conventional' backgrounds. They have existed, quite nicely too I might add, as internal employees and/or external contractors performing various types of corporate, government or academic work. | |
They have learned to function very well in these systems however there is a problem that is emerging (or has been for quite some time). The problem is that their fuller self is attracted to things that fall outside of their box. Things that are considered different, unusual or avant-garde for their environments. And they are experiencing cognitive dissonance about how to handle that.
Using Interactive-Visuals:
For several clients it's the use of visuals in their process work. It's hard for me to relate to at times (given I've been successfully using visuals in all kinds of process work for two decades now ... and my mentors have preceded me in the field by another 2-3 decades). However some conservative hold outs for working visually still exist. And my visual skills students who operate in these places go through the sometimes challenging process of being a pioneer in those last bastions on the bell curve.
Pushing the Edges on Process Work:
Other coaching clients of mine have been using visuals for quite some time ... they've successfully navigated those early hurdles of using an innovative medium. Their challenge is that they now want to push the envelope around the kinds of process work that they do. Or the populations that they do it with.
| | |
| --- | --- |
| | For example, several of my private clients are facilitators who are very used to working with groups. They lead strategic planning, team building, change management forums and the like. However their most powerful work is when they work at the deeply personal level with their clients. So they are struggling with how to do more of that and maintain their hard won credibility. |
Authenticity in Retirement:
And, for yet other clients, it's more a matter of having persevered in a traditional environment or role for years and even decades. And retirement is just around the corner or already happened. They will soon be or are now free to pursue 'who they really are' as they put it. No longer having to be a certain way for appearances sake they often are examining lost, suppressed or forgotten aspects of themselves. So they can enjoy their remaining vibrant years as their whole selves.
My Guidance:
Even though these groups vary greatly in terms of their roles, ages and pursuits my overall guidance is ...
ARTICLE CONTINUED ON BLOG ... CLICK HERE TO VIEW
---
For the full SHIFT-IT e-Zine Archives: Click Here
For the full SHIFT-IT Audio Library (mp3): Click Here


Christina Merkley
The SHIFT-IT Coach &
Process Skills Mentor

SHIFT-IT Coach, Inc. is a boutique training and coaching company specializing in visual and energetic process work for groups and individuals. Founded by Christina Merkley, pioneering Visual Facilitator and Coach, she works deeply with individuals, partners and conscious businesses to define and manifest what you really want. Christina also trains Process Professionals from across the globe in her innovative ways of working. For more information visit www.shift-it-coach.com and www.visualcoaches.com.
IN THIS ISSUE:
>>Featured Article:
They Are Concerned About Being Their Real Selves ... How About You?!
---
CONNECT WITH US:
---
BLOG ENTRIES:
Looking for more rich, SHIFT-IT content? Check out my blog for recent ramblings, resources and general interest features:
Visual Coaches Come Down The Finish Line
Practical Energy Work Course: Last Chance to Go Deep With Us
Practical Energy Work: New Online Course Begins This Weekend
New Video: Focus Wheel Process With Visual Map
New Online Course Is Here: Practical Energy Work
A Graphic Tool for Planetary Visioning
Kundalini: What It Is And Why It Matters
Being In The Flow With Visual Process Work
Click here to read The SHIFT-IT Blog.
---
EZINE ARCHIVES:
Browse past issues here.
Listen to the eZine here.


---
PRODUCTS: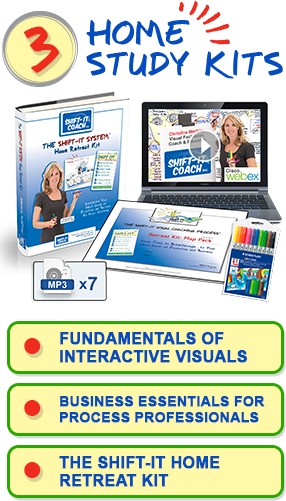 ---
Our Websites:
SHIFT-IT Coach, Inc
www.shift-it-coach.com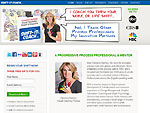 ---
---
Visual Facilitation
www.makemark.com