A NOTE FROM CHRISTINA:

Summer is flowing along nicely here in surprisingly sunny Victoria, British Columbia. This is the time of year that I get to decompress a bit.

Long dog walks with JJ in the mornings before I sit down in front of the computer to get some long awaited research, writing and curriculum development done. Then outside as soon as I can again.

Throw it again, again, again ...
| | |
| --- | --- |
| Victoria, BC, CND: Oct. 1-5, 2015 | I'm doing research (including experiential practice!) with various energy modalities. After the crash and burn with the BodyTalk Association I'm thankfully discovering other modalities and organizations more congruent with my values. Turns out Victoria is hosting the Canadian Energy Psychology Conference in October! |
Bessel van der Kolk is giving the opening speech (just finished his 9 month Trauma Studies program). Plus Donna Eden and David Feinstein will be there. And Joyce Hawkes, who I've been curious about since reading Cell Level Healing. How rare that I don't have to travel for this kind of event. If you are attending too, let me know!
Since I'm right smack in the middle of curriculum development of my new course: Practical Energy Work ... I've decided to write this issue's article about it. At least an overview of how it's shaping up and the kinds of topics and guests I'm including.
I'm getting VERY EXCITED, as it's been a few years since I've launched a brand new course. And, since my kundalini awakened, these topics are really front and center and impacting my work across the board. Helping people to understand and get their energy aligned is what my work is all about at its core!
Yours in SHIFTing IT,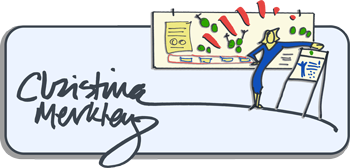 The SHIFT-IT Coach
& Visual Mentor
P.S. Summer Savings Next Week: Pat, Theresa, Elizabeth, Jessica and I (it takes a village!) have been hard at work pulling out various products and services for next week's summer specials. If you have been contemplating one of our Home Study Kits or considering private training or coaching with me then act July 20-25th. Get in on the summer savings now and take up to a year to use the service of your choice!
A GHANAIAN COLLEAGUE ASKED WHEN I WOULD BE
GOING BACK TO SUNYANI SO THEY CAN LEARN MORE
ABOUT VISUAL PROCESSING!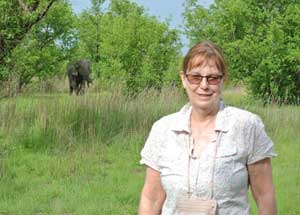 Judy Southwell
Facilitator, Instructor, Trainer
"I have been involved in adult education for 25 years as an instructor, facilitator, and in curriculum design and program development. I really enjoy learning experiences where interactive, reflective and illustration methods are incorporated.
It is an ongoing goal of mine to illustrate confidently, use colour effectively, and instinctively use visual processing methods to interpret and apply information. It was for these reasons that I was drawn to Christina's courses.
I've taken SHIFT-IT Online, Fundamentals of Working Visually, Business Essentials for Process Professionals and, most recently, Magic Marker Retreat.
I enjoyed SHIFT-IT for its comprehensive documentation and helpful templates, and loved using coloured pens and illustrations to bring clarity to the reflective exercises.
Fundamentals of Working Visually was a turning point. It is a really well designed online course. My learning was greatly enhanced through the combo of written materials, weekly lectures, Christina's generous sharing of her knowledge and expertise, as well as the extra time to answer participants' personal questions. Assignments were relevant, and it was fun to participate in the forum where co-learners shared projects and encouragement. I immersed myself--taking my sketch book everywhere (still do!).
Business Essentials was an eye opener, especially with regards to figuring out my ideal clients, potential offerings, a company name and elevator pitch, and how to stay afloat financially. I took this course online and enjoyed taking my time to think about and refine project work. I also thoroughly enjoyed the video interviews with experts and past participants.
Magic Marker Retreat was a super opportunity to gather with other visual keeners in person. It was wonderful to see Christina apply her craft as she drew out classmates to shift and break through resistance. It was remarkable to see the profound insights that occurred.
I have applied visual processing most notably in the planning and implementation of Instructional Skills and Facilitator Development Workshops in Ghana via a CIDA project between Vancouver Island University and a polytechnic in Sunyani.
I designed a pre-workbook (with visual templates), and I also instructed trainee facilitators on how to draw icons and use headings and colour when generating purposeful feedback. Workshop participants took up their new skills with great enthusiasm and applied them really effectively to record feedback on flipcharts and chalkboards. It was also fun to watch the Ghanaian humour unfold through their icons!
A Ghanaian colleague recently asked when I would be going back to Sunyani so they can learn more about visual processing! I'm looking forward to exploring effective applications for visual processing in instructional and other settings in local and international environments."
Judy Southwell
Facilitator, Instructor, Trainer
Nanaimo, British Columbia, Canada

SHIFT-IT School: Upcoming Classes and Events
Coming Next Week!
Five Days Only: July 20-25
Home Study Kits | Private Coaching | Private Training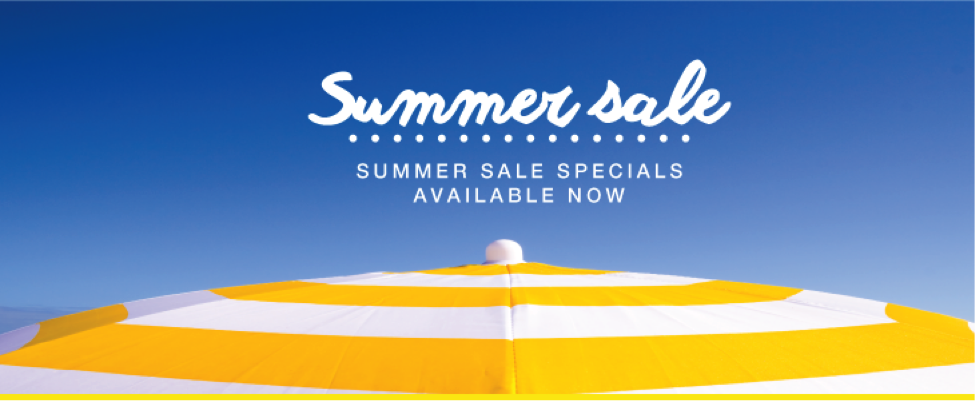 Selected Products and Services: Home Study Kits, Private Coaching, and Private Training. Get now at summer specials and use within one year: until September 2016!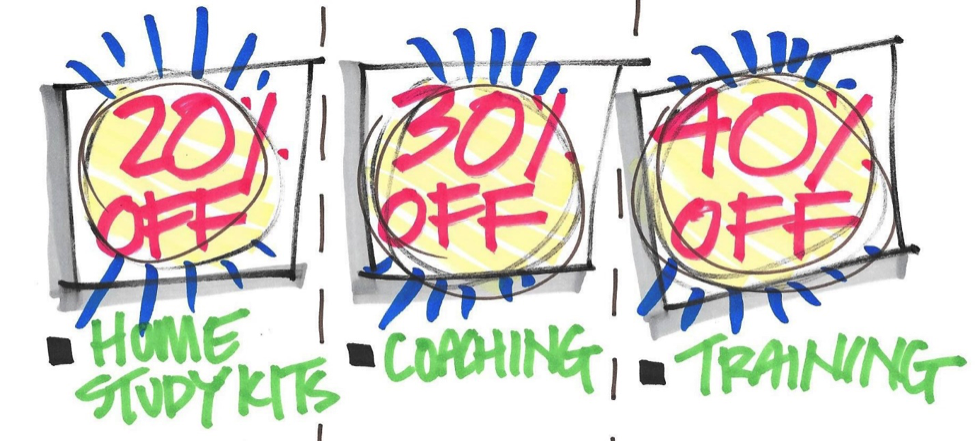 FULL DETAILS RELEASED at 9 a.m. pacific on Monday, July 20th!!!
Get Clarity & Change in Work and/or Life:
SHIFT-IT ONLINE®
Online Class Supported By Visual Coaching Tools
Ready to get what you want?! My signature coaching group - gets you what you next want in your personal and/or professional life. You develop a crystal clear vision, unravel your resistance ... and rapidly SHIFT your world. Real-world strategic planning coupled with leading-edge energy alignment --- all in my innovative 'Visual Coaching' style. Join this supportive community with other like-minded SHIFTers from across the globe. The SHIFT-IT Home Retreat Kit® with 17 visual maps is included, plus handy Repeater Option for those joining us for your next round of manifestation!
Secure Your Space Now
7 Weeks Online: Sept. 19th - Oct. 31, 2015
Video Webinars: Saturdays, 10-11:30 a.m. Pacific
Full Details and Online Registration
Note: Pre-requisite for Visual Coach Certification. FYI, Repeater Option available for those who have taken this program before and are ready for your next shift.
For Beginners Or Repeaters:
FUNDAMENTALS OF WORKING VISUALLY®
Visual Skills for Process Work with Groups and Individuals
This professional skills training (fully online) thoroughly covers the four main ways of working visually: Studio Work, Graphic Recording, Graphic Facilitation and Graphic Coaching. Over 87% of your consulting, facilitation, training, teaching and coaching clients are Visual Thinkers - these powerful visual skills boost the effectiveness of how you work with groups and/or individuals. This is the online version of my popular fundamentals training (no travel required). Attracts folks from across the English-speaking world - your Visual Tribe! Fully recorded, if you miss classes or want to watch at a time more convenient for you.
Early Bird Before August 31st
Live: 9 Weeks Online: Oct. 5 - Dec. 9, 2015
Video Webinars: Mondays & Wednesdays, noon-1pm Pacific
Full Details and Online Registration
Note: Pre-requisite for Visual Coach Certification. FYI, Repeater Option available for those who have taken this program before and desire another round.
Practical Energy Work
Energy Techniques to Productively Clear and Manage
Your Physical, Mental and Spiritual Space
We are multi-dimensional beings with potent energy bodies. Learn powerful methods to effectively manage your energy and maintain a calm, neutral stance in the midst of a rapidly changing world. Each person who raises their consciousness and frequency counts and matters AND impacts the whole. Advanced Law of Attraction principles with an emphasis on Service to Others and following your soul's path. Plus powerful trauma soothing tools to get relief, break negative habitual patterns and actualize your Vision and Mission. For Process Professionals, Lightworkers and others who want to shift individual and collective worlds for the better!
Brand New Course: More Info Soon
Live 10 weeks online: Oct. 17 - Dec. 19, 2015
Video Webinars: Saturdays, 1-2:30 p.m. PST
FEATURED ARTICLE:
PRACTICAL ENERGY WORK
To Listen Or Download Mp3 Version of This Article, Click Here.
As my increasingly silver hair can attest to, I've been a Process Professional for two decades now. And the common denominator for successful Process Work in my opinion, whether with groups or individuals, is POSITIVE and HIGHER ENERGY.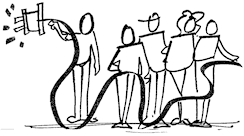 Yes, mine as the process designer and container holder is important (I gotta believe that change is possible and worth pursuing in the clients that I take on). But, MORE importantly my clients need to be PLUGGED IN with a critical mass of tingly energy and belief in order for the desired change to have legs.
Birthing of a New Course: Practical Energy Work
I've been wanting to do a new course on Practical Energy Work, given its paramount importance in life and in Process Work, for a while now. And to update some of my previous teaching with new things I've learned. And I want this new course to be exceedingly PRACTICAL and experiential. Simple and doable things that anyone can easily do without having to rely on outside authority or conditions (cause both are often fickle and it's our internal guidance system that really matters most).
Roots in Energy Work:
I've developed roots in energy work over the years (see Right-Brain Journey for too much info). In addition to my signature SHIFT-IT Visual Coaching System, I've created and lead Advanced Masterminds (centering on business and Law of Attraction principles) and designed and co-hosted programs with a popular Medium/Channel. Along the way studying trauma and learning a methodology called BodyTalk (consciousness based healthcare) to better aid my clients in their energetic shifts too.
It was during the phase with the Medium that my journey with energy took a ...
ARTICLE CONTINUED ON BLOG ... CLICK HERE TO VIEW
---
For the full SHIFT-IT e-Zine Archives: Click Here
For the full SHIFT-IT Audio Library (mp3): Click Here
Christina Merkley
The SHIFT-IT Coach &
Visual Mentor

SHIFT-IT Coach, Inc. is a boutique training and coaching company specializing in visual process work for groups and individuals. Founded by Christina Merkley, pioneering Visual Facilitator and Coach, we work deeply with individuals, partners and conscious businesses to define and manifest what you really want. We also train Process Professionals from across the globe in our innovative ways of working. For more information visit www.shift-it-coach.com and www.visualcoaches.com.
IN THIS ISSUE:
>>Featured Article:
Practical Energy Work
---
CONNECT WITH US:
---
BLOG ENTRIES:
Looking for more rich, SHIFT-IT content? Check out my blog for recent ramblings, resources and general interest features:
Are You Working For Light Or Dark?
Working Visually: The Only Way Out Is Through
The CapStone Marriage: How Millennials Are Changing the Norms of Marriage
What To Do If You've Lost Faith in Your Work, Boss or Clients
Esther Perel Video: Rethinking Infidelity
The Kardashians: And Bruce Jenner's Transition;
Some Strong Voices Expressing Their Truth on Baltimore, etc.
Click here to read The SHIFT-IT Blog.
---
EZINE ARCHIVES:
Browse past issues here.
Listen to the eZine here.


---
PRODUCTS: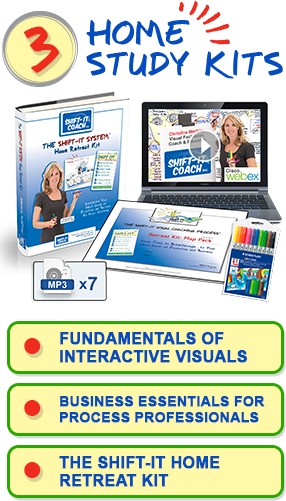 ---
Our Websites:
---
---