A NOTE FROM CHRISTINA:
Wow, did I have a GOOD and BUSY time on my 'vacation'. August is my annual chance to take a longer break. My break was complicated this year by the need to find a tenant for my condo and relocate myself for the next year due to coming construction. It was a whirlwind but thankfully I was able to squish it all in!
My trip to Mt. Shasta (which I had just begun last issue) was a fun and fascinating one ... see more in the article below about the unusual conference I was attending and how it fits into my process work.
Mt. Shasta is really, really beautiful. Crystal clear streams. Forests. Mountain meadows. Clean air. And a palpable high energy ... made my head spin (folks aren't kidding when they say it's packing a powerful vortex).
| | |
| --- | --- |
| Laura & I in Panther Meadows | Gorgeous Mt. Shasta |
It was a metaphysical girls trip which I was so lucky to share with my friend and energy work buddy Laura Leon. Neither of us are camping types but we both really wanted to attend the SSP Conference to hear the speakers up close ... so we sucked it up and pitched a tent with roaming bears no less (thanks for the tent Fiona!).
| | |
| --- | --- |
| Camping with Roaming Bears! | Gorgeous Mt. Shasta |
After Shasta I made the last minute decision to attend Paul Selig's workshop in Seattle (in past eZine issues I've been sharing about his books and how they were my summer reading project).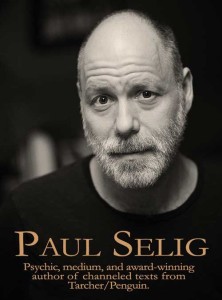 It was fantastic to experience him and his Guides in person (for more details also see article below).
I've decided to attend his upcoming workshop in Berkeley next month too. And am eyeing Esalen for 2017. My kundalini stirs up in the frequency of his workshops and I REALLY benefited from the private session I was able to recently have with Paul directly for specialized guidance on how my system is integrating higher frequencies.

For those interested in these topics, I'll most likely share that session in my upcoming Practical Energy Work course, as well as sessions with other energy practitioners of various modalities.

On my busy vacation I also made a quick trip (thanks Louisa for joining me!) of a few hours up the coast of Canada where I live, to visit Denman Island. For about 18 months now I've been feeling the pull to get out of the city into a more natural setting so I've been checking out various areas ... particularly those that feel like 'The Shire' of Lord of the Rings. Denman Island is the closest I've come yet!
| | |
| --- | --- |
| Checking Out Denman Island | Washington State Ferry |
The listing I went to check out wasn't right, too much of a fixer upper for my abilities. But I did LOVE the feel of this beautiful Gulf Island. Next step, I've booked an Airbnb for a week in November to spend some quality time in the area (see you soon Gillian, I saw you signed up for the eZine and I look forward to my Arbutus Retreat).
| | |
| --- | --- |
| Right now JJ and I are on a road trip staying with various friends between Portland and Berkeley for the next few weeks. Thankfully with strong internet it's possible for me to connect in from various locations. We return to Victoria in mid-November at a temporary location for 5 months until our next location emerges after that. I never thought I'd say this but I am LOVING the unfoldment of having to vacate my condo for a year! | Fall Roaming with JJ |
Yours in SHIFTing IT,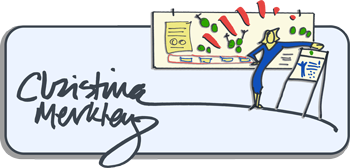 The SHIFT-IT Coach
& Process Skills Mentor


IN YOUR WORDS: CLIENT TESTIMONIAL
Louisa Marziali Dramatically Improves Her
Graphic Facilitation Skills
EXCELLENT PEER LEARNING WITH OTHER PROCESS PROFESSIONALS
AND MY USE OF SPACE AND COLOUR DRAMATICALLY IMPROVED.
"I took Fundamentals of Working Visually and The Magic Marker Retreat back to back. This was my second time through the fundamentals class and it was worth the time to deepen my understanding of the basics of visual work; I focused on practicing my lettering, being more consistent with use of colour and layout, and adding depth to a completed chart.
Moving immediately in to the Magic Marker Retreat allowed for excellent peer learning from other Process Professionals and my use of space and colour dramatically improved. The incubator experience allowed me to personalize my use of visuals - moving into what feels like a natural extension of my work.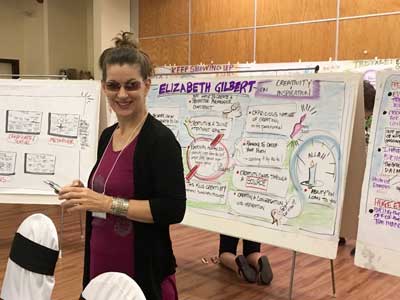 Louisa Marziali
Process Professional and Writer
Christina fits a lot of demonstration, practice, and coaching into a few days, and does a brilliant job of working with individuals and the group at large. She is adept at holding a space that is professional, personal, and richly supportive. She is generous in sharing her tools, insights, and broad experience working with a range of organizations and individuals.
Her high quality programs are expertly crafted to maximise learner experience so that within a few days, a novice Visual Practitioner begins to feel confident utilising their new skills and a seasoned practitioner stretches to expand and hone their offerings."
Louisa Marziali
Process Professional and Writer
Vancouver, British Columbia, Canada.
SHIFT-IT School: Classes, Products & Mentoring
For Beginners Or Repeaters:
FUNDAMENTALS OF WORKING VISUALLY®
Visual Skills for Process Work with Groups and Individuals
This professional skills training (fully online) thoroughly covers the four main ways of working visually: Studio Work, Graphic Recording, Graphic Facilitation and Graphic Coaching. Over 87% of your consulting, facilitation, training, teaching and coaching clients are Visual Thinkers - these powerful visual skills boost the effectiveness of how you work with groups and/or individuals. This is the online version of my popular fundamentals training (no travel required). Attracts folks from across the English-speaking world - your Visual Tribe! Fully recorded, if you miss classes or want to watch at a time more convenient for you.
Act Now, Just 20 3 Spots Left!
ONLINE VERSION VIA LIVE WEBINARS:
October 3 - December 14, 2016
Mondays & Wednesdays, noon-1pm Pacific
Full Details and Online Registration
Note: Pre-requisite for Visual Coach Certification.
For Professional and Personal Results:
New Course: Practical Energy Work
Boost Your Right-Brain Intelligence

Our modern world still operates on a left brain bias: analytical, mental and rational ... with serious consequences for individuals, groups and our planet-at-large. However our right brain is always there, albeit often under used and even denigrated. Learning to be 'whole brained' is a powerful advantage in life and work. Join me for this NEW online class to harness your right brain resources: emotions, subtle energy and intuition. Practical tools on energy management, law of attraction, trauma, brain wave mastery, problem-solving, etc. Guest experts. Plus community with other participants from across the globe.
Now Open For Registration
October 29, 2016 - March 4, 2017
Live Webinars: Saturdays, 1-2:30 p.m. Pacific
Full Details and Online Registration
Note: No Prerequisite
For Visual Skills Grads
WORKING VISUALLY eCOMMUNITY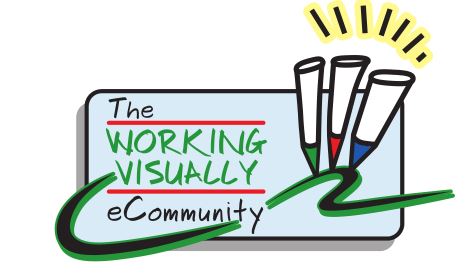 Are you a grad of one of my Visual Skills programs? If so, you qualify for access to our WORKING VISUALLY eCOMMUNITY for ongoing support. This community includes online forum filled with various topics related to working visually (media, announcements, skill development, technology, business development, inner work, etc.). Plus a monthly drop-in webinar and recording library. Dates for upcoming webinars: Oct. 20, Nov 17 and Dec. 15. Webinar time is 11-12:30 Pacific, fully recorded.
Instant Access
HOME STUDY KITS
| | |
| --- | --- |
| | Can't travel? Want your info fast? Now you can access my quality instruction via three Home Study Kits. Choose from Fundamentals of Working Visually, SHIFT-IT Home Retreat Kit and Business Essentials for Process Professionals. |
FEATURED ARTICLE:
SHARES FROM MY SUMMER VACAY
To Listen Or Download Mp3 Version of This Article, Click Here.
I'm busy running SHIFT-IT School for most of the year. August and early September is a chance to take a break from my usual schedule and squeeze in some travel and exploration before my own classes start up again. I really relish the chance to break away from the computer and take some 'in-person' trips.
This season I had two opportunities to attend events as a participant, which is a rare treat given I'm often the one holding space for others. One was a conference in Mt. Shasta, California and the other a workshop in Seattle, Washington. I thought I'd share some thoughts from each as both were rather unique and provocative experiences.
Event One: Mt.Shasta Secret Space Program Conference
Last issue I mentioned I was on my way to the Secret Space Program Conference in Mt. Shasta with my friend Laura Leon (who's also a colleague, we do joint energy work sessions). From my 'Note From Christina' above, you'll get a sense of the raw location and conditions (takes a lot to get me to go camping!).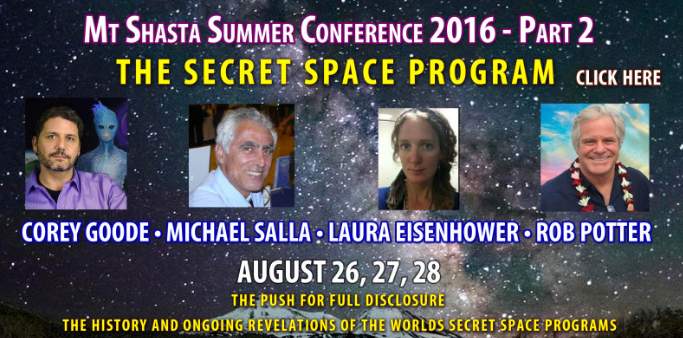 Panoramic View of Castle Lake, Mt. Shasta, California
This conference, and others like it, explore the structures that exist on our planet and attempts to piece together what is happening in the larger picture and why. And how 'regular' people can navigate within and maybe even change those systems.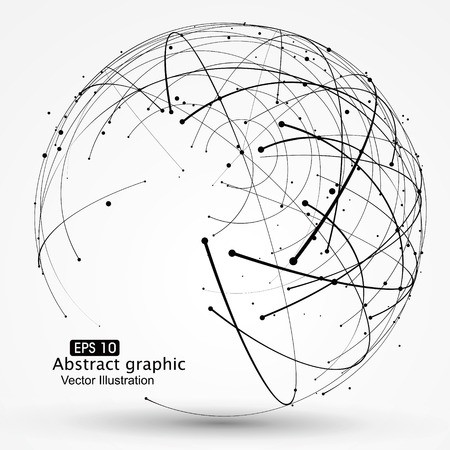 My interest in these topics is multi-fold. As a long time Graphic Facilitator I've been in many, many, many different kinds of rooms in various industries across several countries over the two plus decades of my process career. I've worked with all kinds of people trying to solve all kinds of problems. And as a coach, I work with people shifting their lives (work, finances, relationships, health, etc.).
In all of these process settings one inevitably bumps up against the larger system or matrix that we are all embedded in. Sometimes there is wiggle room and space to move about in (to make changes that last and benefit) and sometimes there isn't (structures are entrenched and seemingly not going to budge).
I've always been fascinated about ...
ARTICLE CONTINUED ON BLOG ... CLICK HERE TO VIEW
---
For the full SHIFT-IT e-Zine Archives: Click Here
For the full SHIFT-IT Audio Library (mp3): Click Here

Christina Merkley
The SHIFT-IT Coach &
Process Skills Mentor

SHIFT-IT Coach, Inc. is a boutique training and coaching company specializing in visual and energetic process work for groups and individuals. Founded by Christina Merkley, pioneering Visual Facilitator and Coach, she works deeply with individuals, partners and conscious businesses to define and manifest what you really want. Christina also trains Process Professionals from across the globe in her innovative ways of working. For more information visit www.shift-it-coach.com and www.visualcoaches.com.
IN THIS ISSUE:
>>Featured Article:
Shares From My
Summer Vacay
---
CONNECT WITH US:
---
BLOG ENTRIES:
Looking for more rich, SHIFT-IT content? Check out my blog for recent ramblings, resources and general interest features:
Adventures in 21st Century Messiness
Graphic Facilitation Training: Testimonial From Dr. Jude Rathburn
Summer Reads: Selig, Singer And Silver
In Your Words: Florida I.T. Professional Finds Practical Use For Energy Work
International Forum of Visual Practitioners (IFVP): My Three Top Tips for Attending the Annual Conference
Karla Kadlec: Consciousness Consultant Follows Her Intuition To Our Graphic Facilitation Training
Bruce Hostetter: On Fundamentals Of Working Visually Workshop
Actually You ARE Accomplishing A LOT!
Hannah Sanford: New Visual Coach Grad From Maryland, U.S.A.
How I Did It And How You Can Too!
Melanie Zucker: New Certified Visual Coach Graduate From Germany
Sound Modalities to Aid Your SHIFT
Speech Pathologist Lisa Dymond Makes Good Use Of Working Visually
Click here to read The SHIFT-IT Blog.
---
EZINE ARCHIVES:
Browse past issues here.
Listen to the eZine here.
---
PRODUCTS: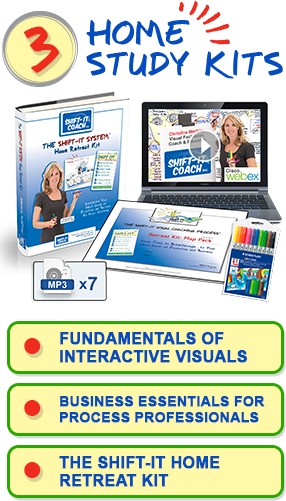 ---
Websites:
SHIFT-IT Coach, Inc
www.shift-it-coach.com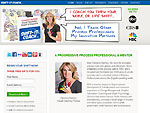 ---
---
Visual Facilitation
www.makemark.com