A NOTE FROM CHRISTINA:
Dear %$firstname$%,
Yay, with the Winter Solstice the light is returning here in the Northern Hemisphere. I don't know about you, but those last weeks of November and early December I always feel like I'm being squeezed in a vice. So I'm thankful when the pressure gets released ... ahhhhhhhh!
All fall classes for SHIFT-IT School have been fulfilled ... thank you to the awesome Fundamentals of Working Visually online cohort we had this season. I really enjoyed "meeting" all of you and helping you develop and improve your Visual Skills. Always a little sad when I wrap a great cohort, however I know I'll see some of you again and you will keep us posted on your developments. Watch out world, they are headed your way!
Visual Coaching Volunteer Opportunity:
Another group of Process Professionals headed out into the world with powerful skills and expanded hearts is the 2016 cohort of Visual Coach Certification. They are headed for the finish line of their Exit Exam (where they perform live Visual Coaching with a Test Client as part of their exam).
FYI, we need Volunteer Test Clients if you'd like to help out a coach by offering yourself. Just write my assistant Patricia at [email protected] and she'll add you to our Test Client list.

As the Visual Coaches schedule their exams we email our Test Client List to find someone who can be their client. Usually a good win/win opportunity for all involved. Thank you SO MUCH to our volunteers, we really appreciate you!
If you too are interested in adding visual skills to your process work with individuals, our 2017 Visual Coach Cohort starts in April. Attracts coaches, therapists, counselors, teachers, consultants, disability specialists, financial advisors, and other Process Professionals from around the globe.
In closing for this year, I'd like to thank you for being a valued part of the SHIFT-IT Community. I'm very fortunate in that I get to interact daily with wonderful, dedicated people who are 'fighting the good fight' so to speak.

Thank you for enabling me to do what I do ... and together we help shift ourselves, our families, our groups and hopefully our world-at-large too.
2016 was a remarkable year as 2017 looks like it will be too. The SHIFT times are upon us, it's all hands on deck! As I do each holiday season, please see below my visual gift of a Mini SHIFT-IT Retreat. May it be helpful in getting your mind and heart ready for the year ahead.
Yours in SHIFTing IT,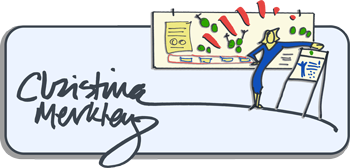 The SHIFT-IT Coach
& Process Skills Mentor


IN YOUR WORDS: CLIENT TESTIMONIAL
Communications Specialist Alisa Gordaneer Successfully Applys Her New Visual Skills In University Settings
CREATING VISUALLY CAN HELP UNLOCK NEW APPROACHES TO
OLD METHODS IN JUST ABOUT ANY FIELD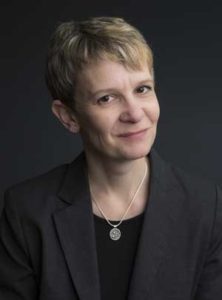 Alisa Gordaneer
Journalist, Teacher, Writer & Poet
"Christina's course was an inspiration, not just because she helped us see how effective the visual process can be, but because the process of creating visually can help unlock new approaches to old methods in just about any field.
I'd hoped that working visually would be a new skill I could bring to my existing communications toolkit, as it seemed like the perfect complement to the writing, reporting, facilitation, teaching and communications coaching I already do. But what I learned was even better--I gained an understanding of how my existing skillsets, coupled with an old and now renewed passion for drawing, could also help me build my own graphic practice as well.
Since taking the Fundamentals of Working Visually, I've already applied graphic facilitation methods in my post-secondary classrooms, and created a number of visual posters for existing clients, who were thrilled with my newfound approach. I'm excited to take it further, and can't wait to do more!"
Alisa Gordaneer
Journalist, Teacher, Writer & Poet
www.alisagordaneer.com
SHIFT-IT School: Classes, Products & Mentoring
On Upcoming Courses, Private Training & Coaching
NEW YEARS EVENT
5 Days: January 4-8, 2017
In order to help you get organized for your training and development needs in 2017 I'm giving you an advanced heads up that we will be running a New Years event January 4 - 8, 2017. Upcoming courses (all the ones listed below), private training and private coaching are included. Treat yourself to quality training, coaching and mentoring to advance your professional and personal goals in 2017.
Stay Tuned: More Info Coming Soon!
For First Timers and Repeaters
SHIFT-IT ONLINE®
Supportive International Coaching Group Using Visual Tools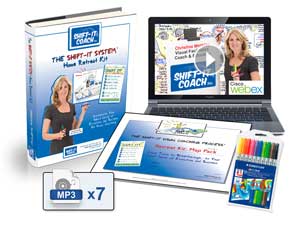 Get clarity and change in your work and life. Left-Brain strategic planning coupled with Right-Brain energy alignment - all in my innovative 'Visual Coaching' style.
Great for shifting dissatisfaction in work, abundance, relationship, body, geography and other stuck areas.
Two Options: either join us for the online course conducted via live webinars (offered just once a year) or complete on your own via home study kit.
Only Live Course This Year
SHIFT-IT ONLINE
Live Weekly Webinars: Jan. 21 - March 11, 2017
Saturdays, 10-11:30 a.m. Pacific
Full Details and Online Registration
---
Available At Any Time
SHIFT-IT HOME RETREAT KIT
Process at Your Own Pace From Your Own Environment
Full Details and Online Registration
Note: Pre-requisite for Visual Coach Certification. FYI, Repeater Option available for those who have taken before and want to repeat (write us for coupon code).
For Beginners Or Repeaters:
FUNDAMENTALS OF WORKING VISUALLY®
Visual Skills for Process Work with Groups and Individuals
For Process Professionals who work with groups or individuals - managers, consultants, trainers, teachers, facilitators, therapists, coaches, scribes and others. Over 87% of your clients are Visual Thinkers so it only makes logical sense to work in ways that best reach them. This professional skills training thoroughly covers the four main ways of working visually: Studio Work, Graphic Recording, Graphic Facilitation and Graphic Coaching. Attracts participants from across the globe.
Three Options: online, in-person or via handy home study kit.
Early Bird Pricing until Jan. 30th
ONLINE VERSION VIA LIVE WEBINARS
9 Weeks Online: Feb. 27 - May. 10, 2017
Mondays & Wednesdays, noon-1pm Pacific
Full Details and Online Registration
---
Early Bird Pricing until Apr. 20th
IN-PERSON VERSION IN VICTORIA, CANADA
IN-PERSON: 3 Day Intensive: June 1-3, 2017
Beautiful Victoria, British Columbia, Canada
Full Details and Online Registration
---
Available At Any Time
HOME STUDY KIT VERSION
Learn at Your Own Pace From
Your Own Environment
Full Details and Online Registration

Note: Pre-requisite for Visual Coach Certification. FYI, Repeater Option available on Feb. class for those who have taken before and want to repeat as a guest (write us for coupon code).
For Process Professionals Who Work With Individuals:
2017 VISUAL COACH CERTIFICATION®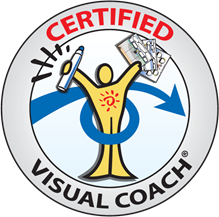 For coaches, counselors, therapists and others who work deeply with individuals. Add the power and innovation of Visual Coaching to your professional practice. Includes advanced Visual Coaching techniques, use of my SHIFT-IT System® with your clientele (17 visual maps), guidance in the 'template-izing' of your own intellectual property, plus marketing and biz development support.
Receiving Applications Now
2017 VISUAL COACH CERTIFICATION
10-Weeks Online: April 4 - Dec. 31 2017
Tuesdays Noon-1:30 pm Pacific
Full Details and Application Process
Two Pre-requisites: SHIFT-IT Online and Fundamentals of Interactive-Visuals (or equivalent experience).
For Visual Keeners:
MAGIC MARKER RETREAT®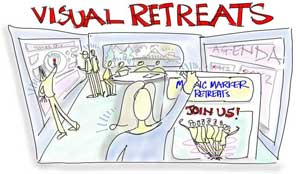 Getting your visual basics is half the equation - the other is competency and creation of a viable practice (whether you are internal or independent). This 2-day Boot Camp takes your visual practice to the next level: chock full of at-the-wall drills, project brainstorming (bring work for feedback and ideas), and identity/brand/financial coaching. Work your brain, your fingers and dissolve your resistance, all in deep community with Visual Practitioners.
Just 7 5 Spots Left
IN PERSON
2 Day Intensive: June 5-6, 2017
Victoria, British Columbia, Canada
Full Details and Online Registration
Note: Pre-requisite is Fundamentals of Working Visually (or equivalent experience). Each Magic Marker Retreat is a unique experience, come as many times as you like for continued inspiration and development!
FEATURED ARTICLE:
REFLECTION RETREAT WITH 4 VISUAL MAPS
To Listen Or Download Mp3 Version of This Article, Click Here.
Whether you are an old hand at Visual Coaching or are completely new to it, we can all benefit from reflecting on our lives every once in a while: to identify what mid-course corrections we might want to make. Sooooo, in the spirit of this holiday season ... I'm gifting you my Mini SHIFT-IT Retreat, complete with 4 Visual Maps and Instruction eBook.
Ideal Retreat Times:
A Mini SHIFT-IT Retreat can be conducted at any time. However I find that the calendar holds some special spots when reflection of this nature is particularly helpful. Like around New Years when a brand new year is upon us, summer vacation or another getaway, and connection to a significant milestone (birthday, marriage anniversary, graduation, relationship change, health challenge, death of a loved one, kids leaving home, etc).
The Benefits of the Mini SHIFT-IT Retreat: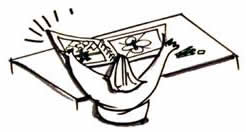 This quick little Visual Retreat helps you quickly appreciate what you have accomplished (what you've already manifested and attracted) - and to identify what's next brewing on your horizon - and the outer and inner shifts you will need to make to get there. The Mini SHIFT-IT Retreat puts your life into perspective. Gives you relief, satisfaction and an organized feeling - knowing you have taken a step to deliberately create what you want (not what you don't want).
How To Do a Mini SHIFT-IT Retreat:
Set aside about 30-90 minutes, depending on how deep you want to go. Print off the four Visual Maps and Instruction eBook (see link below). Gather some pens (you can go as simple or as elaborate as you like). Put some good music on. Sit somewhere comfy. And dive in ...
Click Through to Blog to Download eBook with Full Instructions and 4 Visual Maps.
ARTICLE CONTINUED ON BLOG ... CLICK HERE TO VIEW
---
For the full SHIFT-IT e-Zine Archives: Click Here
For the full SHIFT-IT Audio Library (mp3): Click Here

Christina Merkley
The SHIFT-IT Coach &
Process Skills Mentor


SHIFT-IT Coach, Inc. is a boutique training and coaching company specializing in visual and energetic process work for groups and individuals. Founded by Christina Merkley, pioneering Visual Facilitator and Coach, she works deeply with individuals, partners and conscious businesses to define and manifest what you really want. Christina also trains Process Professionals from across the globe in her innovative ways of working. For more information visit www.shift-it-coach.com and www.visualcoaches.com.
IN THIS ISSUE:
>>Featured Article:
Reflection Retreat with 4 Visual Maps
---
CONNECT WITH US:
---
BLOG ENTRIES:
Looking for more rich, SHIFT-IT content? Check out my blog for recent ramblings, resources and general interest features:
Three Resources to Shift Post Election Angst
Our Practical Energy Work Course Reaps Results For D.C. Area Consultant Kathy Smith
Louisa Marziali Dramatically Improves Her Graphic Facilitation Skills
Adventures in 21st Century Messiness
Graphic Facilitation Training: Testimonial From Dr. Jude Rathburn
Summer Reads: Selig, Singer And Silver
In Your Words: Florida I.T. Professional Finds Practical Use For Energy Work
International Forum of Visual Practitioners (IFVP): My Three Top Tips for Attending the Annual Conference
Karla Kadlec: Consciousness Consultant Follows Her Intuition To Our Graphic Facilitation Training
Bruce Hostetter: On Fundamentals Of Working Visually Workshop
Actually You ARE Accomplishing A LOT!
Hannah Sanford: New Visual Coach Grad From Maryland, U.S.A.
How I Did It And How You Can Too!
Melanie Zucker: New Certified Visual Coach Graduate From Germany
Sound Modalities to Aid Your SHIFT
Speech Pathologist Lisa Dymond Makes Good Use Of Working Visually
Click here to read The SHIFT-IT Blog.
---
EZINE ARCHIVES:
Browse past issues here.
Listen to the eZine here.
---
PRODUCTS: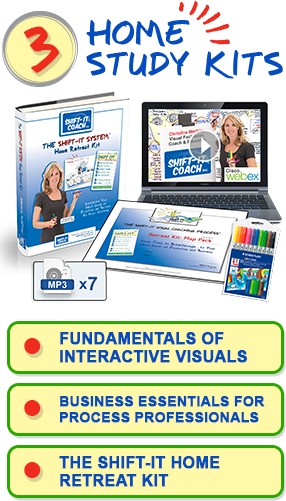 ---
Websites:
SHIFT-IT Coach, Inc
www.shift-it-coach.com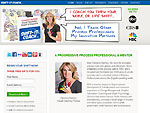 ---
---
Visual Facilitation
www.makemark.com