EXCELLENT PEER LEARNING WITH OTHER PROCESS PROFESSIONALS
AND MY USE OF SPACE AND COLOUR DRAMATICALLY IMPROVED.
"I took Fundamentals of Working Visually and The Magic Marker Retreat back to back. This was my second time through the fundamentals class and it was worth the time to deepen my understanding of the basics of visual work; I focused on practicing my lettering, being more consistent with use of colour and layout, and adding depth to a completed chart.
Moving immediately in to the Magic Marker Retreat allowed for excellent peer learning from other Process Professionals and my use of space and colour dramatically improved. The incubator experience allowed me to personalize my use of visuals – moving into what feels like a natural extension of my work.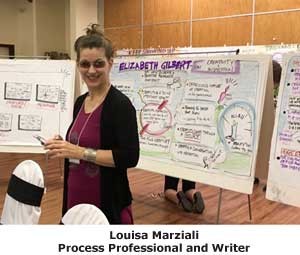 Christina fits a lot of demonstration, practice, and coaching into a few days, and does a brilliant job of working with individuals and the group at large. She is adept at holding a space that is professional, personal, and richly supportive. She is generous in sharing her tools, insights, and broad experience working with a range of organizations and individuals.
Her high quality programs are expertly crafted to maximise learner experience so that within a few days, a novice Visual Practitioner begins to feel confident utilising their new skills and a seasoned practitioner stretches to expand and hone their offerings."
Louisa Marziali
Process Professional and Writer
Vancouver, British Columbia, Canada.