A NOTE FROM CHRISTINA: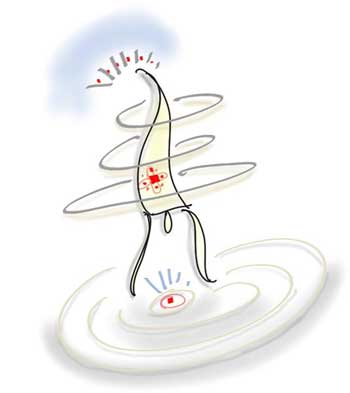 Well, it's started ... my yearly plunge into the underworld, haha. Every year when the day light shifts and we move into the last months I go into deep processing and reflecting ... about what's next and what is most important to me now. It's all a prelude to the shifts that will come in the New Year when we move back into an expansion rather than contraction phase.
This year I've got some really interesting topics top of mind (at least I think they are interesting). Given the increasingly gloomy environment of war, strife, economics, environmental degradation, etc. I'm very much feeling the pull to even more dedicate my focus to being a counter to the dark we often see around us as we move through our current transitional period.
I'm extremely privileged to work with seasoned and up-and-coming Process Professionals from around the globe. Who are on the front lines of a wide spectrum of process work being done with groups and individuals. From straight up corporate work to the furthest reaches of the so-called fringe.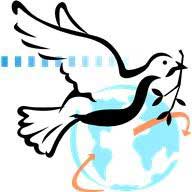 What I'm privy to is amazing. There is such good work going on from very dedicated practitioners, who roll up their sleeves (and arm their fingers with markers) to work on the issues of our day wherever they are positioned. I feel it is extremely important to support these folks who are fighting the good fight. It's not easy work but its honorable, brave and so, so, so needed.
I also feel I need to personally develop more of an understanding and maturity of the underbelly, the dark and the shadow. In order to understand how to help myself and others effectively navigate through it. Real change management. As such, I'm increasing my studies in trauma, energy medicine, and meditative/depth work.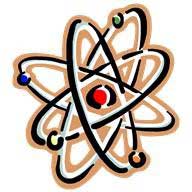 It's not necessarily fun, although it is fascinating. And so is the sense of sovereignty, power and strength that comes from looking at these darker aspects and figuring out how to obtain dominion from them. Not be so scared. Reclaim our energies and galvanize our light.
I know that is general and high level and a little amorphous. I'm in the midst of researching several approaches and will get more specific on what I'm studying and integrating in the weeks and months ahead, so more details coming. For now, I'll just say I'm excited and anticipate this impacting the process work I do and even some of the ways I can help support other practitioners too.
Yours in SHIFTing IT,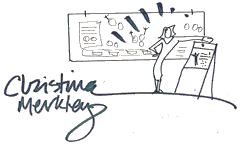 Christina Merkley,
The SHIFT-IT Coach
and Interactive-Visuals Mentor
YOU AREN'T FEEDING ME FISH, YOU ARE TEACHING ME TO
FISH AND AS WE'VE SEEN IT'S ALREADY PAYING OFF!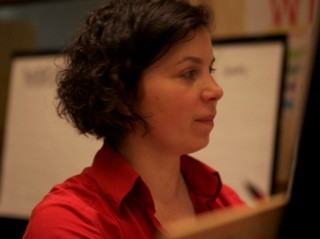 Hannah Sanford
Graphic Recorder, Facilitator & Coach
Washington, D.C., U.S.A.
"Christina, I wanted to say thank you for the many valuable courses I have taken with you, and most particularly for your private coaching.
You're very welcoming, whether it's online or in-person, with you there's always a safe space to learn and share.
Your versatility and willingness to deal with whatever is there AND what's really there means I can bring anything to our sessions (and sometimes topics come up that I didn't even know were on my mind) and that I trust you and your intuition to guide us wherever we need to go for best results.
Though you could easily tell me what course of action I should take (and sometimes do), I appreciate how you ask me what I think I should do because it's training me to think for myself (you're not feeding me fish, you're teaching me to fish) and as we've seen it's already paying off!
Through the depth and breadth of your experience (and products), you provide coverage across many topics: from what's coming through me onto my wall murals to what's coming through me into my wallet.
You easily switch between inner and outer work, such that in the span of less than an hour we could do deep processing (orphan rescue, etc) as well as discuss technical / logistical topics (contracting conversations, etc). That's key because as you've demonstrated time and again, doing my inner work leads to the outer "work" coming with grace and ease.
Finally, you're real: you share your space, little JJ, and your honest stories, so that while I respect your expertise and track record, I'm not intimidated by you nor think you are perfect. You demonstrate that I can do it too, and I am!"
SHIFT-IT SCHOOL: UPCOMING COURSES


FOR BEGINNERS OR REPEATERS
FUNDAMENTALS OF INTERACTIVE-VISUALS®
Visual Skills for Process Work with Groups and Individuals
Over 87% of your facilitation, coaching, training and consulting clients are visual thinkers - learn powerful visual skills to boost the effectiveness of how you work with them. This professional skills training thoroughly covers the four main applications of working visually with groups and individuals so you can add these powerful tools to your own process toolkit: studio work (charts & videos), graphic recording, graphic facilitation and graphic coaching. Both online and in-person options available. Attracts folks from across the English speaking world - your Visual Tribe!
9 Weeks Online: Oct 6 - Dec 10, 2014 * Sold Out
Video Webinars: Mondays & Wednesdays, noon-1pm Pacific
9 Weeks Online: Feb. 23 - April 29, 2015 *Just 20 17 Spots Left
Video Webinars: Mondays & Wednesdays, noon-1pm Pacific
3 Days In-Person: June 4-6, 2015 * Just 20 19 Spots Left
Video Webinars: Mondays & Wednesdays, noon-1pm Pacific
Full Details and Online Registration
Note: Pre-requisite for Visual Coach Certification. FYI, Repeater Option available for those who have taken this program before and desire another round.
*** Special Workshop in Regina, Saskatchewan, Canada
FUNDAMENTALS OF WORKING VISUALLY®
In-House Workshop for Educators, Facilitators or other Process Professionals
In or near Central Canada? FYI, I'm bringing my fundamental skills workshop to Regina, SK on December 11-12 (brrrrr!). This is a private workshop arranged by consultants in the area, however they are open to others joining in, a great opportunity to receive your skills closer to home. More Details.
New Advanced Offering!
MAGIC MARKER RETREATS®

Getting your visual basics is half the equation - the other is competency and creation of a viable practice (whether you are internal or independent). This 2-day Boot Camp takes your visual practice to the next level: chock full of at-the-wall drills, project brainstorming (bring work for feedback and ideas), and identity/brand/financial coaching. Work your brain, your fingers and dissolve your resistance, all in deep community with your visual tribe.
Each Retreat Custom Designed to Needs of Attendees:
Nov. 7-8, 2014, Victoria, British Columbia, Canada* Just 7 4 Spots Left
March 26-27, 2015, Victoria, British Columbia, Canada* Just 7 5 Spots Left
June 8-9, 2015, Victoria, British Columbia, Canada* Just 7 6 Spots Left
Full Details and Online Registration
Note: Pre-requisite is Fundamentals of Interactive-Visuals (or equivalent experience).
SHIFT-IT ONLINE®
7 Weeks Online: Feb. 7 - March 21, 2015
Video Webinars: Saturdays, 10-11:30 a.m. Pacific
Ready to get what you want?! My signature coaching group - gets you what you next want in your personal and/or professional life. You develop a crystal clear vision, unravel your resistance ... and rapidly SHIFT your world. Practical real-world strategic planning coupled with leading-edge energy alignment --- all in my innovative 'Visual Coaching' style. Join this supportive community with other like-minded SHIFTers from across the globe. The SHIFT-IT Home Retreat Kit® with 17 visual maps is included, plus handy Repeater Option for those joining us again!
Full Details and Online Registration
Note: Pre-requisite for Visual Coach Certification. FYI, Repeater Option available for those who have taken this program before and are ready for your next shift.
Apply For 2015 Cohort Now
VISUAL COACH CERTIFICATION®
10-Weeks Online: April 7 - June 9, 2015
Tuesdays Noon-1:30 pm Pacific

| | |
| --- | --- |
| Become a Certified Visual Coach®. For coaches, counselors, and therapists from around the globe. Add the power and innovation of Visual Coaching to your own professional practice. Includes advanced Visual Coaching techniques, use of my SHIFT-IT System® with your clientele (17 visual maps), guidance in the 'template-izing' of your own intellectual property, plus marketing and biz development support. | |
Two Pre-requisites: SHIFT-IT Online and Fundamentals of Interactive-Visuals (or equivalent experience).
PRIVATE MENTORING WITH CHRISTINA
In-Person and Distance Sessions (via web conferencing).

Public workshops are wonderful, however sometimes only private attention will do. Book me as your private coach, mentor and champion ... to clarify and align to your Next Self. Custom sessions tailored just for you and your circumstances: Private Training and Private Coaching.
Next Step: Email [email protected] to request Exploratory Chat.
FEATURED ARTICLE:
To Listen Or Download Mp3 Version of This Article, Click Here
TIPS FOR COLOR USE IN VISUAL PROCESS WORK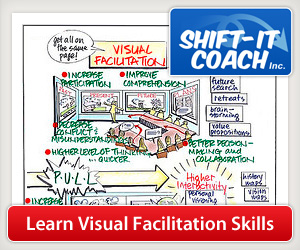 I'm right smack in the middle of leading one of my Fundamentals of Interactive-Visuals online courses.
My course that teaches fellow Process Professionals the ins and outs of working visually with groups and individuals (i.e. studio work, graphic recording, graphic facilitation and graphic coaching).
We've attracted another wonderful cohort from across the English speaking world: United States, Canada, United Kingdom, South Africa, Hong Kong, Netherlands, Scotland and Germany. I wish I could teach in other languages too, but alas I'm just limited to the one language I speak (besides visual language of course).
ADVANCES IN TECHONOLOGY: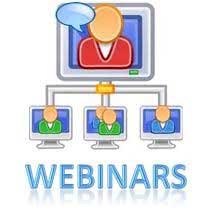 I'm so excited with the way online technology is moving. Things that were once only figments of my imagination are now popping into reality.
Leading this course via online means is an act in itself (only doable the last few years). Now, with the advent of tablet technology, I can weave all sorts of live demos and teaching segments into the course, rather than just delivering it in static ways.
Working online is not perfect ... as you will witness in the video snippet below. There are delays with fussing with controls and the inevitably audio and visual drops that occur. But it's amazing the kinds of things that can be taught online now very effectively, including tactile and experiential things like learning the ins and outs of graphic recording and graphic facilitation basics.
COLOR TIPS VIDEO: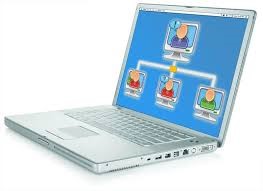 Below is a snippet from Wednesday's session, where I give a high level summary regarding the selection and use of appropriate color for your creations (whether you are working in the physical world with various paper, whiteboard or foamcore surfaces or in the virtual world with tablets).
Some simple color tips it behooves you to keep in mind to make your visual work as effective as possible, including lettering, icons and highlighting tips ...
Click Here to Watch Video and Read More Tips
---
For the full SHIFT-IT e-Zine Archives: Click Here
For the full SHIFT-IT Audio Library (mp3): Click Here
OUTER AND INNER COACHING: Distance and In-Person
In the scheme of things, life is short. It's a shame not to live it in alignment with who you truly are. I have successfully SHIFTed to a life of authenticity, creativity and abundance that is congruent with who I am. Let me assist you in doing the same via private coaching (either by distance or in-person).
My clientele are passionate individuals who deeply desire the manifestation of their Full Selves. Most want to get their 'special it' into the world (entrepreneurs, biz owners, leaders, teachers, consultants, facilitators, trainers, coaches, therapists, visual practitioners, etc.).
I employ a customized blend of both Outer (left brain) and Inner (right brain) approaches that get you firmly into the reality of what you want. Eliminate confusion, resistance and procrastination. Enhance clarity, alignment and flow.
Stop splitting your energy - create a congruent life that works for you and help the planet in the process!
ADD "WORKING VISUALLY " TO YOUR OWN PROCESS TOOLKIT:
Are you a process professional with a creative bend? Are you intrigued with the visual way I work with my clients? I've trained hundreds of facilitators, consultants, trainers and now coaches, counselors, social workers, etc from around the globe. Learn fundamental visual skills that you can use in your own work with groups and individuals. Come join the visual tribe!
Christina Merkley
The SHIFT-IT Coach &
Interactive-Visuals Mentor

SHIFT-IT Coach, Inc. is a boutique training and coaching company specializing in visual process work for groups and individuals. Founded by Christina Merkley, pioneering Visual Facilitator and Coach, we work deeply with individuals, partners and conscious businesses to define and manifest what you really want. We also train Process Professionals from across the globe in our innovative ways of working. For more information visit www.shift-it-coach.com and www.visualcoaches.com.
IN THIS ISSUE:
>>Featured Article:
Tips For Color Use In Visual Process Work
---
CONNECT WITH US:
---
BLOG ENTRIES:
Looking for more rich, SHIFT-IT content? Check out my blog for recent ramblings, resources and general interest features:
In Appreciation of Dolores Cannon
STAN GROF: Expand and Reenchant the Psyche
Iyanla Vanzant On the Streets of Ferguson MO
Tips for Website Creation and Refresh
[Magic Marker Retreats] They're Here ...
Moving Into Life Maps Today on Shift-it Online
Visual Skills Workshop in Regina, Saskatchewan, December 11-12
Click here to read The SHIFT-IT Blog.
---
EZINE ARCHIVES:
Browse past issues here.
Listen to the ezine here.


---
PRODUCTS:
Biz Basics For
Process Professionals Home Study Kit

The SHIFT-IT Home Retreat Kit®
---
Our Websites:
---
---