About to launch Webinar 2 of SHIFT-IT Online … my 7-week online course that guides you to DRAW YOUR VISION and ERASE YOUR RESISTANCE.  Today we cover the HARVEST YOUR HISTORY module of my SHIFT-IT VISUAL COACHING SYSTEM.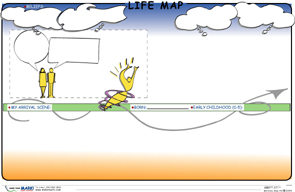 Life Maps is the way we do it, particularly extracting the beliefs we have collected during various stages of our life (cause its not so much what has happened to you but what meaning you choose to apply to what has happened — that is where our POWER lies).
For a fuller explanation of Life Maps, see this previous post.
With the power and ease of web conferencing technology, we attract folks from across the English-Speaking world in this cohort.
Not to late to join us, instant online registration available, click here.
Join other like minded and hearted people doing the courageous work of SHIFTing work and life for the better (more creativity, authenticity and enjoyment).  Plus great for Visual Thinkers given its a visual process comprised of 17 Visual Maps.  Doodle, sketch or just print … to your heart's delight.
Yours in SHIFTing IT, Christina Merkley