A NOTE FROM CHRISTINA:
Happy Canada Day to my fellow Canadians! And a Happy 4th to our American neighbors! Holiday weekends here in North America, a chance to kick off our summers with some R&R hopefully.
Here at SHIFT-IT School I need some R&R! We just completed the Spring 2017 semester, with my annual in-person Visual Skills trainings. Most of my work is online nowadays, so it's REALLY SPECIAL when I get to meet people in real-world reality and have us plunge together into the juicy markers, pastels, paper etc.
| | |
| --- | --- |
| Fundamentals of Working Visually 2017 | Basic Icons |
| | |
| --- | --- |
| | |
| Having a Go at Graphic Recording | Building Templates for Facilitation Use |
Thanks to everyone who made up the 2017 cohorts of Fundamentals of Working Visually and Magic Marker Retreat. I don't know how it's possible, but each year it somehow gets even more delicious. Fascinating to watch the Visual Practitioner field develop and have a hand in that development through the lovely people who grace us in our real-world and virtual rooms.
| | |
| --- | --- |
| Travelled Far and Got What He Needed | Bright Light and Having Fun |
| | |
| --- | --- |
| | |
| Tapas & Cocktails with the Magic Markers! | Magic Marker Retreat 2017 |
Apparently, the old adage of there is 'no rest for the wicked' holds true. In-person retreats hold a special place in my heart, however they are A LOT of work with the prep and schlep involved. All my fellow Process Professionals know the unglamorous side of group work ... there is a lot of behind the scenes work to make the magic happen. Keeps one grounded!
| | |
| --- | --- |
| | |
| Materials for the In-Person Classes | The Day After ... Payment For All the Fun! |
Sneak Peek: SHIFT-IT School 2017/2018 Calendar
Online work involves prep too but of a different nature. That's what my team (Jessica, Theresa, Elizabeth and Pat) and I are currently doing. Now that we have fulfilled last year ... it's time to completely refresh our sites for another year of offerings. We'll be working over these next summer weeks (before I take off on my Peru trip) to refresh everything with new dates and details.
Here's a quick overview of what's coming ... same courses as last year however two new ones have been added: Practical Energy Work 2 (an advanced cohort for those who have been through the first level).

Plus another eCommunity (SHIFT-IT eCommunity) to balance the one we already offer (Working Visually eCommunity). These eCommunities started off as perks for my grads, however I've now expanded them to include those who have trained elsewhere and/or are self-taught. More about our two eCommunities, and their evolution, in the article to follow.


SHIFT-IT School 2017/2018 Calendar
Click for Larger View
Yours in SHIFTing IT,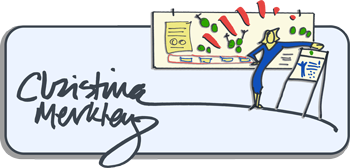 The SHIFT-IT Coach
& Process Skills Mentor
IN YOUR WORDS: CLIENT TESTIMONIAL

ALINA GUTIERREZ MEJIA: MONTREAL FACILITATOR EMPLOYS VISUAL TOOLS WITH GROUPS AND INDIVIDUALS
SHIFT-IT AND VISUAL COACH CERTIFICATION:
LIFE-CHANGING EXPERIENCES
"After several years of using visuals in my practice as a facilitator, I joined Christina's Visual Coach Certification. Having experienced many changes in my personal and professional life (marriage, MA from Concordia in Human Systems Intervention, birth of my two children, and creating an independent practice) I knew the power of using Visual Coaching and The SHIFT-IT System on myself. After benefiting from these useful visual tools personally, I wanted to be equipped to lead others through them too.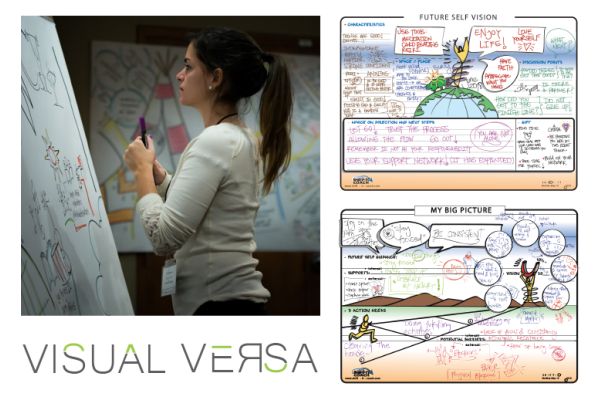 Being part of the Visual Coach Certification meant being part of generative group sessions and a great support network. Christina's energy and way of teaching is amazing: she is supportive and patient with everybody's learning rhythm. I learnt a lot during our online modules, and even more through the assigned experiential client work. Feedback given was very valuable, not only from Christina but also from cohort mates who are knowledgeable people in the field too.
I am so glad that Visual Versa has these tools now to help clients visualize their desired future and go through the changes necessary to bring their visions about. I recommend SHIFT-IT to anyone who wants to make change in your life, and Visual Coach Certification to anyone who wants to add a proven, effective system to their offerings."
Alina Gutierrez Mejia
Facilitator and Participative Consultant
Montreal, Quebec, Canada
www.visualversa.com
SHIFT-IT School: Classes, Products & Mentoring

For Visual Skills Grads
WORKING VISUALLY eCOMMUNITY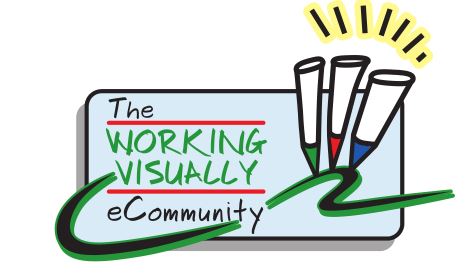 The Working Visually eCommunity supports you to further hone your outer work in Visual Skills and Business Building. As becoming a decent Visual Practitioner is all about practice, practice, practice and mileage, mileage, mileage. And getting suave about marketing, sales and the business side.
This eCommunity is a free perk for those who have taken my more Left-Brain programs: Fundamentals of Working Visually, Magic Marker Retreats, Visual Coach Certification and/or Business Essentials for Process Professionals. To keep going in community with like-minded people from across the globe. It includes Drop-in Monthly Webinars, Video Recording Library and 24/7 Forum.
Dates for upcoming webinars:
2017
Thursday July 13, 11am pacific
August: off
Thursday Sept. 15, 11am pacific
Thursday Oct. 19, 11am pacific
Thursday Nov. 16, 11am pacific
Thursday Dec. 21, 11am pacific
2018
Thursday Jan 18, 11am pacific
Thursday Feb. 15, 11am pacific
Thursday March 15, 11am pacific
Thursday April 12, 11am pacific
Thursday May 17, 11am pacific
Thursday June 21, 11am pacific
Thursday July 19, 11am pacific
Draw Your Vision and Erase Your Resistance
SHIFT-IT eCOMMUNITY

*** NEW ARRIVAL: The SHIFT-IT eCommunity supports you to further your Inner Work in personal visioning, planning and energy alignment. I can teach you Outer Work skills until the cows come home, but if you have an internal conflict that interferes, you will never get movement. For some, Outer Work learning must be complimented with Inner Work resolution.
This eCommunity a free perk for those who have done my more Right-Brain courses: SHIFT-IT, Practical Energy Work 1 or Practical Energy Work 2 (or my Thrive and THEO Accelerator co-programs back in the day). To keep going in community with like-minded people from across the globe. It includes Drop-in Monthly Webinars, Video Recording Library and 24/7 Forum
Dates for upcoming webinars:
2017
Sunday Sept 3, 11-12:30
Saturday Oct. 7, 1-2:30
Sunday, Nov. 5, 11-12:30
Sunday, Dec. 3, 11-12:30
2018
Saturday, Jan. 6, 10-11:30
Sunday, Feb. 4, 11-12:30
Saturday, March 3, 1-2:30
Saturday, April 7, 10-11:30
Saturday, May 5, 10-11:30
Saturday, June 9, 10-11:30
Saturday, July 7, 11-12:30
Instant Access
HOME STUDY KITS

| | |
| --- | --- |
| | Can't travel? Want your info fast? Now you can access my quality instruction via three Home Study Kits. Choose from Fundamentals of Interactive-Visuals, SHIFT-IT Home Retreat Kit and Business Essentials for Process Professionals. Also private connection available via Private Visual Skills Training (you come to me), In-House Workshops (I come to your organization or community) and Private Coaching (in-person and distance sessions). |
FEATURED ARTICLE:
TWO ECOMMUNITIES FOR YOUR OUTER/INNER BALANCE
To Listen Or Download Mp3 Version of This Article, Click Here.
When I moved back to Canada in the early 2000s, after close to a decade in San Francisco, I had decisions to make about my process practice and what I called it. In San Francisco, when I went out on my own after The Grove Consultants, I branded under "Make Your Mark, LLC" as back then I was primarily a Graphic Recorder.
| | |
| --- | --- |
| However in Canada, new things emerged, including my SHIFT-IT System and increased responsibilities to design and lead process as a Facilitator and Coach ... who happens to use visuals in her toolkit because they are so effective. So, after continuing with the Make Your Mark brand for a while, I eventually switched to a larger umbrella brand that could hold other things under it: SHIFT-IT Coach, Inc., D.C. | |
| | That newer brand was ambitious and at first, I wasn't sure I had done the right thing. However, over time I have come to appreciate the non-local intelligence of my Right-Brain, as it knew what was correct, long before my Left-Brain did. |
It's All About The SHIFT:

My Right-Brain (subconscious) knew that the bigger theme of my life's work is ultimately about helping our planet shift, long before 'shift' became a new age buzz word. It knew that my role (along with many, many others, including most if not all of you readers) is to help shift groups and individuals during this remarkable time in history. Through my own work as a facilitator, coach and energy worker. And through the work of the global network of people (you!) that I am fortunate to touch and impact.
| | |
| --- | --- |
| You (over 5000 of you) are spread far and wide across the globe and are embedded in all sorts of pivotal companies, organizations, agencies and alike. You work in many different kinds of industries. In various regions and languages. And do various kinds of process-related roles. | |
The Outer Work and Inner Work skills that I share, have WIDE RANGING influence. Together we literal SHIFT the world ... which is no small thing. Process work is sacred work, at the big picture level.
Integrating Into Whole Brain Balance:
My Left-Brain Journey and Right-Brain Journey have been disjointed in the past, tending to favor one over the other, at different times. However, they have now integrated into a wonderfully dignified balance.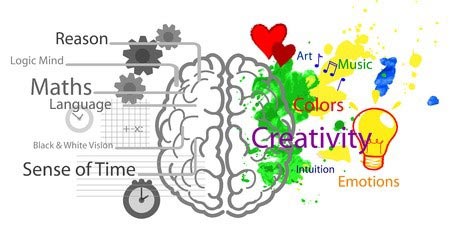 I have my kundalini process to thank for a lot of this hard-won balance. Its energy heightened in 2009 and again in 2012 and has been rapidly churning through me ever since. It has in essence brought both sides of me strongly to the table: left/right, male/female, masculine/feminine, logical/emotional, linear/creative, etc. My role is that of a 'bridge'.
That strong balance and bridge is manifesting into new structures in my SHIFT-IT School to help others balance and bridge too. My courses all fall into this left-right brain continuum and I am now offering TWO eCommunities to my course grads (and those who want to hang with my grads) to help you succeed with your professional and personal aspirations.
| | |
| --- | --- |
| | As a teacher and as a coach, I want you to ... |
ARTICLE CONTINUED ON BLOG ... CLICK HERE TO VIEW
---
For the full SHIFT-IT e-Zine Archives: Click Here
For the full SHIFT-IT Audio Library (mp3): Click Here

Christina Merkley
The SHIFT-IT Coach &
Process Skills Mentor


SHIFT-IT Coach, Inc. is a boutique training and coaching company specializing in visual and energetic process work for groups and individuals. Founded by Christina Merkley, pioneering Visual Facilitator and Coach, she works deeply with individuals, partners and conscious businesses to define and manifest what you really want. Christina also trains Process Professionals from across the globe in her innovative ways of working. For more information visit www.shift-it-coach.com and www.visualcoaches.com.
IN THIS ISSUE:
>>Featured Article: Two eCommunities for Your Outer/Inner Balance
---
CONNECT WITH US:
---
BLOG ENTRIES:
Looking for more rich, SHIFT-IT content? Check out my blog for recent ramblings, resources and general interest features:
Heather Martinez: Thumbs Up For This Skilled Lettering Teacher
Cynthia Stone: Colorado Therapist Overcomes Burnout, Cancer And Family Loss To Finally Build Her Creative Private
Where Tech is Headed for Process Professionals and Humanity
Chicago Learning And Performance Consultant Mary Mcguinness Adds Visual Coaching To Her Repertoire
Visual Coaching: Coach Does, Client Does ... Or Both!
In Your Words: Congrats To Newly Minted Visual Coach Lisa Dymond
Advanced Visual Skills: Two Upcoming Opportunities To Expand Your Reach
Inspiring Examples of Deep Inner Work
Click here to read The SHIFT-IT Blog.
---
EZINE ARCHIVES:
Browse past issues here.
Listen to the eZine here.
---
PRODUCTS: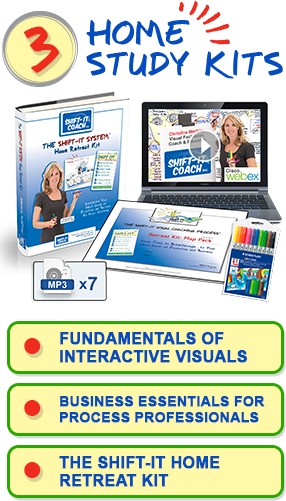 ---
Websites:
SHIFT-IT Coach, Inc
www.shift-it-coach.com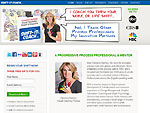 ---
---
Visual Facilitation
www.makemark.com