A few weeks ago, I had the fun and productive experience of attending a skills development workshop that a previous student of mine, Heather Martinez, was hosting. Was also fun to reconnect with other students who were there as fellow participants and meet some new faces too.
Heather came through my Fundamentals of Working Visually course back in 2011. I had the honour of being her first GR/GF teacher after she spotted one of my early GR videos on YouTube. A few years later she dove into SHIFT-IT and later again into Practical Energy Work. It's been a delight to witness her tenacious manifestation of her GR/GF career and her and her husband Ray's relocation from Colorado to Washington, D.C.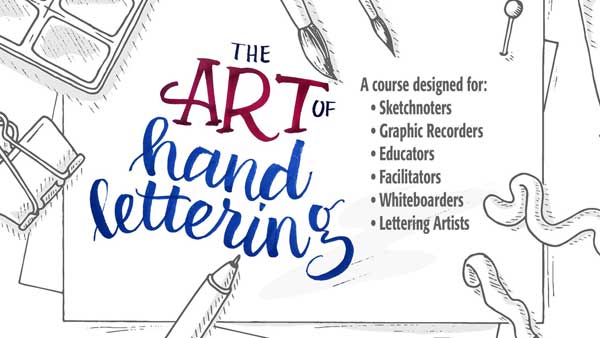 Heather came pre-loaded to my courses with a robust design background as a Graphic Designer and also as a hand lettering aficionado. The latter is what her workshop was about … The Art of Hand Lettering.
While Heather entered our field from a design background (like some do, especially those interested in Graphic Recording of late), I instead entered our field  back in the mid 90s from a process background (masters in organizational development). Both of us started in Graphic Recording (scribing off on the side) and eventually moved into Graphic Facilitation (co-building graphic records interactively with our clients in highly facilitated settings).
I like how Heather understands the full range of how visuals are used in our field: Studio Work, Graphic Recording, Visual Process Work with Groups and Visual Process Work with Individuals. And sets realistic expectations of what is possible under the various conditions … your live interactive work doesn't look like your Studio Work (even if you are Heather Martinez!).
Because my work is mostly created under process lead conditions (I'm facilitating or coaching WHILE I'm also creating the visual record), I write and draw extremely FAST. Heather's workshop slowed me down and taught new tricks to this ol' dog (I'm the only one who is allowed to refer to myself as an ol' dog … agreed!).

I particularly LOVED her transparency of showing the amount of format and color prep she does for her gigs (no folks, we don't just stand up to the wall and completely wing it). I also appreciated her explanation of the history of hand lettering, including her forays into sign painting and calligraphy. It really sank in how specialty lettering, like any niche craft, requires mileage … lots of practice to become 'unconsciously competent'.
Heather is also a Neuland Ambassador … explaining the markers and other lettering aids from The Neuland Company. Those of you in my Fundamentals class have access to a great video from Guido Neuland in which he explains many of their yummy products. Was great to learn more from Heather about which of Neuland's markers is good for which kind of line and mark. You can check out her favorites here.
After the workshop, I did a video interview with Heather for inclusion in the Bonus Videos area for my Fundamentals class … as is helpful to me to have a good resource I can point students to for further lettering guidance. I liked our interview so much that I decided to put it on my Youtube channel for public sharing. So here it is below (in case you wonder why at times it seems that I'm making weird movements under my desk … my little Yorkie JJ is on my lap and I'm petting him … looked kinda funny so I thought I'd better explain that … note to self, do not pet JJ when you are cutting a video!).
Thanks Heather. I appreciate all I learned from you (my lettering has got much more conscious even if I can't slow down too much) and thanks for taking the time for the interview. I hope those viewing found it useful.