A NOTE FROM CHRISTINA: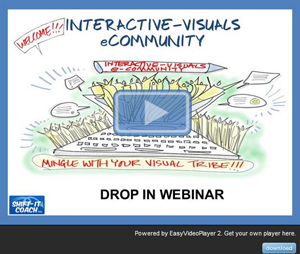 We had an important milestone this week ... the first ever Drop-in Community Webinar for our new Interactive-Visuals eCommunity. This is a complementary service for graduates of our visual programs. A place to connect with other Visual Keeners from across the globe, to continue your learning with visual skills, to network, and to share tips and resources.
It was like old home week for me - really great to connect with students (process professionals in your own right) and to introduce you to each other. Its one thing to post by text in the forum however it takes it to a more personal level with audio and video --- literally being able to see each other in our studios and feel energy and emotions. Thanks all who joined us for this pilot event!
Webinar Discussion Points: Studio Work Contracting & Design Considerations, Strategic Visioning & Planning Resources, SHIFT-IT Templates & Visual Coach Certification, General Sales & Marketing: work begets more work, unhappy fee fixing encounter, getting in-the-room, website leads, list building, blog/ezine approaches, development of ideal client, etc. The webinar recording is now posted in the Interactive-Visual eCommunity NING.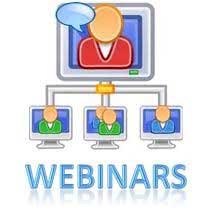 I felt this experimental pilot was successful, so I'm making the commitment to host a monthly Interactive-Visuals eCommunity Webinar moving forward. Are you a grad? Not in our eCommunity Forum yet? Just drop my assistant Patricia an email at [email protected] and she'll hook you up!
In Other News: As mentioned in past issues, I'm in the midst of a big energetic upgrade and my new and improved marching orders are coming through fast and furious. I've been guided to revise my sites somewhat including my 'about page' in prep for a new course (working title: Energy Alignment for Process Professionals).
Part of the tweak, like I wrote about last issue, is emphasizing BOTH the left-brain AND right-brain sides of good process work - how they have EQUAL value. Sooooo, I'm revising my bio to show both my left and right brain paths. The right brain path is the riskier, more vulnerable path. I'll be sharing that next issue (gulp ... cause there is some stuff that I've never shared publicly before). In the meantime, here's the newly revised story of my left-brain path to date.
Wishing you the best in your own unfolding journey,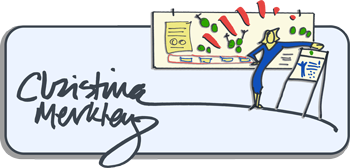 The SHIFT-IT Coach
& Interactive-Visuals Mentor
POWERFUL LESSON IN HOW GOOD COACHING IMPROVES ONE'S WORK, AND WHY I CONSIDER CHRISTINA ONE OF THE GREAT MENTORS IN MY LIFE
"The day I got word of my successful completion of Visual Coach Certification® I was working on a new chart for a client who comes annually for visual project updates. It's great for them, and I love how much airplay the charts get in their work with various teams around the province.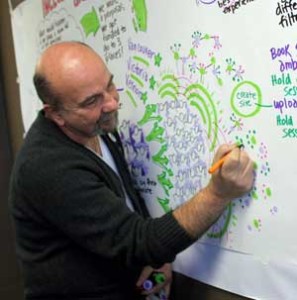 Aaron Johannes
Certified Visual Coach
On that significant day of completion, I got to compare three charts; one from 3 years ago, another from 2 years ago and then the current one (made on the heels of the last 13 months in SHIFT-IT Online, The Fundamentals of Interactive-Visuals and Visual Coach Certification). Comparing my charts was yet another powerful lesson in how good coaching can improve one's work, and why I consider Christina Merkley one of the great mentors in my life.
While that's about the improvement of technical skills, there's also been an amazing shift in me as a person too. I think the word that comes to mind most about this program for me is "trust." Becoming a Visual Coach with individuals was a leap for me after years of co-facilitating groups in various kinds of team planning processes. I had worked with individuals with disabilities using the PATH Process, however I was now trusted to add the SHIFT-IT tools to my toolkit too.
I made my way through the base training part of the program then progressed to working with clients: suddenly there was this one person (my first official visual coaching client); hopeful, daunted, nervous, wondering, and trusting to be coached, by me. In that moment (once I remembered to breathe) I recalled how Christina had told me the truth even when it was hard to hear, and also when she told me what she liked about what I had done and how I had improved - she asked me to try something different, in my graphics and in my life, and I trusted her sense of what I was capable of. And it worked. And she sent me back to redo something. Not many people send me back to do things over. Oddly, I liked that a lot.

All day I mulled over these ideas and then, as I coached someone through a shift in their life, they said, "I really trust your sense of this - I know I can trust you to help me get where I want to go."
Christina pays it forward with shared grace."
Aaron Johannes
Co-Director, Spectrum Society | Graphic Facilitator & Coach
Vancouver, British Columbia, Canada
http://imagineacircle.com
SHIFT-IT SCHOOL: UPCOMING COURSES


For Process Professionals Who Work With Individuals:
2015 VISUAL COACH CERTIFICATION®

10-Weeks Online: April 7 - June 9, 2015
Tuesdays Noon-1:30 pm Pacific

For coaches, counselors, therapists and others who work deeply with individuals. Add the power and innovation of Visual Coaching to your professional practice. Includes advanced Visual Coaching techniques, use of my SHIFT-IT System® with your clientele (17 visual maps), guidance in the 'template-izing' of your own intellectual property, plus marketing and biz development support.


New 2015 Cohort Forming
Apply Now!
Two Pre-requisites: SHIFT-IT Online and Fundamentals of Interactive-Visuals (or equivalent experience).
For Process Professionals and Creatives
FUNDAMENTALS OF INTERACTIVE-VISUALS®
Visual Skills for Process Work with Groups and Individuals
This professional skills training (in beautiful Victoria, British Columbia, Canada) thoroughly covers the four main ways of working visually: Studio Work, Graphic Recording, Graphic Facilitation and Graphic Coaching. Over 87% of your consulting, facilitation, training, teaching, counseling and coaching clients are Visual Thinkers - these powerful visual skills boost the effectiveness of how you work with groups and/or individuals. Also great for Illustrators, Designers, Artists and other creatives who want to expand their skills into new zones. FYI, you DO NOT have to be an artist or even consider yourself particularly artistic to do functional visual work. There is range for everyone who is interested to apply these techniques for greater efficiency, clarity and fun in your work!
3 Days In-person: June 4-6, 2015 * Just 20 17 Spots Left
Beautiful Victoria, British Columbia, Canada
EARLY BIRD ENDS APRIL 20TH
Full Details and Online Registration
Note: Pre-requisite for Visual Coach Certification. FYI, we also have a Home Study Version of this course available at any time.
For Visual Keeners:
MAGIC MARKER RETREATS ®

Getting your visual basics is half the equation - the other is competency and creation of a viable practice (whether you are internal or independent). This 2-day Boot Camp takes your visual practice to the next level: chock full of at-the-wall drills, project brainstorming (bring work for feedback and ideas), and identity/brand/financial coaching. Work your brain, your fingers and dissolve your resistance, all in deep community with Visual Practitioners.
June 8-9, 2015
Victoria, British Columbia, Canada
* Sold Out * write [email protected] to be added to wait list
Full Details and Online Registration
Note: Pre-requisite is Fundamentals of Interactive-Visuals (or equivalent experience). Follows June 4-6 FIV for those who want back-to-back instruction (make the most of your travel to Victoria).
For Individualized Attention
BOOK CHRISTINA MERKLEY JUST FOR YOURSELF
In-Person and Distance Options

One-to-one Business & Life Coaching and Visual Skills Mentoring tailored just for you on a range of outer and inner topics.
For Individuals: Private Training, Private Coaching and now new Distance BodyTalk Sessions.
For Organizations: Process Facilitation (Visioning, Strategic Planning and Harmony Interventions) and In-house Trainings.
FEATURED ARTICLE:
CHRISTINA'S LEFT-BRAIN JOURNEY TO DATE
I'm in the midst of evolving my website and offerings again to keep pace with my continued evolution. What I really want to do is write and share my 'right brain story' --- as exciting developments have occurred these last few years (like kundalini awakening!). However, in order to do that, I'm being guided to first attend to my left-brain story ... as it's due for some updating.
Some Multi-Media Aids:
Even thought this is a left-brain story ... I can't help but use some right-brain techniques to more easily communicate it. Below is my Visual Bio (a studio piece created to communicate my story on my websites and during my classes). And underneath that is a video where I use my Video Bio during one of my online classes. And, finally, at the end of this post is regular ol' left-brain text (with audio).
My Visual Bio:


Larger View Blog Post on Visual Bios
Video Using Visual Bio to Share My Story: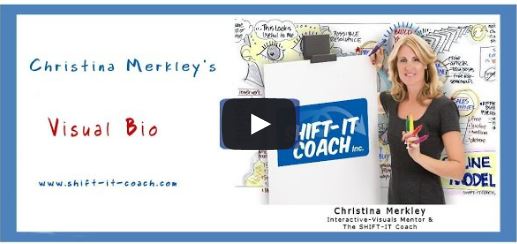 Click to Open
The Written Story:
Below is the written sharing of this story, with audio to make it easier:



Click to Open
The Early Years:
Where does one begin a left-brain story? Well, probably in the basis of the culture one was raised in. I'm a Canadian woman with a childhood in the 70s and adolescence and young adulthood in the 80s.I can't say I was particularly left-brained (I feel I've always been pretty balanced in both left and right) however the culture I was raised in (as we all are) was decidedly left-brained (linear, rational, masculine, action-oriented, etc).
I attended ...
ARTICLE CONTINUED ON BLOG ... CLICK HERE TO VIEW
---
For the full SHIFT-IT e-Zine Archives: Click Here
For the full SHIFT-IT Audio Library (mp3): Click Here
Christina Merkley
The SHIFT-IT Coach &
Interactive-Visuals Mentor

SHIFT-IT Coach, Inc. is a boutique training and coaching company specializing in visual process work for groups and individuals. Founded by Christina Merkley, pioneering Visual Facilitator and Coach, we work deeply with individuals, partners and conscious businesses to define and manifest what you really want. We also train Process Professionals from across the globe in our innovative ways of working. For more information visit www.shift-it-coach.com and www.visualcoaches.com.
IN THIS ISSUE:
>>Featured Article:
Christina's Left-Brain Journey to Date
---
CONNECT WITH US:
---
BLOG ENTRIES:
Looking for more rich, SHIFT-IT content? Check out my blog for recent ramblings, resources and general interest features:
Graphic Coaching: Come Learn the Niche Within the Niche
Aaron Johannes:
Certified Visual Coach Congratulations
Interactive-Visuals eCommunity: Free Drop-In Webinar
The Equal Value Of The Right Brain
Learn Visual Thinking Skills: Hope And Fears Of New Participants
[Cave Digger Documentary] Excellent Shift-It Inspiration
Click here to read The SHIFT-IT Blog.
---
EZINE ARCHIVES:
Browse past issues here.
Listen to the ezine here.


---
PRODUCTS: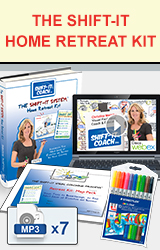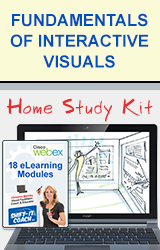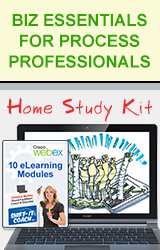 ---
Our Websites:
---
---