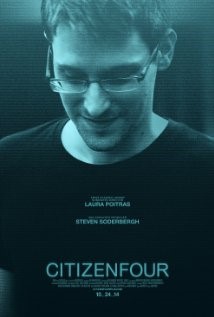 Was able to catch up on a few films I've wanted to watch and was not disappointed. Citizen Four won Best Documentary (long form) at recent Oscar Awards.
It's the story of young whistleblower Edward Snowden as filmed by Laura Poitras … one of the journalists he contacted with the massive stash of NSA surveillance documents he shared with the world.
Fascinating to watch these real world events back when they happened. Snowden in his Hong Kong hotel room speaking with Laura Poitras, Glenn Greenwald and a third journalist. Not sure what fate awaits him but clearly articulating his morally felt reasons as to why he chose that route.
I personally think it's hopeful that this film won an Oscar (given the surveillance that Poitras has been under for years given her critically acclaimed film on Iraq: My Country, My Country).
You can catch her being interviewed here by Charlie Rose:

Also, here are a few videos with Glenn Greenwald:
On Charlie Rose:

And a public speaking appearance in Canada, just shortly after the Ottawa attacks on Parliament Hill:


I also appreciate Poitra and Greenwald's online news site: The Intercept. Always interesting to swing by there for a look at their take on recent events and news.
Cheers, Christina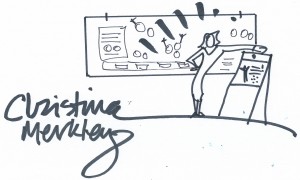 The SHIFT-IT Coach | And Graphic Facilitation Training
---
© 2015 Christina L. Merkley
WANT TO SHARE THIS ARTICLE?
Yes thanks, please do, I just ask that you keep it completely intact (as is) and include this blurb with functional links:
Christina Merkley, "The SHIFT-IT Coach" is a Visioning and Strategic Planning Expert specializing in Visual Thinking and Inner Alignment techniques. Based in charming Victoria, British Columbia, Canada, she works deeply with individuals, partners and conscious businesses to define and manifest what they truly want. And, trains other Process Professionals in her innovative ways of working. For more information visit: www.shift-it-coach.com and www.visualcoaches.com