"Excited. Love This Work! Going For It With Conviction Feels Scary! Ready to Take It To The Next Level. Scared Yet I Want to Feel Confident"
Those are some of the conflicting phrases expressed by participants as we kicked off the spring online version of Fundamentals of Interactive-Visuals this week (my course that teaches the basics around Visual Thinking Skills: aka Studio Work, Graphic Recording, Graphic Facilitation and Graphic Coaching).
Below is my At the Crossroads graphic recording created as participants introduced themselves and their various reasons for taking the course.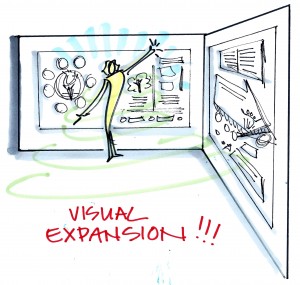 We've got folks who have never witnessed live visual work yet (one who just found out about it a week ago). Others who have seen various practitioners in action. Some who have tried the various skills already. And others who are ready to broaden the breadth of their existing skills – to new applications, populations and topic areas.
I've taught up and coming Graphic Facilitators, Graphic Coaches, Graphic Recorders and all other manner of Visual Practitioners and Visual Thinkers for many years now. And, I KNOW that working visually brings an interesting mix of desire and also resistance (or downright fear) with it.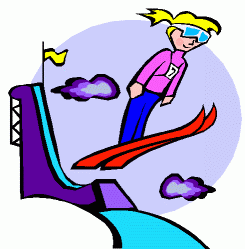 I use the analogy of an Olympic ski jumper. Those gals and guys didn't start their sport by immediately jumping off those super high lifts. No, that would have most likely been instant death. Instead, they started with itty-bitty jumps and worked their way incrementally up. Probably they looked up one day and thought "geez, look at me, I'm flying with the eagles". It quietly snuck up on them. And that's how I teach these visual thinking skills. If you stick with it, pretty soon you are soaring too!
It takes a lot of courageous to develop visual thinking expertise, as by its very nature its public and hence VISIBLE and SEEN. There are plenty of ways you can practice on your own. But eventually, if you really want to do the work (not just sticking with your own private sketchnotes) then you have to make the vulnerable segue to doing it in front of others, with their eyeballs fixed on what you are creating. Gulp.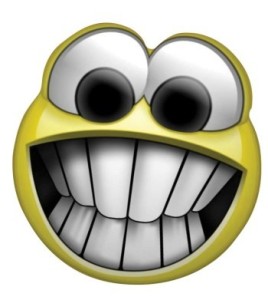 I know it seems scary. Lots of people new to Visual Thinking techniques feel that way to start. Heck, I'm always nervous the first 10 minutes of a new gig and I've been doing visual work for going on two decades now. But, as you learn … and as the work gets demystified, it does get easier. And its gets FUN and EXCITING too
And you do find yourself more and more in that lovely FLOW space where the content (and its supporting visuals) channel through you. Where it's not about you anyways, its about SERVING the groups and individuals who work with and the ideas, insights, ahhas, feelings and thinking that needs to come out of them, thru you onto paper (or other mediums). So they can more effectively do whatever their thing is in the world.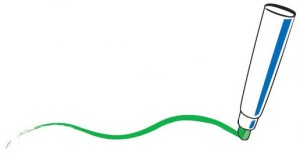 So if you are new to working Visual Thinking, soak up all you can be reading and exploring the internet (there is lots of stuff available now). However, if you are ready to really commit to these skills and learn how to properly do them … perhaps it will be your introductory comments I'll be recording soon!
Yours in visual expansion,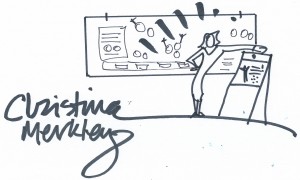 P.S. SEVERAL WAYS TO LEARN: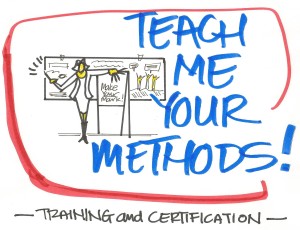 Public Workshops
Online & in-person
Private Trainings
In Victoria, British Columbia, Canada
InHouse Trainings
I travel to you if you have several people to train.
Home Study Kit
Available instantly.
P.P.S. VISUAL COACH CERTIFICATION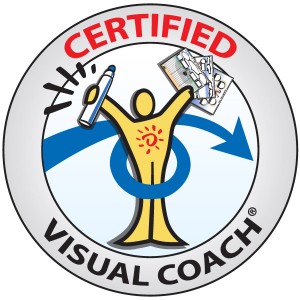 Also, for coaches, therapists, counselors and other professionals ethically trained to work with individuals we offer Visual Coach Certification. Use The SHIFT-IT Visual Coaching System and its suite of 17 tools in your own practice. Plus learn how to visual-ize your own intellectual property. Plus marketing and business development assistance.
FREE EXPLORATORY CHAT: Questions? Not sure which option is best for you. Contact inquiries@shift-it-coach.com and ask for an Exploratory Chat with Christina, and I'll help you sort through your options.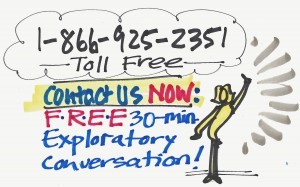 ---
© 2015 Christina L. Merkley
WANT TO SHARE THIS ARTICLE?
Yes thanks, please do, I just ask that you keep it completely intact (as is) and include this blurb with functional links:
Christina Merkley, "The SHIFT-IT Coach" is a Visioning and Strategic Planning Expert specializing in Visual Thinking and Inner Alignment techniques. Based in charming Victoria, British Columbia, Canada, she works deeply with individuals, partners and conscious businesses to define and manifest what they truly want. And, trains other Process Professionals in her innovative ways of working. For more information visit: www.shift-it-coach.com and www.visualcoaches.com