A NOTE FROM CHRISTINA: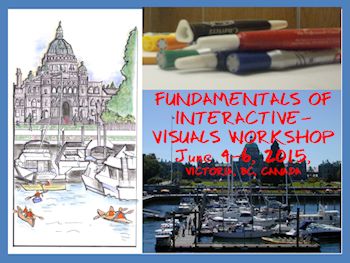 It's a busy and good time right now. Next week I'm leading my two in-person workshops: Fundamentals of Interactive-Visuals and Magic Marker Retreat.
Fundamentals still has a few spots left - so act quick to nab one if you'd like to learn visual skills ASAP (they will last you a life time!).
Most of my work is online so it's a treat to interact with clients face-to-face and break out the big paper, markers and the like. Looking forward to meeting and training all of you who are coming to Victoria, British Columbia ... so far the weather is gorgeous!
On a different note, I do have a bit of an uncomfortable announcement to make about another aspect of my process work. For the last 18 months I've been diligently learning a fascinating consciousness methodology called BodyTalk. Many of you have witnessed my journey via the sharing I've done as well as jumping in as BT clients (some of you fellow Process Professionals have even followed my lead to get BT training yourselves).
While I have great admiration for the methodology itself and the bulk of its practitioners (awesome folks) I unfortunately can't say the same for the current International BodyTalk Association. I've resigned my membership due to some serious issues this organization needs to address.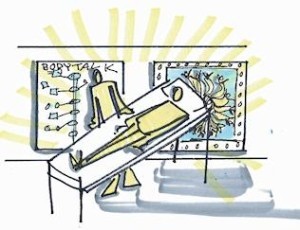 Hopefully the turbulence currently underway will bear positive fruit.
FYI, I will continue to use BodyTalk in my private coaching practice - at least when you and your body say it's the right priority for you! And I'm continuing my energy medicine and consciousness pursuits in other ways too.
Speaking of contemplating and making departures, I've written this issue's article on "What To Do If You've Lost Faith in Your Work, Boss or Clients". This article tackles the topic whether you are an employee with a boss or a self employed professional with clients (who are your boss in a way).
As Law of Attraction would have it several of my private clients are currently dealing with these challenging yet growth provoking dynamics. Each situation is different yet there are also common themes and tactics that can help you decide whether to stay or go.
Yours in SHIFTing IT,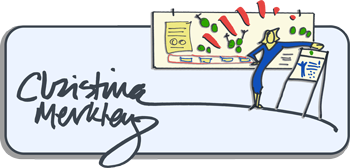 The SHIFT-IT Coach
& Visual Mentor

ONE OF THE REASONS I WAS SELECTED WAS BECAUSE
DURING MY INTERVIEW I SHARED HOW I WOULD USE
INTERACTIVE-VISUALS - THEY WERE REALLY INTERESTED
AND EXCITED ABOUT THE IDEA!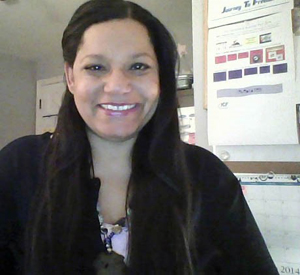 Estelle Gibson, CPA
Speaker, Trainer and Coach
"As a CPA and Financial Coach I work with Creative and Heart Centered Business Owners using an inner and outer approach with their money and mindset.
I attended Fundamentals of Interactive-Visuals last fall. Wow, I just reviewed my desired outcomes I jotted down when the course began -- to be able to create coaching notes and creative worksheets for my clients - get away from the boring spreadsheets.
Christina expertly provided the missing link for me. I now have the ability to create visual tools for my clients to more effectively introduce financial topics and help them see and change their complex and emotional money issues.
In my private coaching with Christina we brainstormed ways to make my workshop presentations more interesting, inviting and dynamic. Next month I'm presenting at the International Coach Federation Conference. I believe one of the reasons I was selected was because during my interview I shared how I would use Interactive-Visuals - they were really interested and excited about the idea!
Thanks Christina for your awesome step-by-step course and all the help and support you provide."
Estelle Gibson, CPA
Speaker, Trainer, Coach
Ohio, USA
www.journey-to-freedom.com
SHIFT-IT SCHOOL: UPCOMING COURSES


For Process Professionals and Creatives
FUNDAMENTALS OF INTERACTIVE-VISUALS®
Visual Skills for Process Work with Groups and Individuals

This professional skills training (in beautiful Victoria, British Columbia, Canada) thoroughly covers the four main ways of working visually: Studio Work, Graphic Recording, Graphic Facilitation and Graphic Coaching. Over 87% of your consulting, facilitation, training, teaching, counseling and coaching clients are Visual Thinkers - these powerful visual skills boost the effectiveness of how you work with groups and/or individuals. Also great for Illustrators, Designers, Artists and other creatives who want to expand their skills into new zones. FYI, you DO NOT have to be an artist or even consider yourself particularly artistic to do functional visual work. There is range for everyone who is interested to apply these techniques for greater efficiency, clarity and fun in your work!
***LAST IN-PERSON OFFERING OF THIS COURSE FOR A FULL YEAR***
3 Days In-person: June 4-6, 2015 * Just 20 3 Spots Left
Beautiful Victoria, British Columbia, Canada
Full Details and Online Registration
Note: Pre-requisite for Visual Coach Certification. FYI, we also have a Home Study Version of this course available at any time.
For Visual Keeners:
MAGIC MARKER RETREATS ®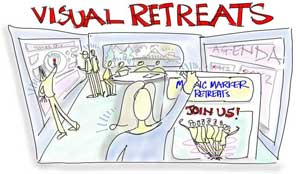 Getting your visual basics is half the equation - the other is competency and creation of a viable practice (whether you are internal or independent). This 2-day Boot Camp takes your visual practice to the next level: chock full of at-the-wall drills, project brainstorming (bring work for feedback and ideas), and identity/brand/financial coaching. Work your brain, your fingers and dissolve your resistance, all in deep community with Visual Practitioners
June 8-9, 2015
Victoria, British Columbia, Canada
* Sold Out * write [email protected] to be added to wait list
Full Details and Online Registration
Note: Pre-requisite is Fundamentals of Interactive-Visuals (or equivalent experience).
For Individualized Attention
BOOK CHRISTINA MERKLEY JUST FOR YOURSELF
In-Person and Distance Options

One-to-one Business & Life Coaching and Visual Skills Mentoring tailored just for you on a range of outer and inner topics.
For Individuals: Private Training (beginner and advanced visual skills) and Private Coaching (business and life).
For Organizations: Process Facilitation (Visioning, Strategic Planning and Harmony Interventions) and In-house Trainings.
FEATURED ARTICLE:
WHAT TO DO IF YOU HAVE LOST FAITH IN YOUR WORK, BOSS OR CLIENTS
To Listen Or Download Mp3 Version of This Article, Click Here
Losing your faith in institutions, authority figures, colleagues or clients is not an easy situation. Perhaps you are going through this yourself right now. You are employed and your faith in the company, leaders, co-workers, work or product has waned. Or, maybe you are a self employed Process Professional (which many of my readers are) and you have contracts but they don't feel so great to you anymore (if they ever did).
This isn't a fun situation but with some dedicated inner and outer work you can SHIFT-IT to a better feeling place whether you stay or leave.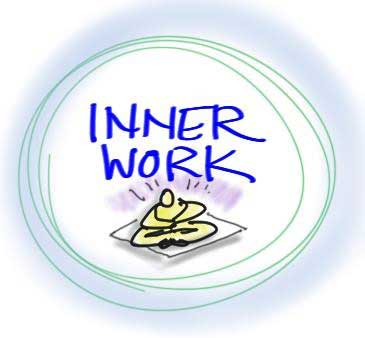 Inner Work First:
I personally think/feel, as an individual and as a Process Professional dedicated to personal growth, that the first place to go is within. Often the things that bother us have personal roots. More often than not a triggering current situation is similar in some conscious or unconscious way to a past situation. And, making that connection can take some or even all of the charge off.;
So, a first step is to get curious. When did your feelings or faith shift? Did something specific happen? How have you been feeling? What thoughts have been occurring to you? And, can you remember something earlier in your life that may have had the same kind of feelings, sensations or tone?
A great process to make these connections, which I use in my practice regularly, is ...
ARTICLE CONTINUED ON BLOG ... CLICK HERE TO VIEW
---
For the full SHIFT-IT e-Zine Archives: Click Here
For the full SHIFT-IT Audio Library (mp3): Click Here
Christina Merkley
The SHIFT-IT Coach &
Interactive-Visuals Mentor

SHIFT-IT Coach, Inc. is a boutique training and coaching company specializing in visual process work for groups and individuals. Founded by Christina Merkley, pioneering Visual Facilitator and Coach, we work deeply with individuals, partners and conscious businesses to define and manifest what you really want. We also train Process Professionals from across the globe in our innovative ways of working. For more information visit www.shift-it-coach.com and www.visualcoaches.com.
IN THIS ISSUE:
>>Featured Article:
What To Do If You've Lost Faith in Your Work, Boss or Clients
---
CONNECT WITH US:
---
BLOG ENTRIES:
Looking for more rich, SHIFT-IT content? Check out my blog for recent ramblings, resources and general interest features:
Gift Yourself New Skills: 3 Great Ways To Get Trained In Working Visually
Esther Perel Video: Rethinking Infidelity
The Kardashians: And Bruce Jenner's Transition;
Learn Graphic Facilitation: Four Spots Left In British Columbia Training
Some Strong Voices Expressing Their Truth on Baltimore, etc.
Let's Make It Through These Crazy Times
Tom Kenyon and the Power of Sound
The Riches of Satisfaction Interrupted
Click here to read The SHIFT-IT Blog.
---
EZINE ARCHIVES:
Browse past issues here.
Listen to the ezine here.


---
PRODUCTS: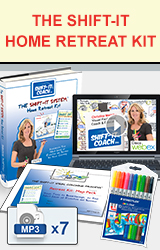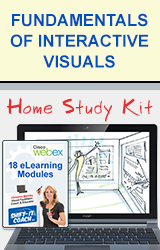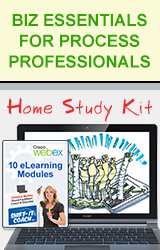 ---
Our Websites:
---
---