VISUAL PROCESS WORK WITH INDIVIDUALS IS INCREDIBLY REWARDING AND I'M AT MY BEST WHEN DOING IT!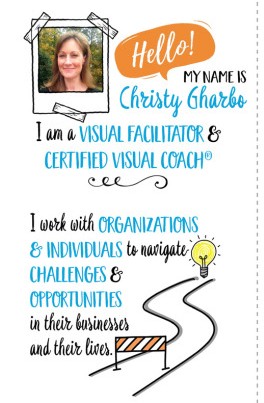 Using visual processes and tools, I help others see through the clutter, make sense of ideas and information, uncover the possibilities, and take action.
After 20 years in corporate learning & development, I found the field of Graphic Recording / Graphic Facilitation and began to learn via Christina's beginner and advanced courses.
Wanting to enhance my visual work with individuals, I was drawn to Christina's SHIFT-IT and Certified Visual Coach programs. What amazing experiences!
My favourite part of Visual Coaching is helping individuals gain clarity.
Once a client has clarity, she can see the big picture, make informed decisions, solve problems, and take action to achieve her goals.
My clients already have the answers they're seeking, they just can't see them. My role is to help them SEE through the clutter, lift the fog, and find their answers.  I love it when a client steps back from a map and says, "Oh, I see it so clearly now."
Christy Gharbo
Graphic Facilitator & Certified Visual Coach®
North Carolina, USA
www.vizualworx.com
---