These are such challenging and powerful times. Now more than ever people need effective and caring leaders who can hold safe space for the processing of deep thoughts, emotions, and aligned actions.


For two decades I've been Working Visually and training others to do the same. Visual Coach Certification is going into its 11th year and this wonderful niche is blossoming as more and more people discover its magic and heart.
Despite the hectic times, (because of them in fact) enrollment in the 2020 online cohort is strong. There is just one spot left.
ANNIVERSARY SPECIAL EXTENDED: SAVE 50% Only 1 Spot Left!
Online Training Webinars: Sept 22, 2020 – Feb 9, 2021
2 Prerequisites Required: Can Be Done Concurrently
Both Online and In-Person Application: Visual Coaching can be performed both online and in-person (making it a flexible medium that can adapt to environmental necessities). From large and small paper techniques to fully online via web conference and drawing tablets (the bulk of my work is done this way with clients from across the globe).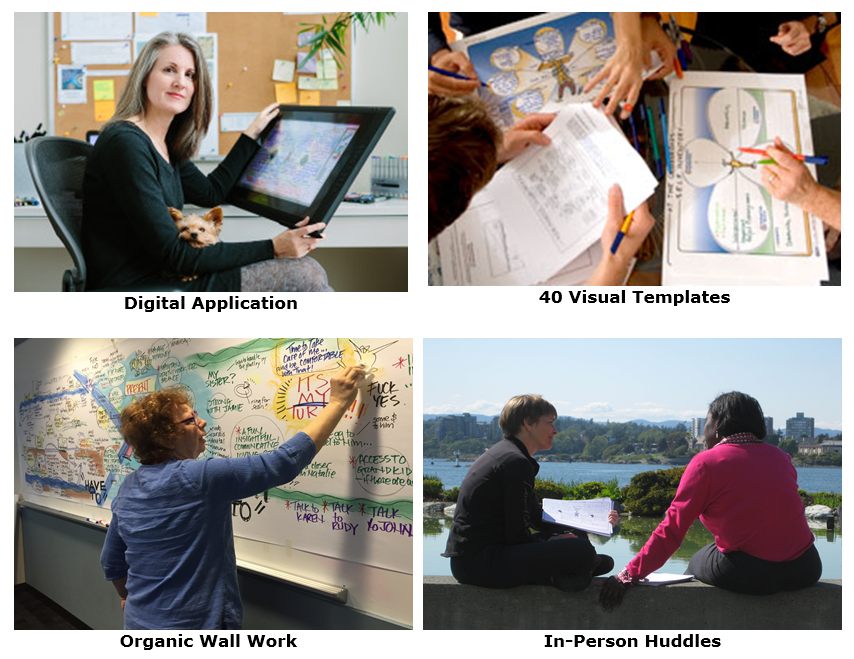 Range of Populations: Visual Coaching can be applied in left-brain corporate and business settings (logical and linear) and also deeply into right-brain territory (emotions, intuition, deep unconscious).
It's an innovative whole-person approach that many different kinds of people resonate with, especially Visual Thinkers (the majority of the population).
Access to My 40+ Visual Templates: This one-of-a-kind program trains you in my proven SHIFT-IT Visual Coaching System® and gives you access to my full suite of tools – 40+ visual templates and counting.

Additionally, I'll mentor you in developing your own templates if you have your own unique moves too.  Plus, there are plenty of ways to work emergent with no templates too!
For Artists and Non-Artists Alike: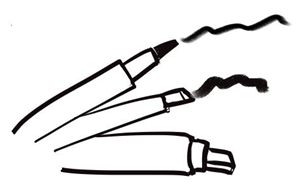 You do not need to be an artist to effectively use my tools.
And, if you are an artist, you can add your own unique flair and style to the functional base I provide.
The people this program attracts are top-notch – you'll learn as much from them as from me. Together we are creating a new modality that brings vision, clarity, and hope to the world. Something we really need more of now!
This program is best for practitioners who are already trained in some capacity to work with individuals (coaches, therapists, supervisors, human resources, teachers, counselors, mediators, financial advisors, and the like).
I am not teaching you how to do your work, I am teaching you how to do it visually. And equipping you with best practice tools that slip right into your internal or external practice. Plus, a ready-made system so you can jump in with both feet … or hands in this case!
This is going to be an extra special cohort. Join now if you want to be a part of this creative and caring tribe as we navigate through epic times!
ANNIVERSARY SPECIAL EXTENDED: SAVE 50% Only 1 Spot Left!
Online Training Webinars: Sept 22, 2020 – Feb 9, 2021
2 Prerequisites Required: Can Be Done Concurrently
Click Here to Nab the Last Spot!
Be training you soon!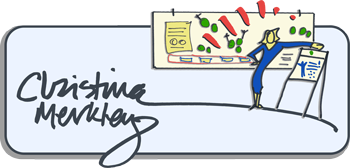 Christina Merkley
The SHIFT-IT Coach
P.S. GET THE PRE-REQUISITES IF YOU DON'T ALREADY HAVE:
There are two pre-requisites (or equivalent experience) required for this program. Do you have them already? If not, it is possible to do them concurrently.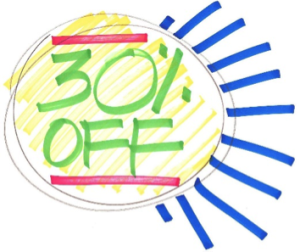 P.P.S. TAKE ADVANTAGE OF CURRENCY RATES IN YOUR FAVOR:
I'm a Canadian, and as such all of my programs are in Canadian currency.
FYI, the Canadian dollar is currently low … which translates into additional savings for Americans, Europeans, and some other nationalities.
If you've been eyeing Visual Coach Certification, now is the time to act before the Anniversary Special disappears.
P.P.P.S. For an overview of my SHIFT-IT School curriculum, click here.
---