When I'm really busy I look for simple ways to shift my energy and step out of my own life for a while – get a 'different vibe' so to speak. I like to put myself into someone else's shoes — so I can lose myself in their world (and vicariously learn a bit in the process too).
My favorite way to do that is by reading biographies and memoirs … especially of creative and uniquely talented people. Not only do I get the benefit of an interesting tale but as The SHIFT-IT Coach I get an inside look at the circumstances and temperament of an interesting person and how they roll with the ups and downs of their unique experience. Sometimes this kind of reading gives me a gift of another sort too – by leaving me very thankful for my own life – and appreciative of what human beings can overcome in order to live a satisfying life.
Thankfully there are a whole slew of great memoirs within easy reach lately. Here are a few that have captivated my interest, my curiosity about different arts and occupations … and my admiration for their courage and generosity in how they have chosen to use the platform that fame has granted them.
1. Elizabeth by J. Randy Taraborrelli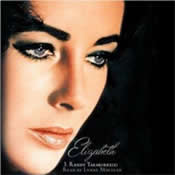 After so many near death experiences over her life, the world had to say goodbye to Elizabeth Taylor for real just recently. With the flurry of TV and print coverage on her unique life, I was compelled to pick up this previously published New York Times bestseller for some easy reading during a flight … and wasn't disappointed.
The height of her notorious fame (i.e. all those marriages and screen roles) was a bit before my time … however this book gives a fascinating look into her early environment (had a uber stage mother) and the distinct phases she went through as child actress, femme fatale, boozer/addict, political wife and finally her leading-edge work as ground breaking AIDS activist. Finished with a lot more respect for a woman who in many ways was a canary in the coalmine indicating shifts that the larger culture was going through.

2. High on Arrival by Mackenzie Phillips
I took a while to read this one because I knew ahead of time the controversial bombshell it contains about the incestuous relationship with her famous father (lead singer John Phillips of the Mamas and Papas) — given the outcry in the public arena when she first published.
As The SHIFT-IT Coach I have A LOT of compassion for the journey that many of us go through to find our own path in life and to learn how to speak our own truth — even if it might upset some around us. Sorting through the labyrinth of emotions, influences and perspectives in your run-of-the-mill dysfunctional upbringing is hard enough. Let alone one compounded by parental neglect, massive substance abuse and early fame and prosperity. My hat goes off to Mackenzie Phillips for her brave share … and by what appears to be her ongoing education about the tricky and heart-breaking dynamics that incest survivors often have to bear. She's helped a lot of people keep their head held high – they aren't the ones who should be ashamed.

3. Playing with Fire by Theo Fleury
Superstar Canadian hockey player Theo Fleury did something amazing in his book – he taught me to appreciate and respect the drive, intensity and athletic prowess it requires to play at the top ranks of hockey. And deftly showed the light and dark sides of the brotherhood of men in team sports.
He too was traumatized by an authority figure when he was a young adolescent – a predatory hockey coach who took advantage of his youth, vulnerability and distance from his family. In sorting out his later substance abuse, relationship and financial troubles, Fleury enters recovery and gets the help he needs to heal the issues which drove his notorious behavior. And has since gone public with his ordeal in an effort to shed light on the abuse of boys and the male recovery journey. Caught an interview with him on Canadian radio — very powerful speaker and has created a foundation to assist boys and men with similar experiences.
Hockey Footnote: Talking about hockey — Go Vancouver Canucks Go!!! (home team currently competing in the Stanley Cup after a bazillion years!).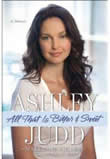 4. All That is Bitter and Sweet by Ashley Judd
Many of us know of Ashley Judd via her career as a leading lady in movies. Or, as the sister to the very successful mother/sister country music duo The Judds. And wife of dashing race car driver Dario Franchitti. Ashley dropped off the movie track a number of years ago and her 'travelogue' accounts for those years.
Part of those years was going through her recovery process as a neglected 'Lost Child' in her family dynamic – leaving her to pretty much raise herself -And the compromising situations that her lack of parenting placed her in. Through high profile celebrity friends like musician Bono from Irish band U2, she found a calling in the poignant cause of female poverty and violence in the developing world. And entered Harvard's prestigious JFK School of Government earning a masters in Public Administration. She writes eloquently of the effect her travels with African and Indian non-governmental organizations have left on her and her passion to assist the causes of disadvantaged women.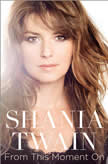 5. From This Moment On by Shania Twain
Ever wonder what happened to Shania Twain? — who basically disappeared from public life after a 14-year string of hits that broke country music convention and blasted through ceilings no matter the genre. Well, she just published her memoir to get her story into print, after the very public betrayal of her marriage to uber-producer Mutt Lange.
A fellow Canadian, Shania weathered a very tough childhood of poverty and domestic violence only to lose both her parents in a car crash as a teenager. Keeping her family together as best she could, her story of how she got to Nashville and the circumstances of her meteoric rise is fascinating. However the ending left something to be desired as she still seems to be in process around the issues of her personal life with no hint of seeking therapeutic or counseling assistance to help her resolve things. Hopefully her new reality show on Oprah's new OWN network will bring her the needed resources to help her move on and re-establish her voice and presence.
---
For the full SHIFT-IT e-Zine Archives: Click Here
For the full SHIFT-IT Audio Library (mp3): Click Here
©2011 Christina L. Merkley
WANT TO USE THIS ARTICLE IN YOUR E-ZINE OR WEB SITE?
You can, as long as you include this blurb and a functional link to my site:
Christina Merkley, "The SHIFT-IT Coach" and creator of the SHIFT-IT System®, is a Visioning and Strategic Planning Expert specializing in Visual Thinking and Law of Attraction techniques. Based in charming Victoria, British Columbia, Canada, she works deeply with individuals, partners and conscious businesses to define and manifest what they truly want. And, trains other helping professionals in her innovative ways of working. For more information visit: www.shift-it-coach.com
---