Ahhhhhhhh …that's the sound of a relaxed me after a much needed vacation! Thankfully I have a few more weeks of R&R time, however it won't be the same as being at the lovely Rancho La Puerta in Tecate, Mexico.
How nice to be in real heat (I love hot weather), surrounded by a spectacular high desert environment, with perfect organic food 3 times a day. Not to mention the morning hikes and fitness classes (yeah, I actually did a few) plus personal growth lectures (SHIFT-IT needs to be on their curriculum). Plus the artistic touches were lovely (sculptures and Mexican yarn art and paintings).
The only ick moment was during a landscape drawing class. Our instructor was in the middle of demo when 5 feet in front of us a snake entwined with a big ol' rat dropped from the trees. Rat lived. My interest in landscape sketching sadly didn't. Ewww, ewww, double ewwww. That was an interesting Law of Attraction experience (I blame it on Judith Herman's Trauma & Recovery book I was reading … excellent SHIFT-IT material but might have been a bit too archetypically intense given rodent & serpent fell from skies!).
I'm back on Canadian soil now … no threat of snakes thank goodness. Stasi and Pat are prepping for our great line up of fall classes. Until then, I'm getting in as many hikes with JJ as I can before classes begin and our west coast weather takes a turn.
Enjoy your remaining days of summer (if you are Northern Hemisphere). See you in our upcoming fall or 2014 classes!
Yours in SHIFTing IT,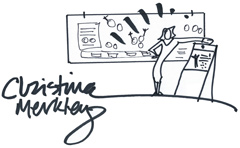 The SHIFT-IT Coach
& Interactive-Visuals Mentor
P.S. For 2013-2014 course schedule, click here.
---