My summer travels have continued with another trip down the coast, back to the Portland, Oregon area. This past weekend I had the pleasure of attending Michael Tellinger's lecture at the ECETI Ranch (a place I've wanted to visit for quite some time).
Michael is a South African researcher (and now politician) who's done extensive studies of a vast network of ruins, most specifically one known as 'Adam's Calendar'. From an early age I've been fascinated with archeology so it was a treat to catch Michael in person in a relatively small venue. And to also hear of his more recent work involving the UBUNTU philosophy and movement.
After a stay in Bend, Oregon I'm back to the ranch for a final summer experience with host James Gilliland. Then its back home to hunker down for the start of my own fall season: we've got SHIFT-IT Online and Fundamentals of Interactive-Visuals (online version) right around the corner.
Yours in SHIFTing IT,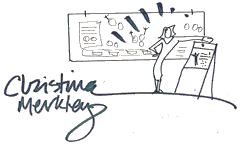 Christina Merkley,
The SHIFT-IT Coach
and Interactive-Visuals Mentor
---