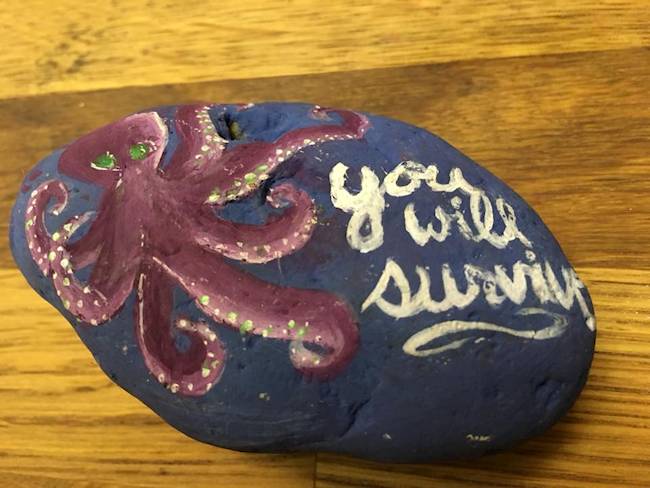 I live outside Victoria, British Columbia, Canada in the rural woods.  Its a rain forest, which means it rains for half the flippin' year. However, all the rain means we're surrounded by BEAUTIFUL green forests.
I also have a dog.  Dog+forests = lots of trail walking.
I was walking on Blinkhorn Lake Trail yesterday and something blue in a earth bank caught my eye. On closer examination it was this — a painted rock with a meme on it. Haha, being a Visual Practitioner myself I really appreciated whoever left this!
Turns out there is a local group that does this … paints rocks and plants them for people to find. They also encourage you to regift them by hiding them again.  Turns out my Graphic Designer / Webmaster Jessica (and her kids) participate in this group.  She's gave me a virtual poke and said I should do it too.  I'm tempted.  Don't have a whole lot of extra time to paint rocks, but I'm tempted.  The poignant, funny, cute or maniacal things I might be able to come up.  Seems a good application for Visual Skills, no?!
Anyone else a Walking Dead fan?  I used to be … but eventually had to stop watching the show.  Got too gruesome for me. But the damage has been done.  I've got Zombie Apocalypse worries just underneath my usual consciousness.  As soon as I saw this I breathed a sign of relief, this is a sign … I'm gonna survive!  I'm not regifting this rock, I'm holding onto it as insurance dammit.
Thx SSRockHunt.  You rock … literally!