CHRISTINA MERKLEY, The SHIFT-IT Coach
Inspiring You to Make Your Mark
As a pioneering 'graphic coach', Christina Merkley facilitates individuals, partners and conscious businesses and is a sought after mentor to helping professionals across the globe.
Known for her innovative visual methods and progressive mindset, Christina's work juxtaposes her childhood love of doodling and drawing with a fascinating background in organizational and personal growth.
With a Masters Degree in Organizational Development & Transformation (ODT), Christina began her career in the San Francisco Bay area as a Graphic Recorder with The Grove Consultants International traveling extensively throughout North America and Europe.
In 2001 she launched her independent graphic facilitation practice – Make Your Mark, LLC where she honed her skills in strategic planning and visioning working for such notable clients as Hewlett-Packard, eBay, Stanford University, The Institute for the Future and The Gordon and Betty Moore Foundation.
Increasing disillusioned with corporate consulting and awakened to the sometimes shortness of life by September 11th (a series of synchronicities kept her from being in New York that fateful day) … Christina walked away from her corporate career in order to pursue her dream of integrating the visual methodology with coaching and spirituality – making her base in lovely Victoria, British Columbia, Canada.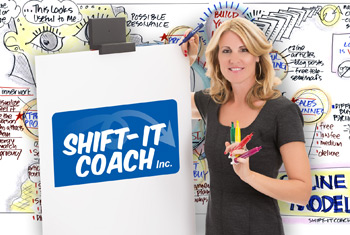 Inspirationally received, her SHIFT-IT Graphic Coaching Process® (comprised of 17 custom Merkley Maps®) is a step-by-step visual system to discover and align with what you really want in work and life. Through her popular Graphic Coaching Clinic® and private trainings she mentors other coaches, consultants and trainers from around the world on how to use visual thinking methods with their own clients.
A proponent of Law of Attraction principles (via Abraham-Hicks) and many other meta-physical practices, Christina's soul purpose is to assist the shift in consciousness that is occurring on our planet by helping conscious and creative-oriented people and companies develop and successfully get their gifts out into the world.
Having been through the hard emotional and physical work of forging an alternative and prosperous path, Christina compassionately champions you in making your own action-based SHIFT to a soul-aligned life.
Contact her now to facilitate you, your partnership or company.
Visual Bio:

---