We're continuing along with a busy winter season here at SHIFT-IT Coach, Inc. Having lots of fun with the SHIFT-IT Online Group as we navigate our way through the 17 maps of my SHIFT-IT System®. We are on the 'Focus On the Future' stage of the process … where participants create their "Magnetism Maps" (visual tool for defining your personal vision and specific goals) and begin to define and flip their resistance (negative or interfering beliefs) that stand in the way of them having what it is they say they want.
Below is a picture of my good friend, Mariann … with her wall-size Magnetism Map (after an in-person visioning and alignment session). And other one of my new assistant Chris, as he rolls up some 'FLIP-IT' work we did on some internal issues we were encountering in the business last week. Getting this stuff out onto paper (whether small or large) really goes a long way towards making desires and resistance conscious and SHIFTing IT to a better place!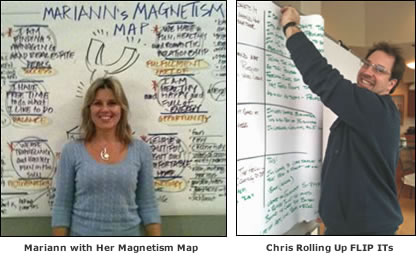 I'm also continuing research and writing of my 'Orphan Rescue' product that I mentioned last week. A visual way to identify and work with old issues that are interfering in your adult, present now. This week's article is a quick tips sheet on Orphan Rescue … try it yourself or drop-in for assistance during SHIFT-IT Central® on Mondays nights.
Hope you enjoy,