It's been a fascinating fall so far … I feel like my Inner Being has pushed the accelerator button … sending me into rocket mode! Ahhas, insights, breakthroughs, clarity, momentum … is happening at such a rapid speed. Do you feel that push of energy too? And I'm not talking caffeine! The intensity factor seems to have gone up another notch with our individual and collective SHIFTS. And those who are sensitive can consciously feel the acceleration occurring. It can be very uncomfortable at times (as negativity and old ways of being are transmuted) but an exciting process for sure!
I'm fastening my seatbelt because next week we start our "Thrive in the Time of Awakening" program with Sheila and Marcus Gillette and THEO. Every time I co-lead this program, I go through another phase of rapid acceleration in my own process … and the blessing of witnessing that in Sheila & Marcus and all the participants too.
THEO has tracked the acceleration of energy over the last decades — and explains what is going on and how it impacts not only our individual lives but the course of our world too. And how we can responsibly navigate this SHIFT. Can't wait to see what happens this next round!
As I see acceleration, shifts and rapid progress happening all around, I thought I'd write this issue's article on "Trust Your Rapid Acceleration" … as sometimes the signs of a breakthrough get misread as a breakdown. If you can see from a larger vantage point, the chaos gets reinterpreted as a phase in a larger, perfect process … one that leads to the actualization of desires previously launched.
Yours in Visual Expansion and SHIFTing IT,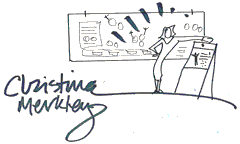 Christina Merkley
The SHIFT-IT Coach
and Interactive-Visuals Mentor