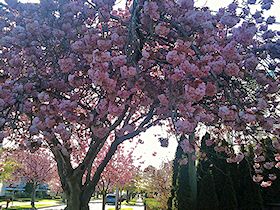 Spring has sprung here in Victoria, British Columbia, Canada.
The streets are full of that beautiful shade of green that only newly budded leaves possess.
And it's snowing pink and white petals from the cherry tree blossoms. The only downside is allergies, but at least I can appreciate the beauty between sneezes.
We're gearing up for a busy May, with two mastermind retreats and the Fundamentals of Interactive-Visuals. Plus, our new local Office Manager is in the process of being selected … so some slight construction, new desk, computer, etc are being added to our digs.
After years of working primarily with an online team, I'm really looking forward to having a right hand person (right there at my right hand literally!) to strategize and fulfill with. With Tamsyn (marketing and sales) joining us in-person after that. Plus I'll be moving my personal space two doors down in the same building – splitting home and work. Giving me more creation space (can finally spread out my painting supplies and pull out my easel).
Last issue I wrote the article on my Outer Work Model for building your 50-300K process business. This article I want to focus on Inner Work … the other necessary ingredient to build your successful process practice. Here's to your success!
Yours in SHIFTing IT,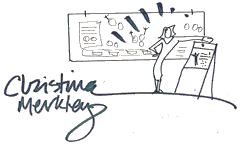 The SHIFT-IT Coach
& Interactive-Visuals Mentor
---