Audio Version: Click Player to Stream or Right Click on Link to Download. For full Audio Library of Past Messages, Click Here
Download MP3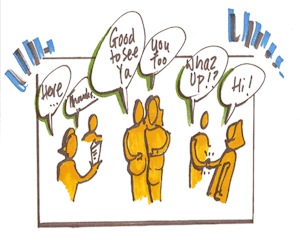 I was just on vacation in Mexico at a health spa and participated in the obligatory introduction round of new members. We shared our name, geography, something we were passionate about and something we could teach others. My answers were … Christina, Victoria, British Columbia, Law of Attraction and "I can teach you a visual method to powerfully improve the effectiveness of your professional work with groups or individuals".
So in the middle of the high desert I found myself explaining what that was to several intrigued Process Professionals (speakers, lawyers, scientists, therapists, coaches and a few fitness practitioners). The answers I gave them varied, as how one uses Interactive-Visuals depends on the kind of work one does and the types of clients one works with.
Sooooooo, I figured this explanation would be a good focus for this eZine. I'll write a 3-part series explaining how different Process Professionals can benefit from the visual approach. In the first article (this one) I'll explain how Authors, Speakers and Trainers can use the medium. In the second article I'll explain how Consultants and Facilitators most commonly use the visual approach. And the third article (a topic close to my heart) I'll explain how Interactive-Visuals are used effectively in coaching, therapy, counseling and other personal development work.
The Four Main Ways of Working Visually:
In the Interactive-Visuals genre, there are four main ways of using visuals to work with groups and individuals, they are: custom chart work, visual scribing / recording (i.e. graphic recording), visual facilitation (sometimes called graphic facilitation) and visual coaching (sometimes called graphic coaching).
Depending on the nature of your Process Practice you may use one, several, or all of the approaches. I have covered these four applications in another article, so I won't duplicate myself again here. Rather, I'll explain which types of professionals tend to use which applications and why. (if you aren't familiar with the four ways of working, you'll want to read that article first).
Part One:
Speakers, Authors and Trainers:
While these folks may do some sort of process as part of their work with their clients they are mostly 'content experts' … so are usually delivering their content via various means to different types of audiences.
With content folks, the most obvious application of Interactive-Visuals work is Custom Chart Work (the time-lapse, 'explainer video' genre also falls into this category).
Basically an Interactive-Visuals professional helps you organize your content into one or a series of 'charts' (or a video) that ideally can be used whenever you need to deliver your content. In essence, we help you condense your message into its most potent form to enable you to more effectively get your point across. These charts or videos can be used in in-person situations or in digital environments (webinars, video- conferencing, PowerPoint presentations, etc.) or just in having more interesting handouts.

Some Examples of Custom Charts Used in Training and Sales:
Process Flow Chart:
Wall-size mural for a Copywriting Expert that lays out the marketing model that she teaches her students over a 3-day workshop.

Click For Larger View
---
Sales Chart:
Wall-size mural that Consultant/Trainer uses to explain their full -system work to potential clients.
---
History Map:
A pictorial of the history of Graphic Facilitation / Graphic Recording field … I created this one for our training handbook and also for use in skills training workshops
---
Agenda Chart:
Here's an example of a workshop Agenda Chart – great tool to create for workshops that you lead repeatedly (create it once, use it over and over again).
---
Book Collaboration:
Some authors take this a step further by partnering with Interactive-Visual practitioners to illustrate the concepts in their books — Michael Port's new visual version of Book Yourself Solid with Illustrator / Graphic Recorder Jocelyn Wallace is a good example.
Additionally content experts (or organizations who bring content experts in to deliver information to their employees) can employ the services of a live Visual/Graphic Recorder to take real-time notes of the content as the speaker delivers it. This service is called Graphic Recording (again, see 4 Main Ways of Working Visually article for further details). After the event digital photos of the charts are shared with participants as an effective memory device and unique takeaway.
---
Explainer Videos:
Another wonderful way for content experts to effectively deliver their message is via an illustrated 'explainer video'. Thanks to RSAnimate, this visual genre has taken the world by storm the last few years. Below is a in-depth Webinar recording where I interview Liisa Sorsa and Disa Kauk, two Canadian colleagues who skillfully play in the Explainer Video space (they also nicely explain Custom Chartwork too).
---
As you can see, Interactive-Visuals gives authors, speakers and trainers some wonderful tools in which to more effectively deliver their message to their audience. Next issue, I'll continue with Part 2 of this series … how Consultants and Facilitators can benefit from the use of Interactive-Visuals.
P.S: Fundamentals of Interactive-Visuals is a GREAT First Step
Intrigued by the visual way of working?! Want to learn how to apply this powerful methodology to your own work with groups and/or individuals? Our Fundamentals of Interactive-Visuals workshop provides a thorough training on the basics for all four genres of the work (Custom Chart Work, Visual Recording, Visual Facilitation and Visual Coaching). Offered online in the Fall and In-Person in Victoria, British Columbia, Canada in the Spring. Private trainings and in-house workshops also available including comprehensive Apprenticeships. For more info contact admin@shift-it-coach.com
---
©2013 Christina L. Merkley
WANT TO USE THIS ARTICLE IN YOUR E-ZINE OR WEB SITE?
You can, as long as you include this blurb and a functional link to my site:
Author's Bio: Christina Merkley, "The SHIFT-IT Coach" and creator of the SHIFT-IT System®, is a Visioning and Strategic Planning Expert specializing in Visual Thinking and Law of Attraction techniques. Based in charming Victoria, British Columbia, Canada, she works deeply with individuals, partners and conscious businesses to define and manifest what they truly want. And, trains other process professionals in her innovative ways of working. For more information visit: www.shift-it-coach.com and
www.visualcoaches.com
---