Well, time keeps moving along at its rapid pace, eh. We are into February already.
This month brings the return of regular classes into my schedule. SHIFT-IT Online starts Saturday and Fundamentals of Interactive-Visuals (the online version) starts on the 23rd. And Visual Coach Certification 2015, is down the line in April.
It's been kind of a slow start to the year so far. I like the slower pace for rejuice reasons; yet also find myself wondering when and if it's going to pop. Been doing lots of Exploratory Chats with interested folks from all over. And our web stats are consistently strong. So I know people are looking and checking things out. However so far we have smaller class numbers compared to our usual stats.
Not a bad thing necessarily … as it means less on my plate and more time and attention for those of you who participate. However unusual energy compared to how things usually are. With a sense of 'something about to happen'. Back when I used to live in San Francisco this palpable feeling we used to call 'earthquake weather'. The quiet before the movement comes. Is that feeling going on for you too? Pressure building? Anticipatory? A needed release of some sort about to happen?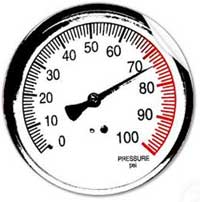 Lots going on in the world with political tensions back and forth, media attention on certain atrocities, oil manipulations, etc. Seems a trickle down effect going on where we are all moving a bit more slowly or cautiously right now. Its 'interesting' times we live in for sure.
Given this feeling of change in the air … I felt compelled to write about the good ol' change model for this issue's article.
How pressure building up, in the bigger picture, is a good thing. It evokes needed change and getting us to a higher level. But it can really suck in the interim (technical term that:) ) until restabilization occurs. Lewin's classic freeze-unfreeze-freeze. Hang in there, we will make it through!
Yours in SHIFTing IT,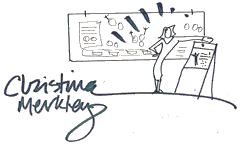 The SHIFT-IT Coach
& Interactive-Visuals Mentor
P.S. You Might Benefit From Currency Exchange:

Canadian currency (which my services and products are all in) is significantly low at the moment (30% lower than the US greenback right now). Being an oil producing country, we are getting hammered by current oil manipulations and strategies. Soooooo, if you are American (or in another country that has higher currency than Canada, now is a great time for you to nab a spot in a class or product from me (it is WAY LESS given the exchange differences). See www.xe.com to check how your currency stacks up against Canada's.
P.S. INTERACTIVE-VISUALS eCommunity: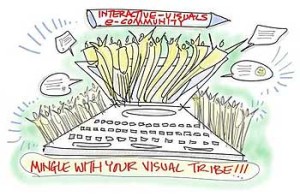 Are you a past grad of one of our visual programs? If so, you qualify for entry to our new Interactive-Visuals eCommunity (a complimentary online forum for grads of our various visual programs).
My assistant, Patricia has sent invites to all known grads. Contact her at admin@shift-it-coach.com if you can't find yours.
Introduce yourself to the fascinating people from across the globe who, like you, are weaving visuals into your work and mission. Share resources, receive support and mingle with your Visual Tribe!
---