Given I mentor a lot of folks in various applications of the visual skills … I thought it would be helpful to share this video for a couple of reasons.
First off, its a great example of a motivated person (Heather Martinez!) describing how she first discovered the Graphic Facilitation / Graphic Recording field and the steps she took to immerse herself into it … including online courses with yours truly early on (thanks for the mention Heather, I appreciate that).
Secondly it showcases the International Forum of Visual Practitioners … a volunteer run association consisting mostly of Graphic Recorders. IFVP runs an annual conference which I recommend anybody interested in working visually attend at least once. If you are a Graphic Recorder (or want to be) it will likely be an annual event for you, like it sounds like it is now for Heather. Many Graphic Recorders I have mentored attend regularly for the great collegiality, networking and community.
If you are Graphic Facilitator or other process lead, its a good place to understand more about your scribing colleagues (pick up drawing and lettering tips, find Graphic Recorders you can sub-contract into your larger events, and identify illustrators to bring in on your more elaborate Studio Work projects).
The 2015 IFVP conference is in Austin, Texas in July. I won't be attending personally however do recommend this as a great event if you can catch it yourself.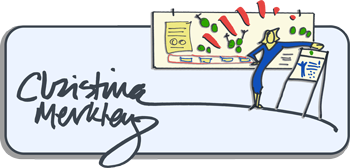 The SHIFT-IT Coach and Interactive-Visuals Mentor