Oy vey … the SHIFT is happening fast and furious nowadays isn't it!? Seems time is so condensed and transformation is happening at such a rapid pace. Which is a great thing but its often 'hold onto your hats' as we get whiplash moving through it!
We (my assistant Pat and I) had a fascinating process this last week with a whirlwind of various activities. Some related to learning and witnessing of how to (and how not to) be in one's Grounded, Powerful Strength (GPS).
That GPS phrase is from Lisa Merlo Booth, committed relationship coach and couples therapist. This week Lisa and I recorded a powerful interview with her on the topic of 'The New Power Paradigm' for inclusion in SHIFT-IT Online and a new course I'm developing. Lots of straight talk about how to come from a true sense of equality in the world. Instruction on how to not be 'one up' or 'one down' but come from a grounded place of mutuality with whomever one is interacting with.
And also how to properly protect yourself when the going gets rough (not everyone is going to come from the same values base).
This material fits in beautifully with the evolution of my SHIFT-IT work. I've got a full slate of interviews lined up with skilled therapists, trauma specialists, energy workers, intuitives and the like. The deeper dive on how to create your own reality and overcome obstacles of repression, domination and manipulation with intelligence, compassion and grace. Even if our larger world is a little kooky (or totally wonky!) at the moment.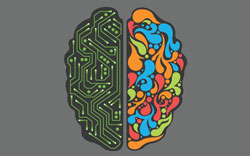 Talking about repression … this issue's article is on the strange treatment that our more feminine right brain receives in most cultures nowadays. I can attest to it getting slowly better from my little vantage point. However, having worked with visual skills for two decades and moving increasingly into even more right brain territory I'm fascinated (and appalled) at the continued slights directed at emotion, creativity, imagination, flow, intuition and knowing. And how some participants in my courses have to battle inner demons about the value of working (and being) in more imaginative and creative ways.
Hope you enjoy the dive into the honoring of the feminine in all her many forms. And the honoring of the masculine too — BOTH are needed, valued and awesome! See you again in a couple of weeks.
Yours in SHIFTing IT,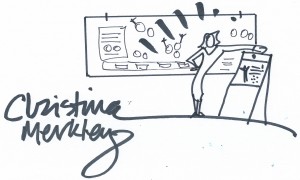 The SHIFT-IT Coach
and Interactive-Visuals Mentor