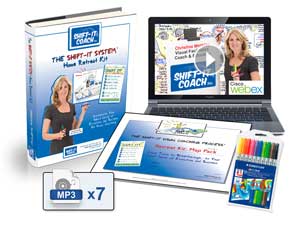 The spring season is continuing to truck along nicely.
SHIFT-IT Online's current cohort is awesome — tons of deep inner work being done with the Visual Maps with clarity and physical manifestations popping up already!
They are just moving into the final stages of SHIFT-IT … moving from energy alignment into finalizing their action plans.
The Fundamentals of Working Visually cohort sprinkled from across the globe, is also picking up speed.  This week they organize their home studios in preparation for their first major assignment — creating their first Studio Work piece (a visual mural used to 'push' selected information).  Can't wait to see their creations when we virtually gather again on Monday.
And, yesterday and today I've been conducting an in-person private SHIFT-IT Coaching Retreat with Susan H. … who's travelled from the sandy banks of North Carolina to spend a few custom days with me. Susan's participated in various online courses over the last several years so it's been a delight to meet her face-to-face and spend some quality time together. Her specialty is mentoring and support of disability clientele, an honorable path I'm really pleased to assist with.
And, bringing an end to my busy work week … tomorrow afternoon I'll be hosting a 90-Minute Info Webinar: Intro to Visual Coaching.
With Visual Coach Certification 2016 right around the corner (starts April 5th) I've been fielding applications and answering questions about this cool niche within the visual niche.
Seemed a good time to do a drop-in webinar for those wanting to learn more about working visually with individuals, partners and teams.
So come on by at 1pm pacific online on Saturday … see what Visual Coaching is all about, learn some tips for working with Visual Thinkers and get inspired to add visuals to your own process work. Only 25 live seats available (first come first serve at time of webinar). If you can't join us live or all seats are filled, register anyway to receive video recording as soon as it's available.
Finally, to top it all off, I've written this issue's article on an interesting and important topic called "bio hacking". With the increased use of technology in our modern world, our instinctual circadian rhythms are being impacted with serious consequences.
As my own work and life shift to a more 'virtual' existence, I'm learning how to balance those changes with certain intentional 'hacks'. See article below for an explanation plus helpful resources to point you in the right direction.
Yours in SHIFTing IT,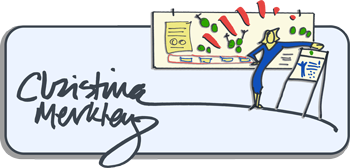 The SHIFT-IT Coach
& Process Skills Mentor