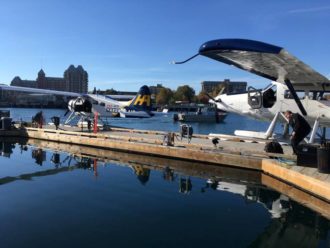 Waiting and waiting.
Beautiful morning in Victoria, British Columbia, Canada where I live but apparently Seattle, Washington, USA is fogged in. So I'm waiting over on my side until the fog lifts over there.  Its only a 30 minute flight.
I'm headed over to to Seattle for part 2 of a Shamanic skills workshop I'm taking with the fascinating Betsy Bergstorm.   The courses I'm doing with her are Compassionate Depossession (beginner and advanced).  I've done quite a bit of shamanic skills trainings over the years.  This is my first with Betsy who is highly spoken of in the Pacific Northwest and beyond.
This course is about compassionately helping folks extract any "Suffering Beings' that may be overlaying their body, subtle bodies, sovereignty, etc.  As The SHIFT-IT Coach I help my client identify their Vision (i.e. goals) and then support them in developing and implementing Action Plans to get there.  Some manifestation journeys are easy. Some are more complicated.  For the more complicated ones I have many, many tools up my sleeve to help resolve any resistance that may be in the way.  Compassionate Depossession is another depth tool that I certainly won't be using with all my clients, but will definitely be of assistance to others.  The 'Suffering Beings' can be thoughts forms, beliefs, living people, deceased beings, and all manor of other beings (in this dimension and beyond).  Very fascinating the overlays that can happen.
Betsy is located right on Lake Union, which is where the seaplanes fly in.  Last week I did the usual airport to airport route on regular planes. Which was kinda a drag.  So this week I decided I would opt for the harbour to harbour route via the seaplanes instead. Thinking it would be faster.  Knowing it would be more enjoyable regardless.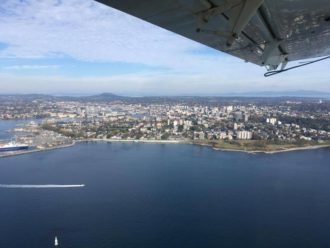 Driving into town I heard on the Seattle radio station I was listening to that they had fog.  No sooner did I hear the news from the morning DJ then a text popped up from Kenmore Air saying they had cancelled my flight due to weather.  That I'd have to stay tuned about when they could get me over there.
So much for the fast harbour to harbour option. Oh well … its hardly a hardship to sit by the water in the sunshine for a few hours.  Drink my tea.  Browse the internet.  Plan out some of the dates for next season's courses.  If you gotta have an imposed waiting room, this is a pretty darn awesome one.
Lift off eventually.  One of my favorite things is hovering over the San Juan Islands in a plane on a clear day. So spectacularly beautiful is this part of the world.  I'm very fortunate to call it home.  And to have this as my commute even if the weather doesn't always cooperate.