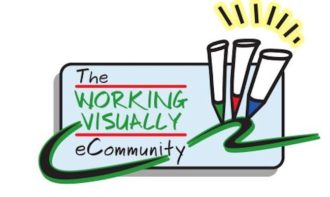 Hosted the June Drop-in Webinar for The Working Visually eCommunity on Thursday, June 20th. This is a monthly support group for grads of our visual programs: Fundamentals of Working Visually, Intermediates of Working Visually, Fast & Loose Sketching and Visual Coach Certification. Visual Practitioners trained elsewhere are also welcome. Emergent Agenda from Members each month. Fully Recorded. Membership includes Video Archives back to 2015.
---
This Month's Agenda Items:
1. Tips for Attending IFVP Conference for First Time.
2. Support to Internal Leader in Private Sector on Upcoming Leadership Development Meeting. Helped Her Think Through Her Approach. Teased Out the Categories of Info She Needs to Pull From the Attendees. Options for Gathering That Content (Pre-Survey and Live Graphic Facilitation from Large Wall Size Template). Additional Option of Studio Push Piece Afterwards.
3. Working with Vision, Mission and Values Content As Live Facilitator and Also As Info Architect Under Studio Conditions.
4. Practitioner is Workshop Leader and Coach. Now Integrating Visuals Into Her Toolkit. Has Been Doing Some Graphic Recording Too. Colleague Wants Her to 'Show Her Stuff' At Colleague's Upcoming Event. How to Integrate Visuals Into the Design? Conflict of Interest Given Practitioner's IP Is In the Ballpark of Colleague's IP. Should She Create Visual Templates for Colleagues Work or Save Her Ideas for Her Own Content?
5. Member Upset By IP Infringements Suffered by Other Member. Latest Social Media IP Brouhaha. Questions About Standards of Ethics in Our Field. Codes of Conduct. Range of Reasons for Violations: Naivete, Ignorance, Competition, Desperation, etc. Juicy Conversation About Clearly Articulating Boundaries, Inquiry About Perceived Violations, Feeling Angry, Feeling Guilt, and Legalities. Analogies of "We Are a Family" vs "We Are Businesses" (Or Both), Need for Shadow and/or Inner Child Work. Scarcity vs Abundance.
Next gathering of The Working Visually eCommunity is Thursday, Sept. 19, 11am pacific. See you then!
---
Session Notes:
---
For more info on The Working Visually eCommunity, click here.
---