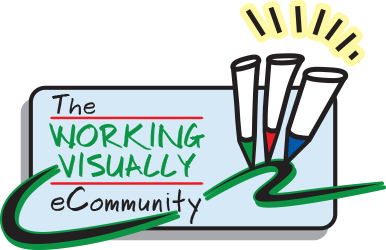 Hosted the September Drop-in Webinar for The Working Visually eCommunity on Thursday, June 20th.  This is a monthly support group for grads of our visual programs: Fundamentals of Working Visually, Intermediates of Working Visually, Fast & Loose Sketching and Visual Coach Certification. Visual Practitioners trained elsewhere are also welcome.  Emergent Agenda from Members each month. Fully Recorded. Membership includes Video Archives back to 2015.
This Month's Agenda Items:

1. Discussion and Resource Sharing Around Integrating Visuals Into the Appreciative Inquiry Methodology.
2. Member Feels He "Blew It" When He Had The Opportunity to Sell Himself to Local Not for Profit.  We Unpacked What Happened And Sorted Out How He is Confused on Which Role/Offerings He Is Pitching and How to Ask Questions Of Client to Draw Out Their Needs and Problems and Match His Skills to Authentic Solutions.
3. Seasoned Member Making 'Right-Sizing" Decisions to Her Practice. Determining Who She Is Now And Doing Portfolio Analysis on Her Offerings (what to keep, cull and/or add).
4. Sales and Marketing Consultant Realizes He Needs to Guide Clients on Organizational Development and Change Management Needs – Not Just Sell Them a Killer Sales Page.  Developmental Curve On How to Learn O.D. Skills.
5. Graphic Recorder Starting to Encounter Process Work (with Groups and Individuals).  Scared by The Shift.  How to Assist Group Leaders In His Organization By Observing Their Processes and Potentially Creating Templates to Assist.  Putting on His Anthropologist's Hat to Observe His Colleagues in 'Their Natural Environments'. Plus Handy Tips on Frameworks and How to Create Templates.  And a Longer-Term Development Curve to Eventually Develop As a Facilitator and Coach, Not Just a Scribe.
Next gathering of The Working Visually eCommunity is Thursday,
October 17, 11am pacific.  See you then!
For more information on The Working Visually eCommunity click here.
---