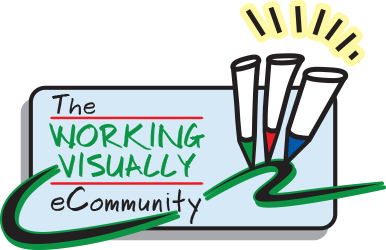 Hosted the November Drop-in Webinar for  The Working Visually eCommunity on Thursday, November 21st. This is a monthly support group for grads of our visual programs: Fundamentals of Working Visually, Intermediates of Working Visually, Fast & Loose Sketching and Visual Coach Certification. Visual Practitioners trained elsewhere are also welcome.  Emergent Agenda from Members each month. Fully Recorded. Membership includes Video Archives back to 2015.
This Month's Agenda Items:
1. Member Raised Topic of  'How To Find/Build Time for Creativity'.  Group Discussed Topic and Individual Approaches to Building More Creative Time into Our Work and Lives.  And Mental Mindset About It Too.
2. Another Member Expressed Vulnerable Thoughts and Feelings About Losing Some of Her Initial Excitement and Passion for the Work After She's Become More Successful.  Also, Overwhelm Around How Quickly the Field is Growing. Members Responded with Their Perceptions and Christina Shared Reminders About Natural Growth and Fallow Cycles to Creativity and Life in General. Also How It's Normal To Need Solitude and Integration Time After Accomplishing Large Goals, Particularly Those Requiring Travel and Interaction with Large Groups (especially true for introverts!).
3. Member Wants to Add Digital Visual Facilitation to Her Offerings. Discussions About Hardware, Software and Conference Systems. Plus Pros and Cons of Digital Environments versus In-Person Meetings.  And Suggestions for Building in More Interactivity to Keep Virtual Clients Engaged.
4. Member Teaches Non-Violent Communication and Wants to Create Graphic Novel to Help Teach Core Concepts and Philosophy.  Members Shared Resources, Authors and Other Suggestions For Her Research.
5. Checkouts on What Landed Most and Key Takeaways.  Christina Shared Upcoming Courses and Events Happening at SHIFT-IT School for the New 2020 Year.
Next gathering of The Working Visually eCommunity is Thursday, December 19, 11am pacific.  See you then!
Session Notes:
For more information on The Working Visually eCommunity click here.
---