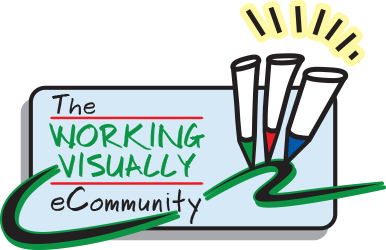 Hosted the December Drop-in Webinar for  The Working Visually eCommunity on Thursday, January 23rd. This is a monthly support group for grads of our visual programs: Fundamentals of Working Visually, Intermediates of Working Visually, Fast & Loose Sketching and Visual Coach Certification. Visual Practitioners trained elsewhere are also welcome.  Emergent Agenda from Members each month. Fully Recorded. Membership includes Video Archives back to 2015.
Agenda Items from This Month's Gathering:
1. Update and thanks from Member. How Christina's coaching and the Fast & Loose Sketching courses enabled her to break through a perfectionism block. She's now sketching everyday and posting her work via social media to great fanfare in her Inclusion community. Resulting in requests for use/attribution, studio work, speaking, and other opportunities. Yippee!
2. Member is an internal employee in a university. Great design skills. Moving into GR/GF. Asked to graphically facilitate a leadership meeting. It 'got away from her' and she defaulted to drawing sketchnotes in the corner. Debrief of what went wrong. What to do differently next time. Connection to her Future Self to receive guidance, perspective, and soothing thoughts. More senior facilitators in the eCommunity also offered their suggestions, empathy, and encouragement. "The Force Is With You … One Step at a Time".
3. Seasoned self-employed consultant/facilitator wanting 'fun marketing ideas'. Discussion of various approaches. Connection to her Future Self who said it was 'less about specific techniques but rather more about looking at each individual work assignment and how to embed more fun in them for both herself and her participants: energizing, inspirational, motivational and relaxing.
4. A Member's professional and personal life is in a transitional state after adopting 3 children … and that's ok and as it should be! Connection to Future Self for reassurance. Yes, all really is well. It's about to click. Eggs are hatching. Explanation that her life isn't linear anymore, its web/spiral. Restorative justice, mediation, and PATHS are all excellent steps and yes its the right timing to do them now. 'You are on the right path'. And stop feeling guilty about naps – they are meditative and restorative.
---
Visual Notes from This Month's Gathering:
---
Next gathering of The Working Visually eCommunity is Thursday, February 13, 11am pacific.
See you then!