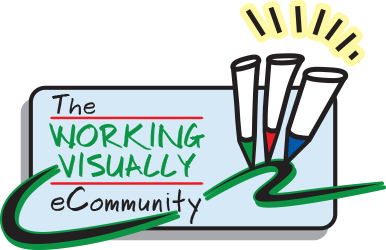 Hosted the February Drop-in Webinar for   The Working Visually eCommunity on Thursday, February 13th. This is a monthly support group for grads of our visual programs: Fundamentals of Working Visually, Intermediates of Working Visually, Fast & Loose Sketching and Visual Coach Certification. Visual Practitioners trained elsewhere are also welcome. Emergent Agenda from Members each month. Fully Recorded. Membership includes Video Archives back to 2015.
---
This Month's Agenda Items:
The heat is being turned up in our world.  Its 'game time' for Visual Process Professionals (whether or not they realize quite yet that they are Lightworkers in disguise).  This month's gathering was powerful and poignant with an emphasis on inner alignment in an increasingly chaotic world.
1. Graphic Recorder traumatized by recent scientific gig which required her to scribe alarming content regarding state of Earth's environment. She's quickly awakening to the desire to use her Visual Skills in 'empowered service in a complex world'. Christina facilitated her through a Focus Wheel to hone in on what to DO yet even more importantly, who and how to 'BE'. First up is strengthening her personal connection to Nature so she can be a 'megaphone' for Gaia's voice. We each do our piece of the puzzle.
2. Evaluator in Canadian Federal Government weaving 'working visually' into her work.  Started with Studio Work (good response).  Then Graphic Facilitation using templates (likes the process and aesthetic control).  Recently tried public Graphic Recording.  While participants appreciated her work her own gremlin was harsh. Christina facilitated her through a Focus Wheel to find her 'sparkling energy …  where in work and life does she feel best?  She decided to keep going with Graphic Recording (the only out is through).  To develop more self-acceptance and to focus on the usefulness of the medium and why she is doing it … rather than on ego and accolades.
The current crisis of our world requires all of us Visual Practitioners (no matter where we are on the developmental curve) to do our part to help shift it!
---
Visual Notes from This Month's Gathering:
---
For more info on The Working Visually eCommunity, click here.
Next gathering of The Working Visually eCommunity is Thursday,
March 12, 11am pacific.  See you then!
---