Cathy Walsh has always been a Visual Thinker and Communicator … way before it was popular.
She's been embedded in the National Health Service (NHS) in England, for 40 years, in the integrative care system.
Cathy's delighted that her natural way of working is now so accepted and valued. NHS supported her training in Visual Skills, including Visual Coach Certification.
As a Mental Health Nurse with general management experience, she uses hand-drawn visuals in a multitude of ways and delivery methods (both analog and digital).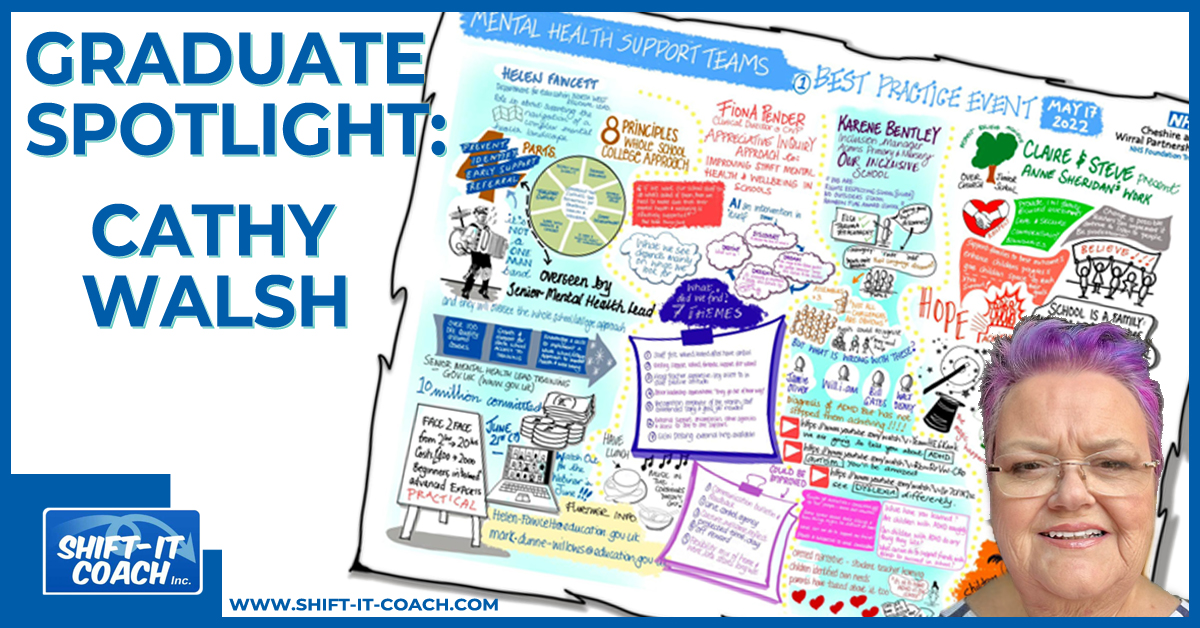 From creating communication posters and murals to using visuals in facilitation and coaching forums – internally in the organization and in external outreach of health and well-being to the communities the NHS serves.
During Visual Coach Certification she worked internally with two NHS employees. Both clients received promotions and one was funded for advanced university education.
"Working visually has opened a new horizon for me, a multitude of opportunities at 60. Assisting in transformation, development, actualization, and the potential for future generations of nurses."
It's been a delight having you in my various programs Cathy. Very exciting to see the skills cascade through your organization, and you being tapped for so many interesting projects. Congrats on successfully adding the Certified Visual Coach® credential.
Also, a nod to your work with my partner Rhoda Draws, with your special affinity to caricature sketching. Your mastery of iPad with Procreate has been a fast rocket ship!
Wishing you all the best as you navigate the next chapter, with markers at the ready!
Cathy Walsh, RMN, MA, MSc
Lancashire, Cheshire & Merseyside, England, UK
LinkedIn
---