Are you eyeing Visual Coach Certification?
2022 Cohort is fast approaching. Now is the time to add this humane niche to your process toolkit …
RECESSION PRICING IN EFFECT: SAVE 50%
Visual Coach Certification: Starts October 4th
4 Spots Left!
I've trained 1000s across the globe in Visual Skills – helping the Graphic Recording and Graphic Facilitation niches spread far and wide.
Concurrently I've applied visuals to working deeply with individuals, partners and small groups too.
Visual Coaching is a meaningful and pragmatic methodology to help folks align with their true selves.
So needed and timely for these transformational times!
40+ Visual Tools: Certification gives you direct access to my lifetime of ahead-of-the-curve work. I personally train you in my proven SHIFT-IT Visual Coaching System®, plus all my advanced maps.
Sensitivity for BIPOC and gender fluidity. Room to create your own templates too. Plus, plenty of ways to work emergent with no templates!
Analog, Digital and In-Person Applications:
Visual Coaching has great range in delivery methods. Organic paper techniques to fully synthetic/digital … and hybrid. Making it a highly flexible medium for both online and in-person.
Appropriate for a Range of Populations and Settings:
Visual Coaching engages the Left Brain (logical, linear and conscious) as well as the Right Brain (emotional, intuitive and unconscious). Suitable for corporate to touchy feeling … and everything in between!
It's an innovative whole-person approach that many different kinds of people resonate with, including Visual Thinkers (the majority of the population).
For Artists and Non-Artists Alike:
You do not need to be an artist to be an effective Visual Coach. While drawing is a lovely aspect of this method, even shapes, coloring and rudimentary doodles (which I teach you) go a long way.
Being a highly skilled artist can be a hindrance. This is NOT studio work, it is basic and fast, in order to keep rapport with your clients.
If you are an artist – awesome! You may need to refreshingly release perfectionism, in order to visually coach. Your own unique flair shines on the functional base my maps provide.
Best Candidates for Visual Coach Certification: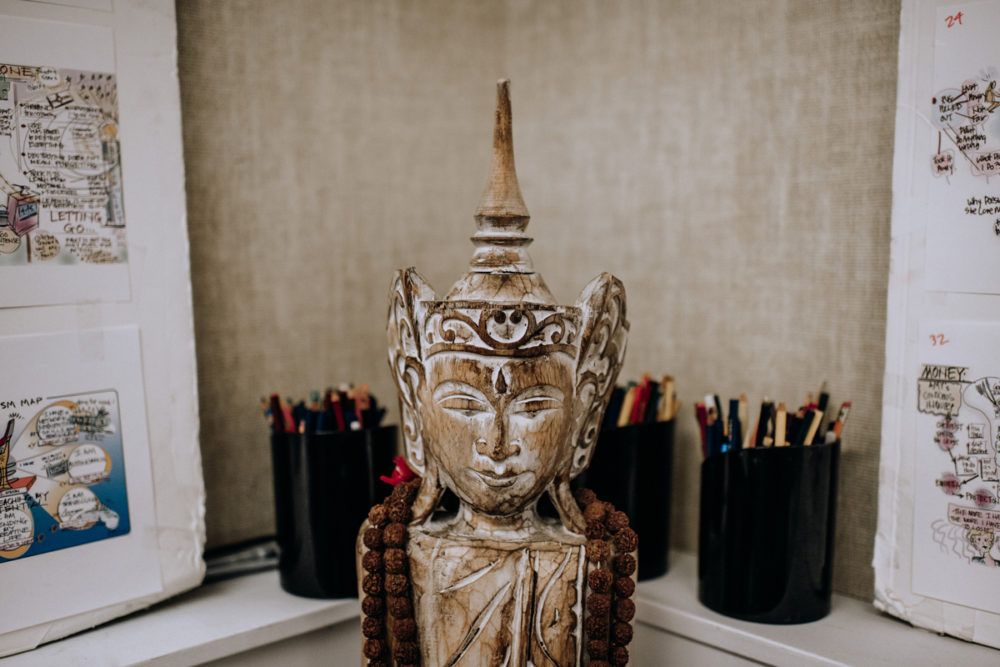 This program attracts fascinating folks – whom you learn from as much as me.
Together we are pioneering a new modality that brings vision, heart and aligned action to the world.
Certification is best for practitioners who are already working in some capacity with individuals.
It attracts coaches, therapists, supervisors, managers, counselors, mediators, advocates, financial advisors and more.
I am not teaching you how to do your work, I am teaching you how to do it visually. Including equipping you with best practices and tools that slip right into your role (whether you are internal in an organization or an independent).
---
RECESSION PRICING IN EFFECT: SAVE 50%
Visual Coach Certification: Starts October 4th
4 Spots Left!
Click for Full Details and Application
---
We have a short time before we begin. I do Application Interviews with all interested.
Be a part of this phenomenal tribe as we help ourselves and others navigate through epic times!


P.S. COMPLETE THE PRE-REQUISITES
There are two pre-requisites (or equivalent experience). Home Study Kits are available on both (must be completed by Oct. 18th). Details here.
P.P.S. BOOK AN EXPLORATORY CHAT
Happy to speak about the program and your fit. Book an Exploratory Chat ASAP.

---