Volume 17, Issue 2: October 5, 2021
A NOTE FROM CHRISTINA:
Fall is here in the Pacific Northwest, and with it comes much-welcomed rains, after a fiery summer.
In between Zooms with clients and students, I tend my little garden, readying it for winter.
I have a bounty of tomatoes and red potatoes, tiny yet delicious. The herbs, chard and radishes should hold up for a while yet.
In the fallow areas, I'm sprinkling cedar as mulch, so the soil has protection from the elements in the cooler months. Hunkering down.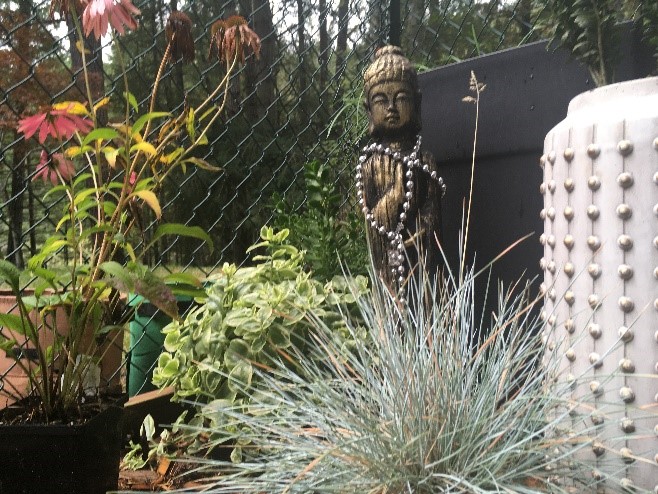 Buddha in Residence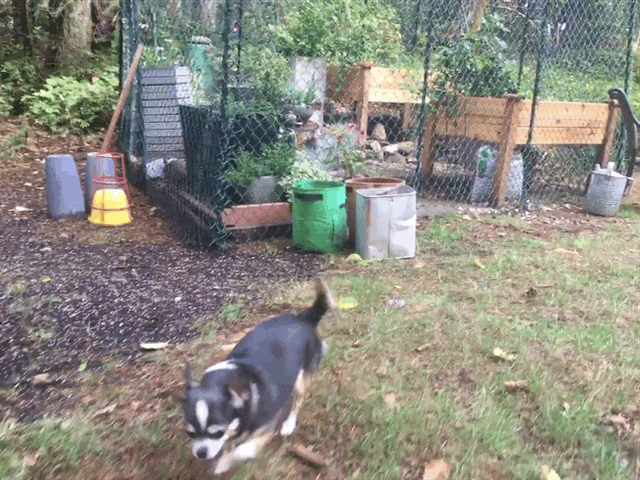 Presley Blowing Kisses
---
I'm hunkering down too this fall, as the division and strife in the world intensifies.
I made a trip to our provincial legislature this weekend. Back in my youth, I worked for the New Democratic Party (NDP) at the Office of the Premier, before I left Canada to go to grad school in California. So I have long ago history with this building and some who currently occupy it.
There is a very moving display on the steps of this imposing stone capital. To acknowledge and mourn the 1000s of First Nations children who lost their lives under the governmental and societal policies of the not-so-distant past. The toys, shoes, and other poignant mementos are a strong visual statement of the trauma then, and continuing into the now. I extend my deep condolences and support.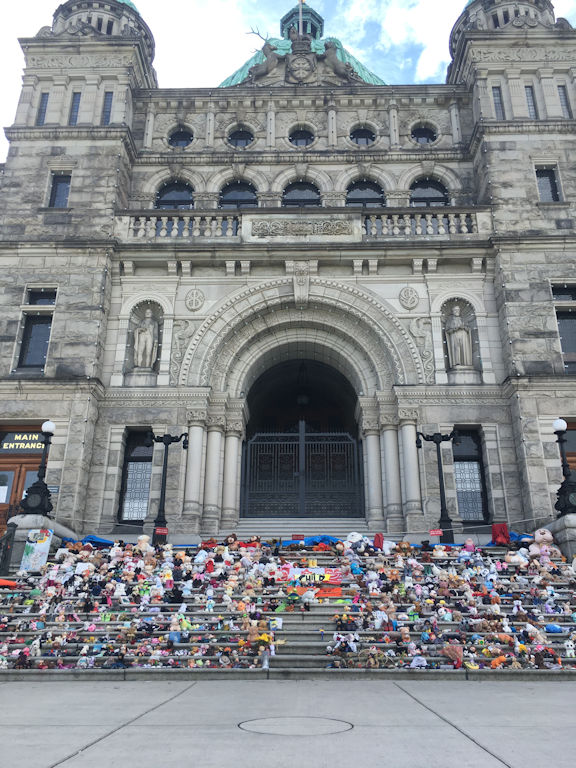 Deposit on the Legislative Steps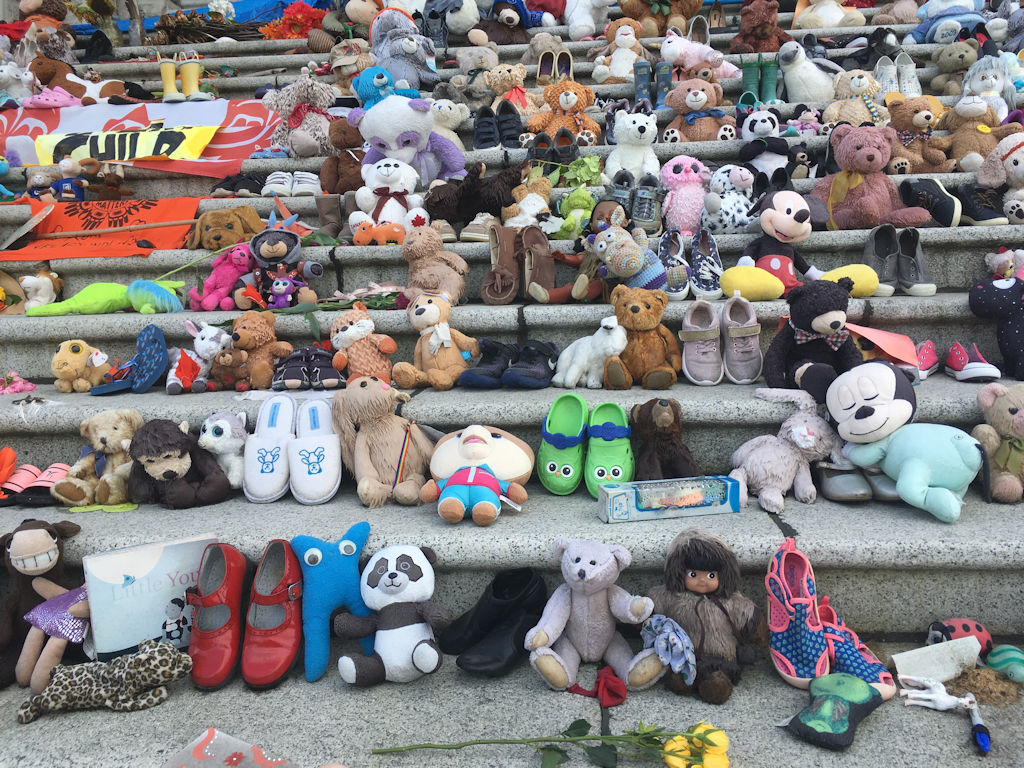 Every Child Matters
---
As I stood there, being emotionally impacted by the powerful symbolism, much activity was going on around me. A protest about the medical segregation with mandates our province has chosen to implement, and the busy finish line of a bike race with riders and their cheerleaders. Such a juxtaposition of energies, jostling in the same time/space continuum.
I couldn't help but wonder how our current times will be viewed in the future. What will we get right? What will we get horribly wrong? Why? How will the political, economic, corporate, health, education and other societal strategies fare in the light of greater consciousness?
In my work, I hear what is happening for many people, their families, their worksites and their regions. And I have the honor to sit and facilitate visual process work with them. Everyone is being impacted in one way or another. Some much more severely than others, at this point in time.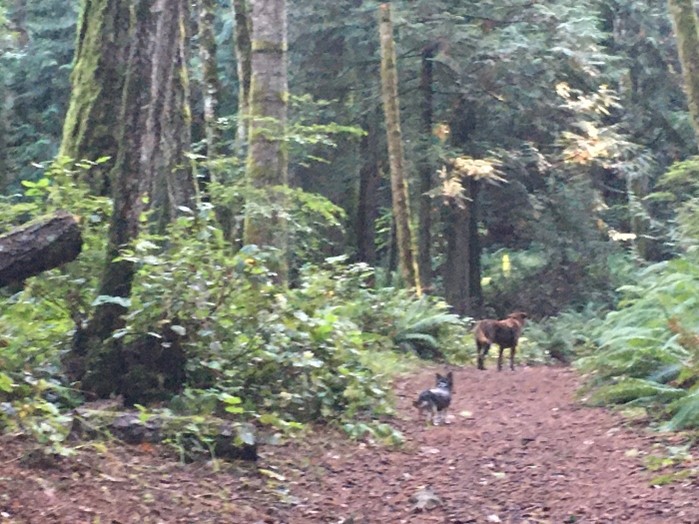 Spot the Canine Companions
I know that when things get tough, there is an inherent opportunity to do our inner work.  To bring what is unconscious into consciousness, and to integrate it. For greater clarity in being and doing in our individual lives and within the larger collective.
This is the gift of intense times. There is great treasure to be had for those who are committed to doing the inner excavating. Perhaps, I would venture to opine, this is even why our souls arranged for us to be here exactly now.
Today's eZine has two great excavating examples that lead to stronger ways of being in the world. CPA Estelle Gibson and her niche of financial dependence and abuse. And birthday girl Joy, digging into the multi-dimensional roots of her reluctance to step fully into the powerful woman she is.
All the best to you and yours during these times of shift and reveal.
Yours in SHIFTing IT,


Christina Merkley
SHIFT-IT Coach, Inc.
---
Estelle Gibson, Certified Visual Coach
GRADUATE SPOTLIGHT:
Estelle has used my Visual Skills Courses including Visual Coach Certification in her powerful work regarding financial dependence and abuse.
With over 38 years of professional experience as a CPA, she's worked with individuals and companies ranging in size from small privately-owned businesses to Fortune 500 companies across various industries.
As a Financial, Business and ICF Certified Coach, she helps her clients break free from financial dependency by empowering them to move past their limiting beliefs and to implement powerful money strategies (see her TED Talk below).
Estelle and her clients love using my SHIFT-IT Visual Coaching System® with its suite of 40+ Visual Maps.
These Visual Tools enable her clients to work both linearly and creatively – to build empowered financial Visions. To see and shift deeply unconscious conditioning and patterns from childhood and adolescence (aka Orphan Rescue). To "get it at a different level" and "take your insides and put it onto the outside – so powerful".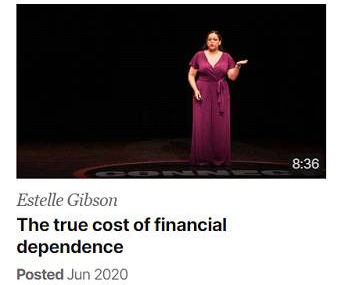 Estelle's TED Talk "The True Cost of Financial Dependence" is here.
Giving up control of your finances – voluntarily or otherwise – can leave you powerless and, in some cases, confined to a cycle of abuse.
In this personal talk, Estelle shares her own story of recovering from financial dependence and provides actionable advice to empower others who desire the freedom that comes with being responsible for their own money.
Estelle Gibson, CPA, ACC
TED Speaker. Author. Coach
www.estellegibson.com
Thank you, Estelle, for your sincere and deep application of the tools. You are doing such important work in the world with individuals and couples. It is an honor to have you join our community of Certified Visual Coaches. All the best with your continued unfoldment.
---
VISUAL COACHING SESSION – VIDEO:
Resurrection of a Powerful Woman
During these shifting times, my Seva is to help folks think and feel on their most pressing topics. I offer Process Popups (every few weeks) and Recorded Visual Coaching Sessions (as my schedule allows).
Below is the most recent Process Popup – Happy Birthday to Lisa and Joy!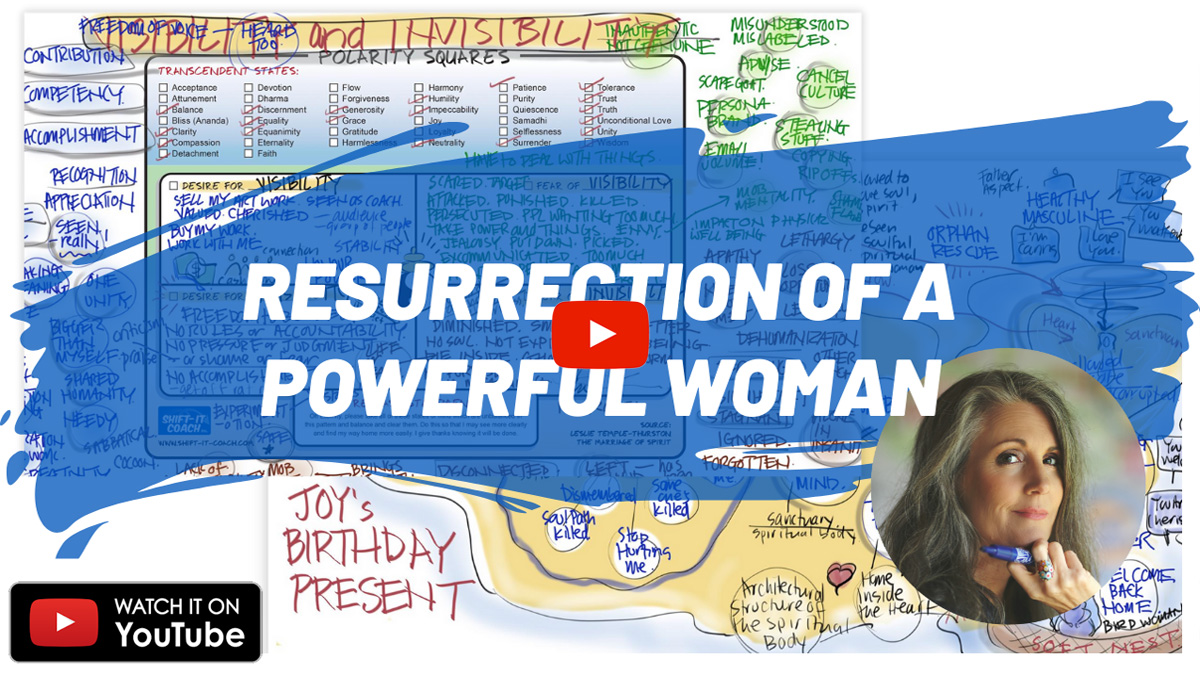 Summary:
After 10 minutes of meditation (which we always start with), we heard reports (check-ins) and then settled in on what to focus on today.
Joy brought forward some deep processing she's in the midst of. Work and relationship issues that rest on the shoulders of earlier Family of Origin dynamics – more specifically on THE INNER MASCULINE with roots to her FATHER.
As she talked, I zeroed in on her mixed emotions about VISIBILITY. The desire to get herself and her work more out into the world, yet a discomfort in doing so too.
I rattled off several ways we could enter into the topic: Self Inquiry, Orphan Rescue, AlphaMind and Polarity Square. Funny enough I managed to pull off all of them in the course of this wide-ranging session.
We started with a Polarity Square, given VISIBILITY AND INVISIBILITY were present. We all helped build it, which is a benefit in doing group processing.
Then we shifted into Self Inquiry, helping Joy meet the emotion of HATE, which was present for her and which quickly lead into physical sensations in her head.
That quickly lead into the PAST LIFE RECALL of being killed as a POWERFUL WOMAN. Which lead into an ORPHAN RESCUE of her past self via her ALPHAMIND.
And then into ANOTHER ORPHAN RESCUE of a younger self from this life who was intimidated by her PHYSICIAN FATHER. Her Male Guide from AlphaMind acting as a surrogate father figure. And a mysterious BIRD WOMAN with a SOFT NEST who arrived at the perfect time.
To top it all off we had her MIND/INTELLECT wanting to get in on the rescues. So we offered it LIBERATION. Must have done the trick given it was anointed with a gold crown – the ability to connect with HER ANCESTRY. Her Mind now has a SPIRITUAL PURPOSE to GROW UP and EXPAND OUT. Yes please, handy things for a Visual Coach to possess!
Was a lovely session for Birthday Girl Joy – quite the present!  And Lisa's Birthday was the next day so parallel processing for her too, yes!  One never knows what will happen with live Process Popups. This one was a special delight with people so well versed in the depth methodologies.
---
Session Maps:
Click Session Maps to Enlarge
---
DROP-IN ON A PROCESS POPUP:
Next offering: TBA, join here.
HAVE YOUR OWN VISUAL COACHING SESSION:
Public and private options here.
LEARN TO WORK VISUALLY TOO:
Of course you can!  See SHIFT-IT School for trainings and study kits.
Yours in visual unfoldment,

---
SEVA – COMMUNITY SERVICES:
Seva (pronounced say-va) is a Sanskrit word for service. The spiritual practice of selfless service and the desire to uplift and assist people, giving help and compassion to others with no thought of what is to gain or what is to be lost by doing so.
Below are my two complimentary seva services. Free. Open to everyone. Ongoing during these shift times.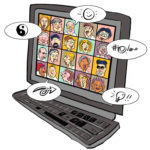 SEVA 1 – PROCESS POP-UPS ONLINE
Every few weeks I offer this drop-in Zoom webinar. A supportive group sprinkled from across the world, to process thoughts and feelings during these extraordinary times. We start with 10 minutes of meditation to settle our bodies and minds. Then it's spontaneous Inner Work where I match up what's arising from you with my bag of visual process tools. Different every time. Come when you can. Leave grounded and connected.
Next Process Pop-Up: Monday, October 18, 2-4 pm PST
---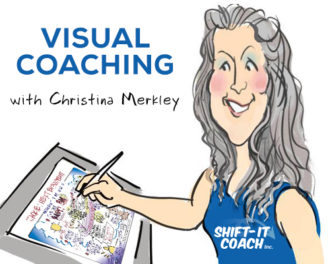 SEVA 2 – RECORDED VISUAL COACHING SESSIONS:
I also give one-to-one sessions that allow more individualized attention. Bring whatever is most up for you and I apply the process/tool that my intuition says use. You get the Visual Map afterwards. Videos are recorded and shared here in the eZine and on my ShiftItCoach YouTube Channel, where you can find a growing library on various topics to assist with parallel processing.
---
LIVE ONLINE COURSES: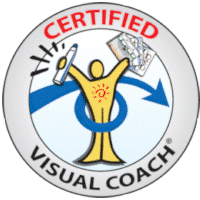 VISUAL COACH CERTIFICATION, FALL 2021
Innovative Skills For Your Process Toolkit
PANDEMIC PRICES (Save 50%)
Use my Visual Coaching techniques and tools in your internal job or external practice. For managers, coaches, counselors, therapists, HR professionals, financial advisors, mediators, disability specialists, teachers and more. Includes 40 visual tools, instruction and supervision plus a diverse international cohort of colleagues. Together we help ourselves, others and the planet shift.
Sold Out!
Live Webinars: September 28, 2021 – February 1, 2022
*** Next cohort will be either Spring 2022 or Fall 2022 (haven't scheduled it yet, will announce when I have). If interested, you can prepare by completing the two pre-requisites: Fundamentals of Working Visually (or equivalent experience) and SHIFT-IT Visual Coaching System.
---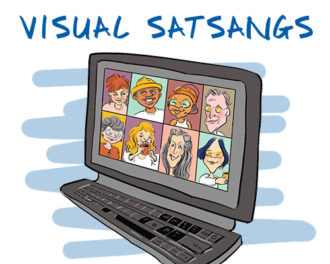 VISUAL SATSANGS, FALL 2021
My deepest container yet. Satsang is a Sanskrit word, meaning to associate with true people. We take a nondual / oneness approach. Everyone and everything is welcomed and respectfully met. We maturely use the many triggers of our intense times to do deep inner work. If you are ready to integrate more fully, this is the group for you.
Intimate Private Cohort  –  10  6 Spots Left
Live Webinars: October 23, 2021 – February 19, 2022
*** Good too for Certified Visual Coaches (and those working on the credential) to witness me working with the advanced maps throughout.
---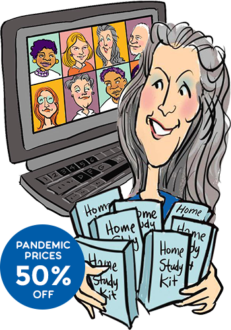 SELF PACED LEARNING – 8 ONLINE KITS:
PANDEMIC SALE: SAVE 50% FOR ALL LEVELS
Instant online access to my mentoring – learn at your own pace from your own home or office!
An effective way to receive quality instruction on my 8 most popular courses.
Deluxe Level includes 3 private coaching sessions for one-to-one support.
Plus you currently SAVE 50%  to assist during these intense times.
FUNDAMENTALS OF WORKING VISUALLY
Comprehensive Visual Skills Education
SHIFT INTO DIGITAL WORK
Select, Set Up and Use Digital Equipment
FAST & LOOSE SKETCHING
Crash Course in Design and Drawing
FAST & LOOSE SKETCHING: MORE HEADS & HANDS
Additional Portrait and Caricature Support
CARTOON & STORYBOARD TECHNIQUES
Step-by-Step Instruction with Karen Lloyd
BUSINESS ESSENTIALS FOR PROCESS PROFESSIONALS
Money, Marketing and Mindset for Creatives
SHIFT-IT HOME RETREAT
Visual Coaching to Shift Your Life
PRACTICAL ENERGY WORK
Inner Work for Integration and Wholeness
---
ABOUT SHIFT-IT COACH, INC.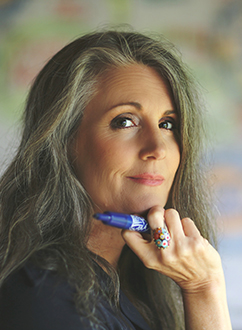 Christina Merkley
Christina Merkley is a respected Facilitator, Coach and Educator.  An early adopter of visual techniques she's helped midwife the expansion of Graphic Recording and Graphic Facilitation across the world.  A pioneer in the niche within the niche – Visual Coaching. Christina lives in Victoria, British Columbia, Canada and works online with clients globally.
---
Copyright © 2004-2020 Christina L. Merkley. All rights reserved.