Semana Santa Retreat in San Miguel de Allende, Mexico
POSTPONED

For Process Professionals Who Work Visually
With Groups and/or Individuals
TWO NICHE EXPERTS HELP YOU
DRAW BETTER … AND FASTER
Spectacular World Heritage City
San Miguel de Allende, Mexico!
Semana Santa / Holy Week:
April 7 – 14, 2020
Deluxe Members:
Tuesdays, 4:30-6pm Pacific
May 5 & 26 and June 16
The niche field of Graphic Recording and Graphic Facilitation (GR/GF) has taken the world by storm as it radiates from North American and European urban centers out across the globe.
As a result, more and varied Process Professionals are using spontaneous, live, hand-drawn visual techniques to help people effectively think and feel. Both as employees embedded in various kinds of organizations (corporate, governmental and not-for-profit) and as self-employed independents in the gig economy.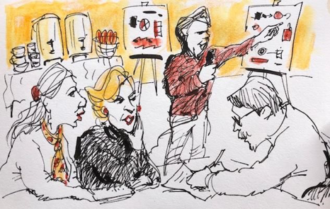 Given the live nature of the GR/GF approach, Practitioners need to be able to listen, write and DRAW FAST in order to quickly mirror the thoughts and feelings of clients.
Process Professionals who aren't artists need to develop good-enough sketching and caricature skills.
Process Professionals who do possess formal art training need to release perfectionism and standard rules in order to work in the speedy manner that GR/GF work demands.
This special week-long Mexican Sketching Retreat caters to both audiences — Process Professionals who have no or little formal art training. And/or artists who do have formal art training who need to loosen and quicken their style for the GR/GF market. And to other Cultural Creatives who to want to learn these valuable and fun Fast & Loose techniques for their own uses and enjoyment.
---
RETREAT OUTCOMES
Learn Fast & Loose Sketching® To Enhance Your Drawing Range and Confidence;
Boost the Aesthetic of Your In-Studio and Real-Time Work – Delight Your Clients and Yourself;
Receive Personalized Instruction and Feedback From 2 Niche Experts;
Network with a Fascinating Cohort of GR/GF and Other Visual Colleagues;
Bask in the Beauty of This World Heritage City That Draws Artists Like Bees to Honey … During the Sacredness of Semana Santa!
---
RETREAT AGENDA
Below is an overview of what is planned. Be prepared for some ebb and flow depending on how conditions unfold in the now. A detailed itinerary is provided upon arrival.
---
Monday-Tuesday April 6-7:
ARRIVAL & ORIENTATION
San Miguel is in Central Mexico. We have designed free time on the front to accommodate leisurely arrivals. Arrive between Monday 4pm and Tuesday evening. Christina and Rhoda greet you at our reserved haciendas and get you settled.  Explore the city until we officially kick off on Wednesday morning. 
Given Semana Santa is a popular time to come, we have secured accommodation in the Zona Centro (Central Zone). Our haciendas are a short walk from Rhoda's Casa de Dibujo (House of Drawing) which is our central hub each morning before we head out on our plein air excursions.
Closest Airport is Leon BJX (also known as Del Bajio or Guanajuato International Airport). This airport is a 90-minute drive from San Miguel de Allende, Mexico. There is an excellent shuttle service between the airport and city.  Full logistics and support provided upon registration.
---
Wednesday, April 8:
ANALOG AND DIGITAL SUPPLIES AND SKETCHING OBJECTS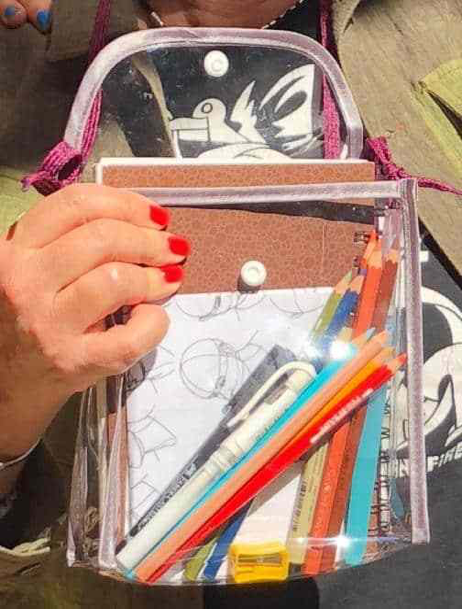 Breakfast at Rhoda's Casa de Dibujo. Introductions plus distribution of sketching kits! Morning tutorial is on supplies (analog and digital) and to establish a baseline of your current skill level … also single stoke sketching and shape fills.
Rest of the day is out and about in this remarkable cobblestone city to establish bearings. We begin with the artist district neighborhood which is our home base — murals everywhere! Then head over to Fabrica La Aurora to sketch objects and visit the galleries and shops. Lunch. Then off to the Mercado Artesianas (Artisans Market) for an afternoon tutorial on blind sketching. Free time provided and we gather in the evening for dinner.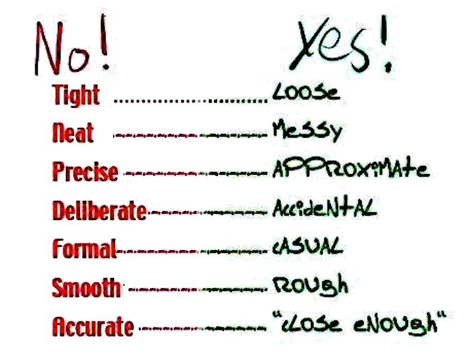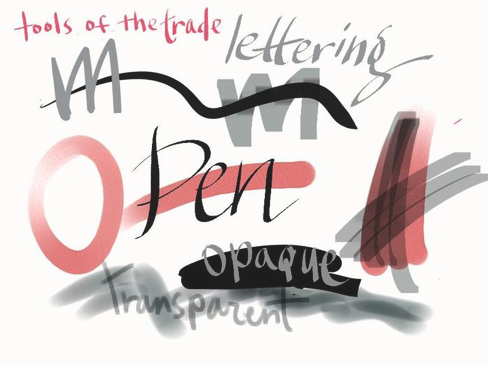 ---
Thursday, April 9:
PERSPECTIVE & SKETCHING PLACES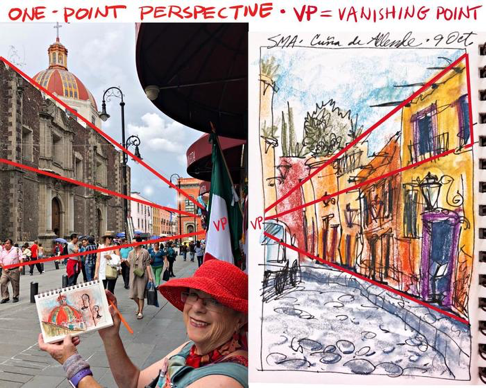 Breakfast and feedback session at Rhoda's Casa de Dibujo. Morning tutorial on sketching places (interiors and exteriors).
Our morning location is El Jardin (central Plaza) where we sketch outdoor scenes, buildings and streets. Followed by lunch. Afternoon tutorial, demo and plein air on perspective and vanishing lines. Free time and dinner with new friends.
---
Friday, April 10: Good Friday
SKETCHING BODIES AND GESTURES
Breakfast and feedback session at Rhoda's Casa de Dibujo. Morning tutorial on anatomy proportions, body lines and how to quickly land energetic gestures. Christina presents on the cultural context of what we experience today in the courtyard of the Parroquia and the Church of Santa Escuela. Good Friday is the high point of Holy Week with much to respectfully take in. Christ's trial and sentencing, Roman soldiers with Christ's statue and Mary as Virgin of Sorrows carried by women, with little angelitos everywhere … beautiful, solemn and spiritual!. Afternoon tutorial on sketching people in scenes (as major or minor elements). Free time provided and we gather in the evening for dinner.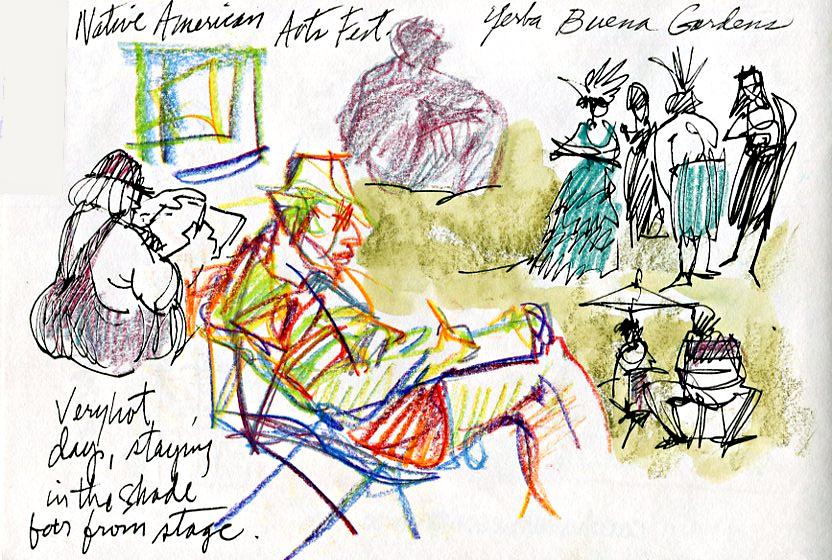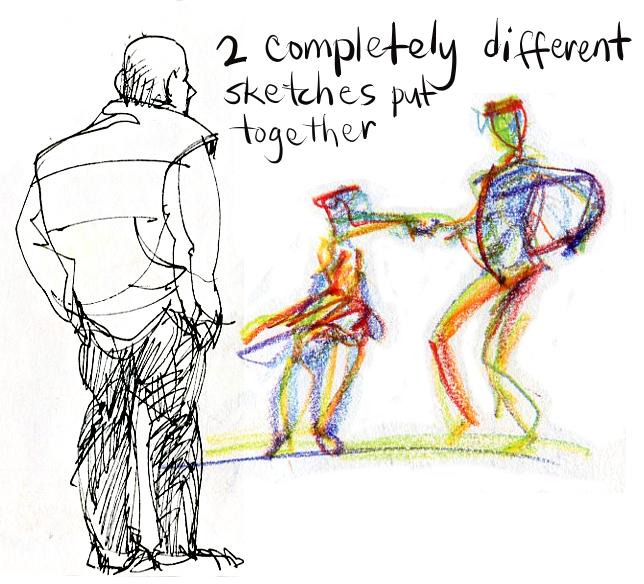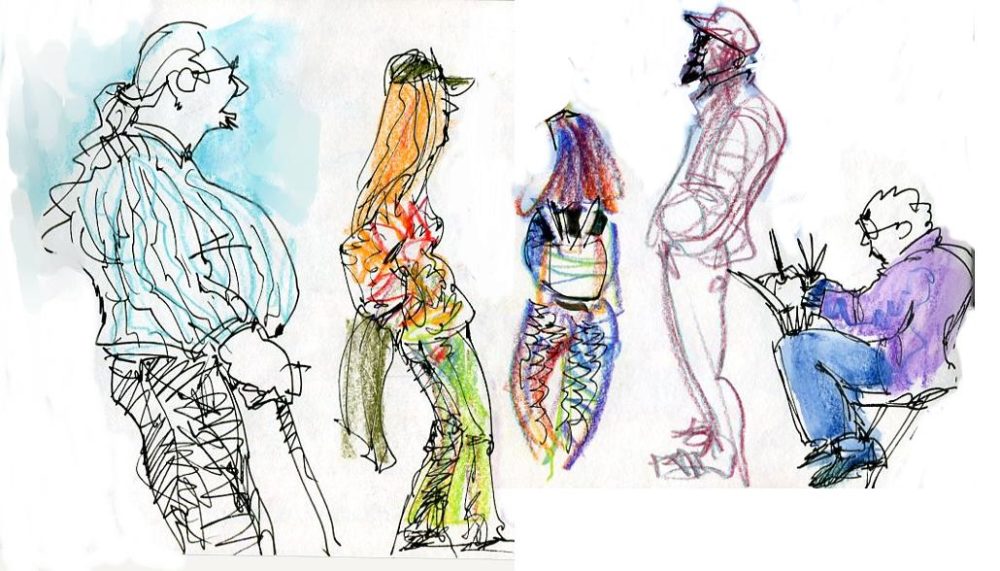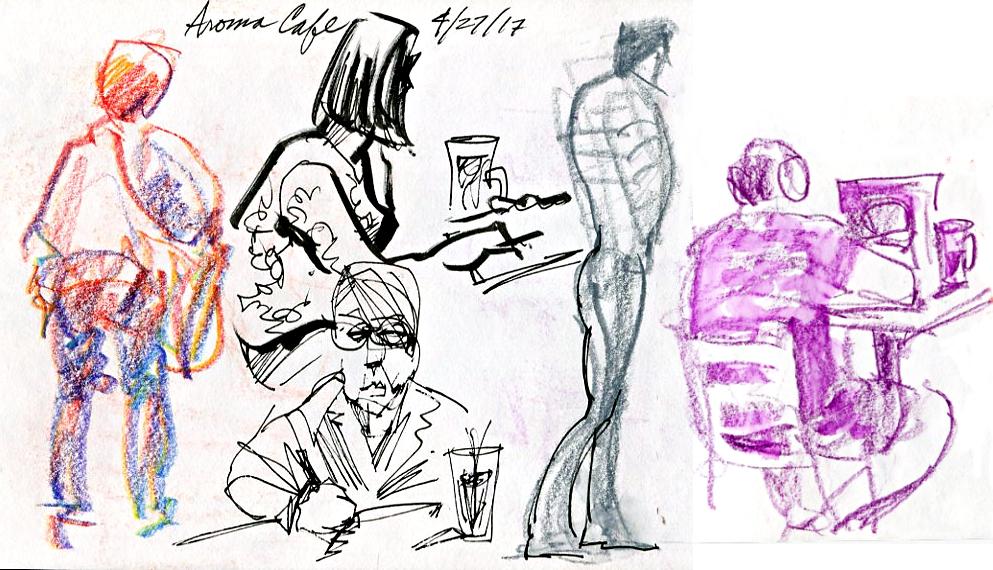 ---
Saturday, April 11
HEADS, FACES, AND CARICATURE
Breakfast and feedback session at Rhoda's Casa de Dibujo. Morning tutorial on face proportions and sketching portraits from photos. Then we head over for a tour and sketching opportunity within the remarkable Mask Museum (talk about heads!). Lunch. Afternoon tutorial on caricature – Rhoda sketches us! Free time (sketch, shop, tour local sites) and mingle for dinners.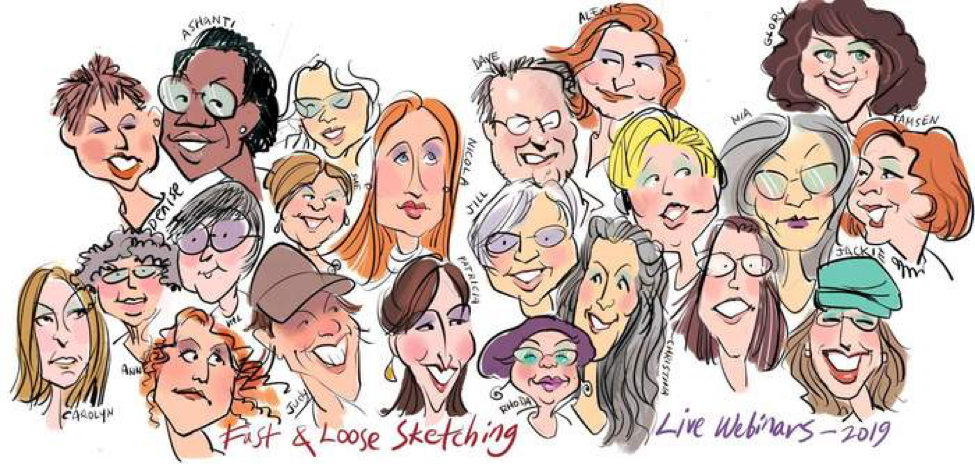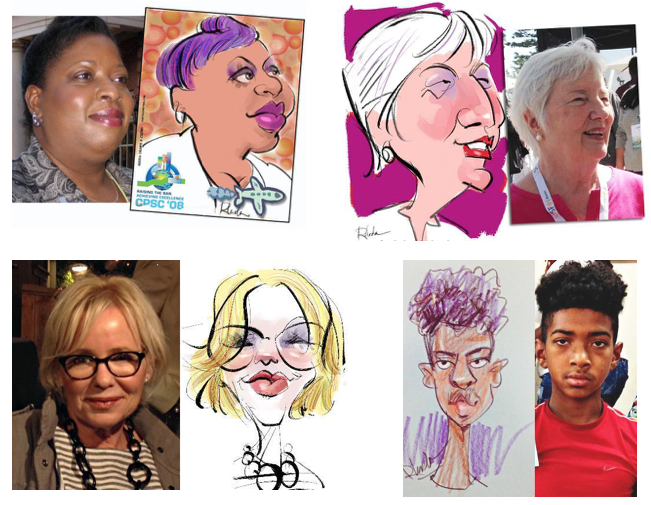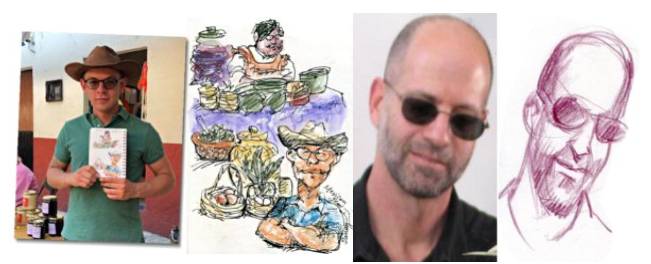 ---
Sunday, April 12: Easter Sunday
SKETCHING COMPLEX SCENES
Breakfast and feedback session at Rhoda's Casa de Dibujo. Morning tutorial on sketching a complex scene and working in live crowd conditions. Holy Week has vivid displays of emotional lows and highs (via the sorrow of Christ's crucifixion and the exuberant joy of resurrection).  Today's events are on the more joyful side of the polarity with Easter Mass, fireworks, bells, bells and more bells … plus 6-foot tall papier maché effigies of unsavory characters from times past and present!  Much pomp, circumstance, and chamomile for us to see smell and feel.  Final gathering this night as we slide into our final close and goodbyes in the morning.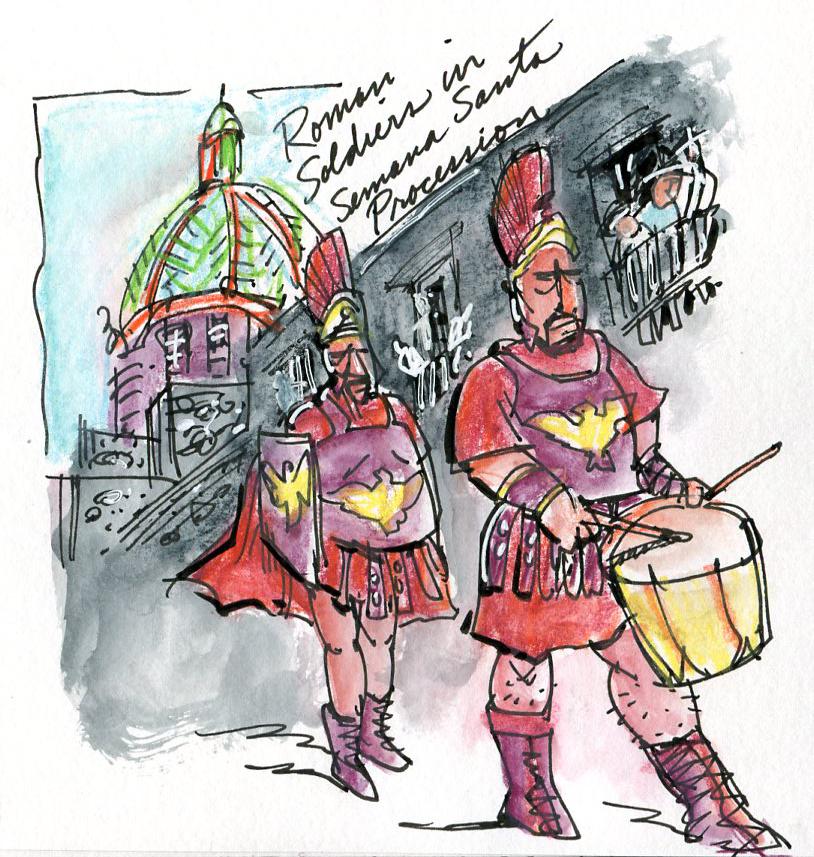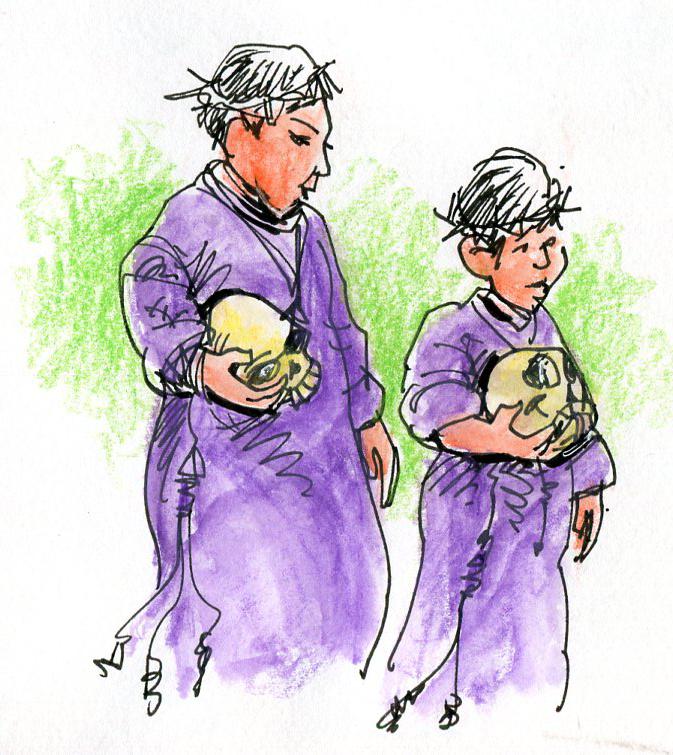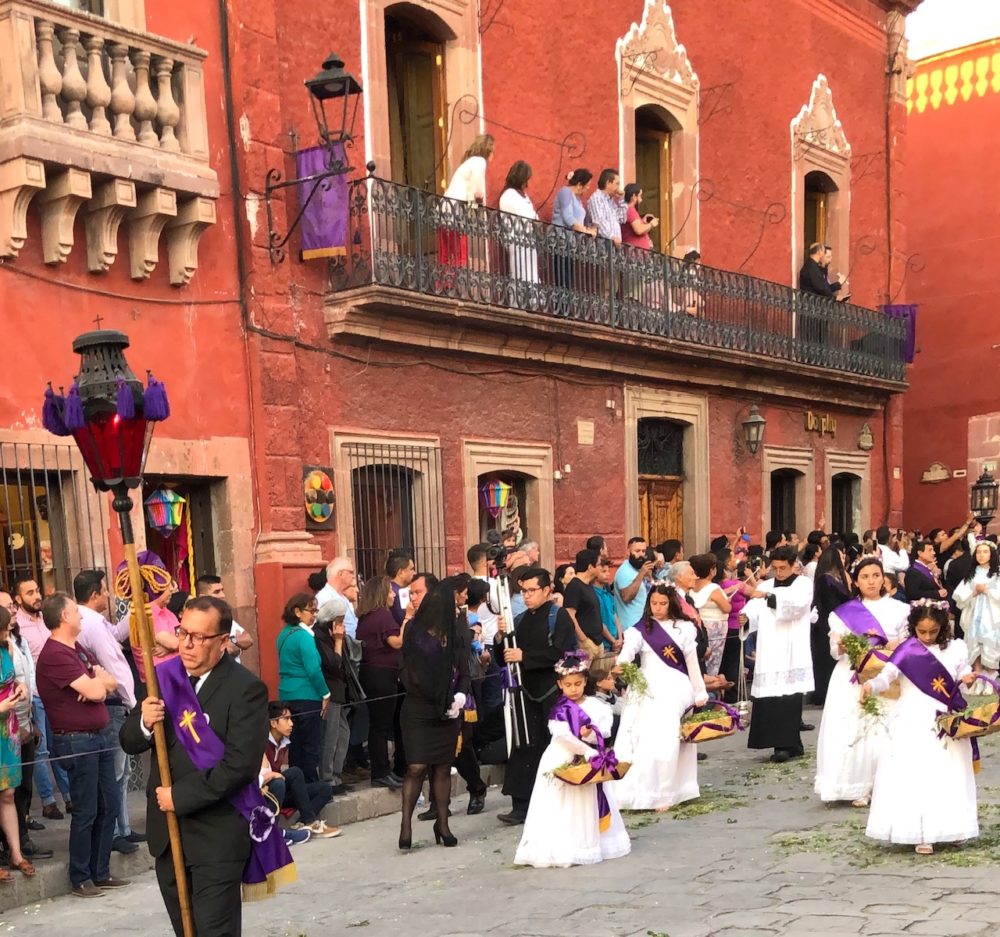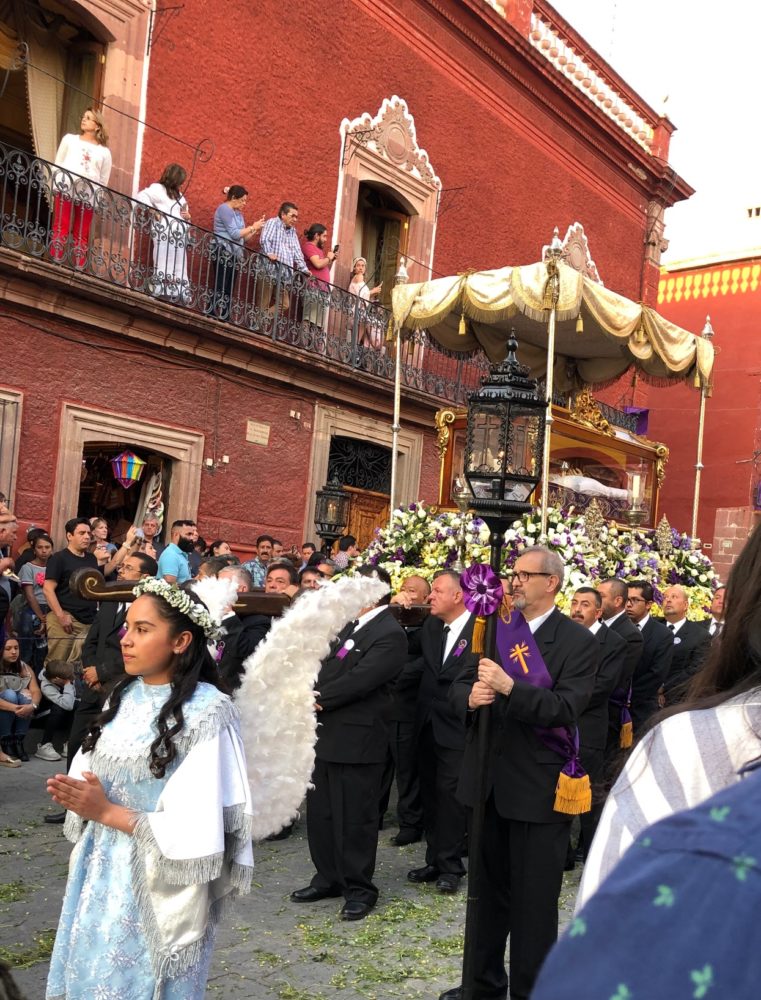 ---
Monday-Tuesday: April 13-14
CLOSING AND DEPARTURES
Final breakfast and morning session at Rhoda's Casa de Dibujo on Monday morning. We have our hacienda until 11am Tuesday, so arrange your departure to your liking … take off after Monday close or take advantage of the extra day to complete souvenir shopping, mingle with remaining colleagues, get a massage, etc.
---
Tuesdays, 4:30 – 6pm Pacific: May 5 & 26 and June 16
DELUXE MEMBERS: ADDITIONAL MENTORING
There are two membership levels for this Mexican Sketching Retreat: Basic and Deluxe. Deluxe members receive 3 follow-up online webinars for integration support. Plus Private Coaching Sessions with both Rhoda and Christina.
---
*** OPTIONAL ADD ON: SHIFT-IT VISUAL COACHING RETREAT APRIL 14-16, 2020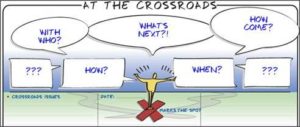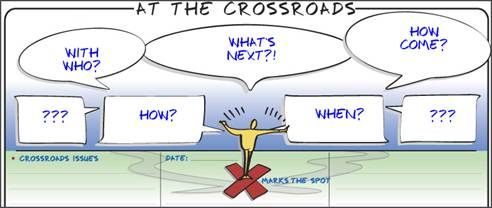 Want to spend 3 more days reveling in warm springtime in San Miguel? You can! Christina Merkley hosts a SHIFT-IT Visual Coaching Retreat right after the Fast & Loose Sketching Retreat so you can do both in one trip. SHIFT-IT is her signature personal planning system for work and life. Let San Miguel be the beautiful backdrop as you sketch your big picture … where you've been, where you're headed now and who you next need to be (inside and out) to gently allow that unfoldment. Great for personal reflection, integration of big events and milestones and getting in your SHIFT-IT prerequisite if you are headed for Visual Coach Certification.
---
ABOUT YOUR HOSTS / INSTRUCTORS:
Rhoda Draws (yes that's her real last name!) is a professional artist with a specialty in caricature, cartooning and urban sketching. She's a salty presence at business conventions, meetings, and events across North America and pioneered video trainings for Corel's Painter programs. Formerly based in San Francisco she now calls San Miguel de Allende, Mexico her home, where she hosts sketching retreats and tours. For more info see www.rhodadraws.com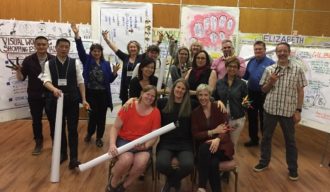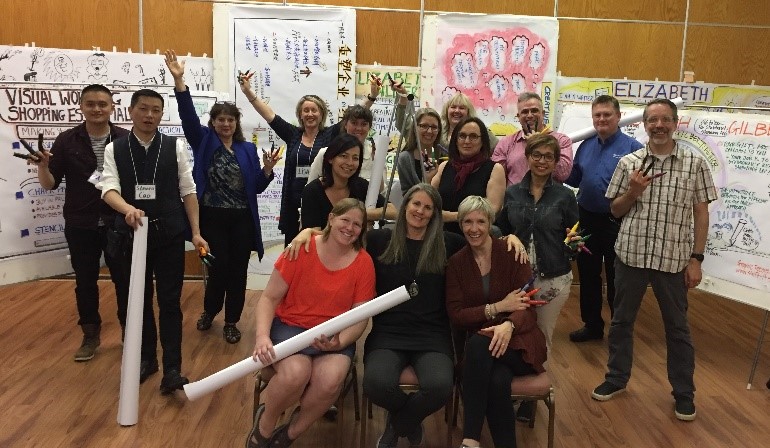 Christina Merkley is a seasoned Visual Practitioner specializing in Organizational Development and Change Management with a niche in Strategic Planning and Visioning with groups and individuals. A well-respected trainer and mentor in the GR/GF field she's trained 2500+ including many prominent personalities in the field. More info see www.shift-it-coach.com
---
WHO THIS RETREAT IS FOR:
This program is specifically designed for Visual Process Professionals — people who help groups and/or individuals think, feel and process in corporate, governmental, not-for-profit and other settings. Consultants, Facilitators, Trainers, Managers, Supervisors, Coaches, Counselors, Therapists, Graphic Recorders and the like.
You most likely have invested in some beginner or even advanced training in the niche skills of Graphic Recording and/or Graphic Facilitation (with Christina Merkley or other instructors in the field). And would like to broaden your ability and confidence in live, spontaneous sketching, drawing and caricature.
Others who benefit from this Fast & Loose Sketching Retreat are artists, illustrators, graphic designers, urban sketchers and other creatives who want to loosen their style and drop perfectionism and design rules. Particularly if you are curious or contemplating trying to transfer your existing skills into the live and speedy Graphic Recording and/or Graphic Facilitation profession. Please also see Fundamentals of Working Visually for more in-depth guidance about the niche GR/GF field.
*** San Miguel is a stone city with lots of stairs and steps, so besides being creative, you are also mobile. Unfortunately not advisable for those with disabilities or other issues that hamper mobility.
---
ABOUT SAN MIGUEL DE ALLENDE, MEXICO
As you can see from the photos and sketches shared, San Miguel de Allende, Mexico is a remarkable place and Semana Santa is an especially good time to come. Historically this city has the essence of a rebellious, creative spirit … that perseveres through thick and thin. Embraced by American artists in the 1900s, it remains a beacon for artistic ex-pats the world over, including Rhoda!
Its stone buildings and cobblestone streets harken back to earlier times which have been recognized with World Heritage designation to preserve the striking Historical Zone, just a short walk from Rhoda's Casa de Dibujo. Despite its historic roots, it's also modern, safe and surprisingly convenient to get around (it has Uber!).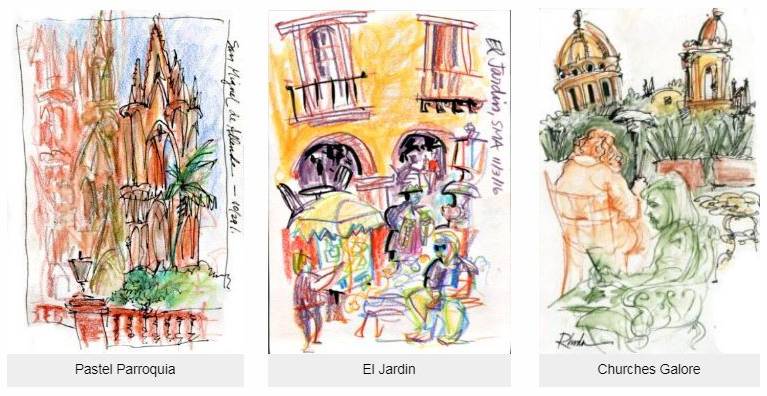 ---
WHAT'S INCLUDED: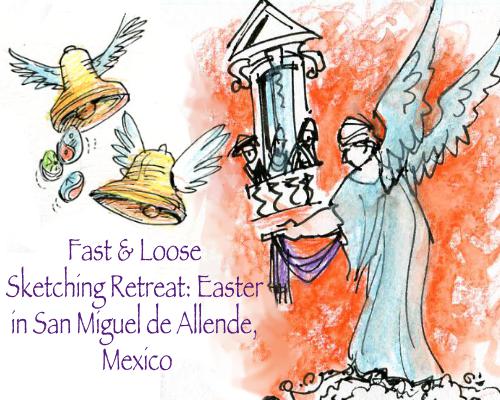 There are two levels to this program: Basic or Deluxe. Accommodations and most meals are additional. See provided accommodation packages below.
*FEES ARE IN CANADIAN CURRENCY. Your Credit Card converts into your currency at time of purchase. Currently, the Canadian dollar is low, so for Americans, Europeans, and some other locales, this translates into additional savings of 25% or more! See currency converter.
---
CURRENTLY POSTPONED
CHOOSE YOUR LEVEL OF PARTICIPATION BELOW:
BASIC MEMBER:

$1197.00 CND
6 Day Retreat: April 7-14, 2020
Arrival and Departure Days
Sketching Kit & Tee Shirt
Extensive Handbook & Online Resources
Mask Museum Entry
DELUXE MEMBER:

$1697.00 CND
Everything in the Basic Level Plus:
3 FOLLOW-UP WEBINARS:
Tuesdays, 11am-12:30pm Pacific
May 5 & 26 and June 16
PRIVATE MENTORING SESSION:
With Rhoda Draws: 45 Minutes via Webinar
PRIVATE MENTORING SESSION:
With Christina Merkley: 45 Minutes via Webinar
---
CHOOSE YOUR LEVEL OF ACCOMMODATION:
The Basic and Deluxe Memberships above do not include accommodation. We have booked two lovely haciendas in Zona Centro (Central District) within walking distance of Rhoda's studio for retreat participants. This neighborhood is centrally located, safe and within easy distance to restaurants and shops. Choose between Private Rooms (with separate bathrooms) or Shared Rooms (with shared bathrooms). Prices also include daily breakfasts at Rhoda's studio. Act early to secure your rooms, please.
8 Nights: Monday, April 6 – Tuesday, April 14, 2020
Official Retreat Start is Wednesday, April 8th at 8am. Official Retreat End is Monday, April 13 at 11am. Check-In As Early as 4pm Monday.  Check-Out as Late as 11am on Tuesday, April 14.  No Discounts for Late Arrival or Early Check-Out.
Private Room, 3 Sold Out

1 Bed: 1 person or couple per room

1 PAYMENT OF $747.00
PURCHASE
3 PAYMENTS OF $250.00
PURCHASE
Payments pull every 30 days until complete.
If you have a desired roomie please list in the comments section of your order. Shared rooms are organized for solo travelers as roomies become available. We also host a pre-retreat info webinar to answer questions and introduce retreat participants before our Mexican adventure!
Flights, transportation to and from the airport, and most meals are not included. There is a wonderful shuttle that services between the airport and SMA (logistics provided with registration).  ATMs are available locally for easy withdrawals and currency conversions.
---
That's it! We're both very excited to pool our knowledge and experience to assist you to up-level your sketching skills for the unique needs of the GR/GF field and other applications and pleasures. And to host you in amazing San Miguel de Allende, Mexico during the Semana Santa week!
Nos Vemos Pronto en Mexico,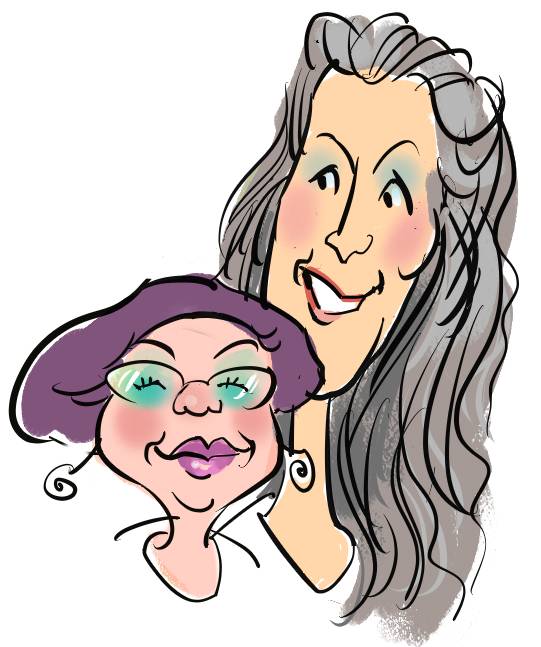 Rhoda Draws and Christina Merkley
P.S.Questions? Email to admin@shift-it-coach.com. Also, feel free to request an Exploratory Chat directly with Christina to discuss this course.