Live Course is Done – Purchase Below to Receive Recordings and All Materials.

10 Live Online Webinars
Saturdays March 7- May 23 (off March 28 & May 2.
2:00-3:30pm Pacific (3 Mnt, 4, Cntrl, 5 Estrn).
Austral-Asia: Sunday Mornings. Europeans: Late Night (Recordings Available)
Working Visually has spread across the world, with rapid expansion over this last decade.  Now Visual Practitioners who work with groups and/or individuals are increasingly adding digital options to their service offerings.
This course is for Consultants, Facilitators, Managers, Trainers, Teachers, Coaches, Therapists, Graphic Recorders and others who work with groups and/or individuals in some sort of visual capacity … and wish to expand their service offerings to include digital options.
We guide you through your hardware and software choices and help you properly set up and use them!  Fine to use whatever existing equipment you already have — if its use able or adaptable we'll let you know.  Or, if you really do need to upgrade we'll point you in the right direction for your specific needs.
---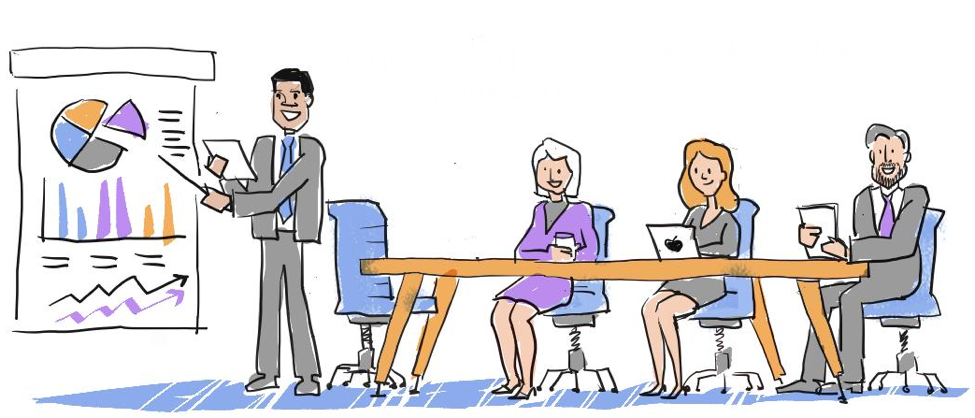 ---
COURSE OUTCOMES:
Determine the Hardware and Software Options That Best Suit Your Work and Properly Configure Them for Streamlined Efficiency – Get 'er Done;
Learn the Full Gamut of Software Features Available and Apply to Practice Assignments Relevant to the Type of Visual Process Work You Do or Want to Do – Get Into the Digital Saddle;
Enjoy the Wisdom and Humour of the 3 Uniquely Qualified Co-Hosts and Visual Practitioners from Across the Globe – Mingle With Your Visual Tribe!
---
CURRICULUM:
10 LIVE INTERACTIVE WEBINARS:
SESSION 1: INTRODUCTIONS AND OVERVIEW
Meet Your Instructors, Cohort Mates from Around the Globe and the Digital Infrastructure We Use to Connect Us Across This Program;
Build Shared Language About the 4 Distinct Applications in This Niche Field. What Christina Calls The 4 Animals:

Get an Overarching View of What's Happening With Digital Tech Across These 4 Animals – It's Evolving Every Minute!
Do a Quick Bench Mark Exercise to Determine Your Favorite Analog Tools – So You Know What You Want to Replicate in the Online Environment.
SESSION 2: DIGITAL BASICS
Overview of Typical Analog Materials And What Is Involved In Replicating Them In the Online Environment.

Understand Canvas Settings In Order to Choose Proper Size for Your Work
Appreciate Layers and How They Work With and Affect Each Other
Learn About Brushes and How They Can Duplicate Your Favorite Real-Life Drawing Tools;
See How Colors Work and Why It's Smart to Make Your Own Custom Palette.
SESSION 3: DIGITAL TOOLS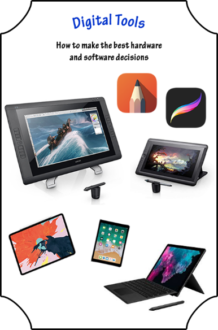 Cross Grid on What Your Options Are and Pros and Cons of the Common Tools Currently Available:
Web Conference Options:
Platform Tools for Working Across Distance with Groups and/or Individuals
Hardware Options:
Digital Drawing Tablets and Other Surfaces
Software Options:
Most Common Software Programs and Considerations to Weigh Depending on Type of Work You Do Or What Types of Work You Want to Do in the Future.
SESSION 4 & 5: LAYERS, BRUSHES AND COLORS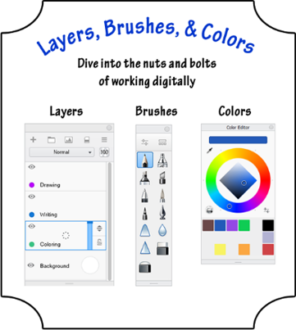 Two sessions on the nitty gritty of Layers, Brushes and Colors.
Concept of Layers and How to Strategically Use and Label for Best Use;
The Ins and Outs of Brushes and How to Build Your Own Sets for the Different Types of Work;
How Colors Work in the Digital Environment and How to Build Your Own Custom Palettes.
SESSION 6: PREFERENCES AND SETTINGS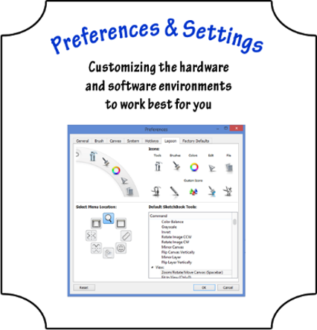 How to Configure Your Hardware and Software Options To Enhance Speed and Efficiency:
SESSION 7: EDITING TOOLS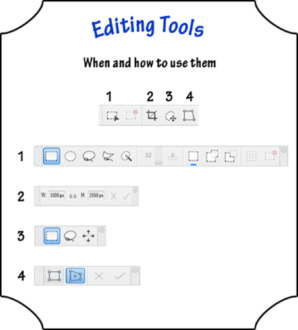 A deep dive into our preferred software, Sketchbook Pro. Erase, select, move, cut & paste, rotate, resize … don't panic as most any mistake is fixable! That's the beauty of digital work!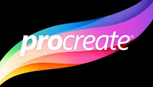 This session also applicable to other programs including Procreate.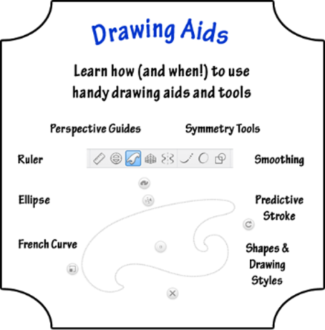 SESSION 8: DRAWING AIDS
Karen our resident Animation Guru takes us through the various drawing aids and tools in Sketchbook Pro.
Even if you work spontaneously and don't have a lot of time to fuss and muss, there are plenty of tools in this program that make your life easier (and your work more polished).
We examine: rulers, smoothing, ellipse, predictive stroke, French curves, shapes, drawing styles, perspective and symmetry … whew!


SESSION 9: OUTPUT AND CLIENT DELIVERY TIPS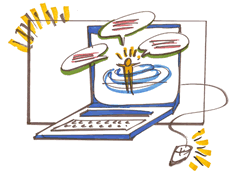 When you are done your work you still need to finalize some things and then get it over to your client.
In this session, we cover organizational tips, template imports and template sets, file types and extensions, resolutions and print needs. Picky but darn necessary.
SESSION 10: BUSINESS ESSENTIALS AND CLOSE

Last but not least our final session includes a frank discussion on the financials of working virtually and how adding a digital offering or offerings can impact your bottom line … in a great way!
And, we bring our course to a supportive close – with thanks all rounds and plenty of pats on the back for the hard work you put in to dive into the digital terrain and come out smiling!
PRIVATE COACHING FOR DELUXE MEMBERS
Continued Feedback, Coaching and Community Plus Three Private Mentoring Sessions – One With Karen, One With Lisa, and One With Christina.
WHO THIS PROGRAM IS DESIGNED FOR:
This program is specifically designed for Visual Process Professionals — people who help groups and/or individuals think, feel and process in corporate, governmental, not-for-profit and other settings. Consultants, Facilitators, Trainers, Managers, Supervisors, Coaches, Counselors, Therapists, Graphic Recorders and the like.
You most likely have invested in some beginner or even advanced training in the niche skills of Graphic Recording and/or Graphic Facilitation either with Christina Merkley or elsewhere … and would like to broaden your horizons into the online environment.
You may already have hardware (computer and drawing tablet) or you may not.  We begin by helping you clarify your existing equipment and whether any upgrades are needed.  Or, if you don't have a tablet, which is best for you depending on your specific needs and desired outcomes.
Full matrix of options given plus individualized support (Lisa's assistance is so awesome!).  Then its a deep dive into properly setting your hardware up for maximum efficiency and learning the software (we start with Sketchbook Pro given its relatively easy and its features are applicable to all software drawing programs including Procreate).
---
ABOUT YOUR INSTRUCTORS: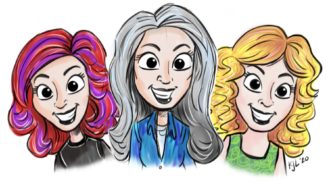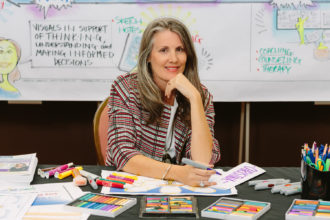 Christina Merkley's Bio:
Christina is a seasoned Visual Practitioner specializing in Organizational Development and Change Management with a niche in Strategic Planning and Visioning with groups and individuals.  A well-respected trainer and mentor in the GR/GF field she's trained 2500+ including many prominent personalities in the field.  www.shift-it-coach.com.
---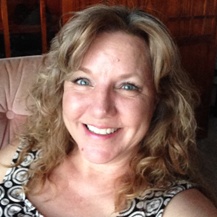 Lisa Moore's Bio:
Lisa Moore is a Corporate Accountant and I.T. specialist who guides business owners to see their strategic and financial dashboards.  She uses technology and visual methods to demystify finance and troubleshoot gnarly situations that impact the precious bottom line.  A technology buff, she assists new and established Visual Practitioners to correctly choose and set up the hardware and software options for their digital work with clients. www.vizbizcoach.com
---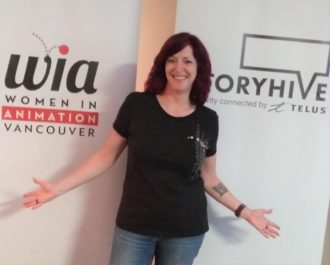 Karen Lloyd's Bio:
Karen showed a talent for drawing cartoons and animals at a very young age. She's been in the animation business for 22 years storyboarding and directing on various animated TV shows and DVD projects. Karen taught Storyboarding at Vancouver Film School for 8 years and loves mentoring others in the craft of Visual Storytelling.  karenjlloyd.com
---
WHERE AND WHEN IS THE TRAINING AND HOW DO I GET THERE?
Shift into Digital Work is offered via 10 Live Webinars, 90-Minutes each. All sessions are fully recorded for easy playback (should you miss a session) or for participation at your own pace (if the live times are inconvenient).
SHIFT INTO DIGITAL WORK®
10 Live Webinars – 90 Minutes Each
March 7 – May 23, 2020
*no class on March 28 & May 2
Saturdays, 2-3:30pm Pacific
(3 Mountain, 4 Central, 5 Eastern)
Austral-Asia: Sunday Mornings.
Europeans: Late Night
(Recordings Available)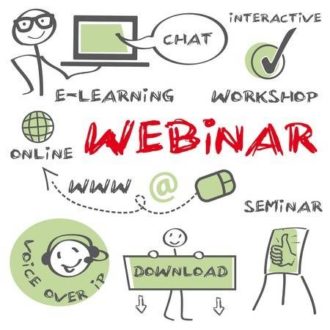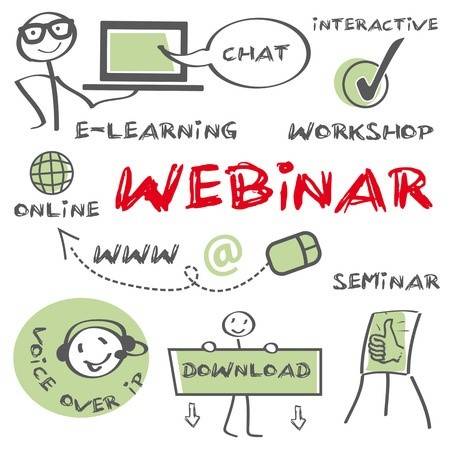 This is an online course conducted via live weekly webinars.
There is no travel required, you simply connect from your own geographic location via the digital device of your choice (computer, mobile phone or tablet).
Dial-in phone numbers from various regions are also available.
 All sessions are fully Video Recorded for easy replay should you need to miss a session and want to review it at a later time.
---
HOW THE TECHNOLOGY WORKS – IT'S SIMPLE!
We use Zoom Webinar Conference technology and a handy online forum to host this training. At the appointed time, you join us online via your computer, tablet or mobile phone (you simply click a link that is sent to you via email). During the weekly live webinars, Christina and her co-hosts deliver the course material and interact with each other, you and your classmates.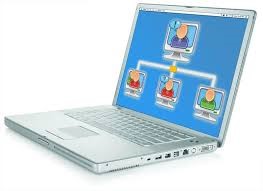 Plus, we also provide a private online forum, which allows communication throughout the length of the course and beyond. The forum is an integral part of this program. Through it, you post your assignments and read the posts of your colleagues. We read and comment in the forum and give you individualized feedback via additional Q&A time after each webinar.
---
WHAT'S INCLUDED AND PAYMENT OPTIONS:
TWO LEVELS:
BASIC OR DELUXE
Choose Your Payment Plan
---
BASIC MEMBER: $497.00

10 Live 90-Minute Webinars.

Video and MP3 Recordings. Online Forum.

DELUXE MEMBER: $997.00

Basic Package Plus 3  Private Mentoring Sessions: One Each with Christina Merkley, Lisa Moore and Karen Lloyd (45 Minutes Each by Private Web Conference).

$182.00
3 Monthly Payments

$350.00
3 Monthly Payments

$85.00
7 Monthly Payments

$110.00
10 Monthly Payments
Please Note:
* Fees are in Canadian Funds, see www.xe.com for conversion
* Plus applicable taxes for Canadian residents.
* Payment plans are legal contracts to be fulfilled per terms stated. The 1 pay is the most affordable option, as payment plans include additional fees. First payment immediate, then pulled every 30 days until complete.
SHIFT-IT Coach, Inc. All Rights Reserved. Terms and Conditions.
---
We're very excited to pool our knowledge and experience to help you make your shift into digital work. See you soon!
Yours in visual expansion.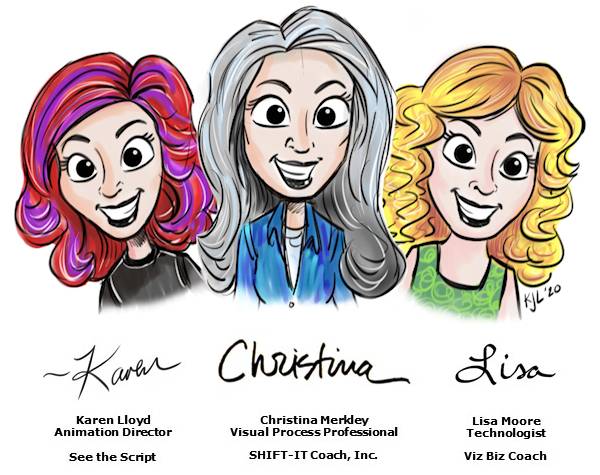 ---
P.S. Questions? Email to admin@shift-it-coach.com. Also feel free to request an Exploratory Chat directly with Christina to discuss this course.
P.P.S. For a full overview of 2020 SHIFT-IT School Curriculum click here.