Here are a few additional things that some folks want to know:
---
Q. How Many People Typically Attend the Live Trainings?
A. Online trainings tend to be in the 20-30 participant range. Previous in-person trainings were capped at 20, however with the new summer camp location, only 12 participants are possible (with some onsite accommodation available).

---
Q. Who Comes | What Are Other Participants Like?
A. People probably a lot like you. People who've been intrigued by this work for years, or just stumbled upon it and are totally excited by its existence. Participants come from many professions and backgrounds.
The obvious ones like leaders, managers, consultants, facilitators, trainers, coaches, counselors, and scribes. And illustrators, graphic designers, cartoonists and artists.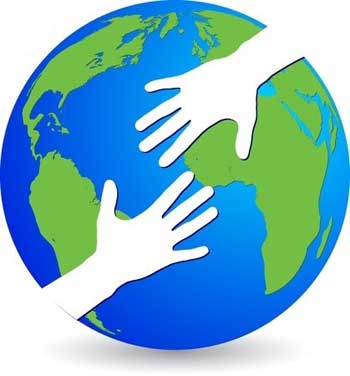 Also HR professionals, mediators, teachers & principals, academics, activists, advocates, family and systemic constellation facilitators, mediums and psychics (who also help clients find their own answers too!), youth, homeless, military services – even lawyers and accountants (cause the good ones help their clients with their emotions!).
For the in-person workshop most are North American … from across the United States and Canada. However, Europeans have made the trek to work in-person with me too – from United Kingdom, Ireland, and Netherlands. As well as Aussies, New Zealanders and Pacific Rim travelers (China, Singapore, Japan, Korea).
As far as online, I was an early adopter of the medium, having worked online for 10 years before the pandemic hit.  Like all have become used to, good ol' Zoom allows us to connect effectively from across the world!
Most Visual Coaches work both online and in-person with their clients. Giving us options depending on local and global conditions.

---
Q. What If I'm Scared by the Drawing/Art Stuff?

A. I'm glad you asked. First off, let me reassure you that it is perfectly normal to be a bit apprehensive when you sign up – everyone is! After all, it's not every day that you choose to, in public no less, stand up at a wall and doodle. Can I do it? Will I like it? What if I get stuck? – are perfectly natural concerns. I assure you that even art traumatized people who have had nasty experiences back in grade school or some such thing do make it through this workshop very well (look at the testimonials from folks who say they couldn't draw a straight line coming in!)
Rest assured, it's really not about art anyways – it's about information capture, and good process work and having another way to help your clients! If drawing isn't your strongest point, please know that I break things down to the most simple basics, plus you have other strengths you can capitalize on like good listening, synthesizing and tracking of information.  For more info see my article: How Non-Artists Can Work Visually Too.

HUGELY ENJOYABLE AND IMMEDIATELY APPLICABLE!
"As someone who got an F in Art when I was twelve years old I've always lacked confidence when it comes to the visual finesse of my handouts and flipcharts. After the workshop I'm now much more confident and competent and have been able to apply what I learned throughout the summer. The workshop was hugely enjoyable and immediately applicable … you can't get much better than that!"
Dave Whittington
Co-Owner, Calliope Learning / Royal Roads University, MBA Faculty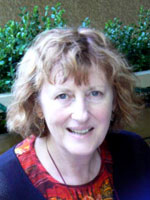 EVEN THOUGH I HAVE NO DRAWING SKILLS … I SEE THE 'LIGHT' – EVEN I CAN DO THIS!
"The modeling, info sharing and skill-based practice worked so well. Nice meeting new people and great resources and encouragement. Even though I have no drawing skills … I see the 'light' – even I can do this! So with practice, just imagine!"
Sharon White
Program Coordinator/Trainer, Ministry of Children & Families
Vancouver, BC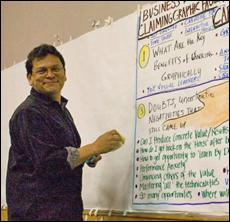 WAS COMFORTABLE AND FELT WELCOMED … ABLE TO LET MY INNER CRITIC TAKE THE TIME OFF
"Working at-the-wall and the synergy of working in groups too – worked well. I was comfortable and felt welcomed and supported throughout. I was able to let my inner critic take the time off."
Rueben Sanchez
Internal Corporate Consultant
Phoenix, Arizona

---
Q. What If I Already Have Visual or Artistic Experience?
A. Whatever your prior visual skill level is, you'll likely have to adapt it to work effectively in the Visual Coaching medium.
Visual Coaching is very different from Graphic Recording, Scribing and the like. Also, while artistic, its is NOT art, or solo drawing or sketching.
It's closest to Graphic Facilitation, where you are responsible for designing and then implementing your intervention, all while creating spontaneous and VERY FAST notes … except you are working with an individual (or group of individuals), a couple or a business partnership rather than a large cohesive group.
If you are a Graphic Recorder, or you are another type of Artist or Creative, you'll likely have a useful base that I can help you adapt. Especially if you are open-minded and willing to try some new things, which may stretch you (perhaps significantly).
Skilled Recorders, Designers and Artists often have to let go of what they 'can do' in order to work in abbreviated, simplified, and even messy ways (I prefer the term organic). In order to create and maintain emotional rapport and connection with clients. Once you get used to it, it can be a relief to let go of some of that old artistic pressure and meet human-to-human.
Also, with Visual Coaching one has to be active rather than passive in order to effectively manage the client's process and processing. By its nature, it can be very intimate and emotional. Folks who have not worked with individuals, partners or couples before, or who only work in corporate (or other highly analytical settings) may be surprised by the level of truth, honesty, authenticity, feelings and intimacy that Visual Coaching can evoke. Be prepared to be emotionally moved and to grow personally too!

---
Q. Where Can I See Examples of Visual Coaching?
A. Most client work is confidential, so you only can view it if the client gives permission. While you won't see the full range of my client work, you can review my Flickr Collections for some examples. Also, check out my YouTube Channel for live videos from the Public Visual Satsangs and from Free Recorded Sessions. Or, check out those latter two for free opportunities to work with me directly, to experience the power of Visual Coaching for yourself!



---
Q. Where is the In-Person Summer Camp Held?
A. The pandemic taught many of us just how precious the ability to meet in person is. As such, when I run in-person events now, I like to make them special. Especially for this program as its content is extra special too.
I am fortunate to live in a beautiful area called "Metchosin", filled with woods, sheep farms and beaches. It is 40 minutes from Victoria, British Columbia, on Vancouver Island. Which is on the western coast of Canada (kitty corner to Vancouver and Seattle).
The Summer Camp is held at a small retreat center, literally one mile from my home. I prefer it to a downtown meeting room, even though it accommodates less people. This special Summer Camp is limited to just 12 participants (5 of whom can stay onsite).

We have the full run of the facility, including indoor/outdoor space, decks, an orchard, a forest trail, a swimming pond, a fire pit and a hot tub. This allows us to spread out, as we do lots of experiential work – learning Visual Coaching by doing it with one another!
There is limited accommodation on site (one solo room and a bunkhouse for four) with a shared full kitchen. Click for Booking & More Info.
If onsite accommodation is sold out, or you'd just like to stay elsewhere, you can book your own accommodation. While there are no hotels in Metchosin, there are plenty of AirBnBs and VRBOs.  Same for the neighboring districts of Colwood, Langford, Goldstream or Sooke. Victoria itself is a world-class tourist destination with many options to choose from. Of course, locals are welcome too!

---
Q. I Can't Make Dates, When Will You Offer Again?
Online:
Online Training is usually offered once a year in the November – February straddle season. Watch the website and eZine for Early Bird deadlines to save.
In-Person:
The In-person Training is usually offered once a year in the spring or summer season, for 3 days. In 2024 I'm offering a new Summer Camp format, at a retreat center nestled in the British Columbia woods, nearby where I live in Canada. In-person workshops typically sell out, so register early to secure your spot. Watch the website and eZine for Early Bird deadlines to save.
Home Study Kit:
Dates don't work for you? Want this valuable training sooner rather than having to wait for the next live class? No problem, I've created the Home Study Kit for you,  Instantly available, so you can learn from the comfort of your own space. Click for More Info
Private Training (You Travel to Me):
Another option is to book Private Training. Work one-to-one in beautiful Victoria, British Columbia, Canada. We find a date that works for both of our schedules. Includes Home Study Kit so you can prep ahead of time if you like. Click for More Info.
In-House Training (I Travel to You or Online):
Have a group of people to be trained in your organization or community? Happy to customize this training for the needs of your group. Let's find a date that works. Bring me to your location, or we may be able to do something online.   Click for More Info.
---
Q. I Can't Attend Live, What Is Your Home Study Option?
A. I'll have a Home Study Kit for this course in 2024.  In the meantime, my prior course called Fundamentals of Working Visually, is available (it includes Visual Coaching but also includes extensive material on Graphic Recording and Graphic Facilitation. The Kit allows you to access my training from the comfort of your own environment and control the pace and timing of your learning. Great for people who 'want it NOW' and/or who can't attend the live classes for various reasons. Full Details and Instant Online Purchase.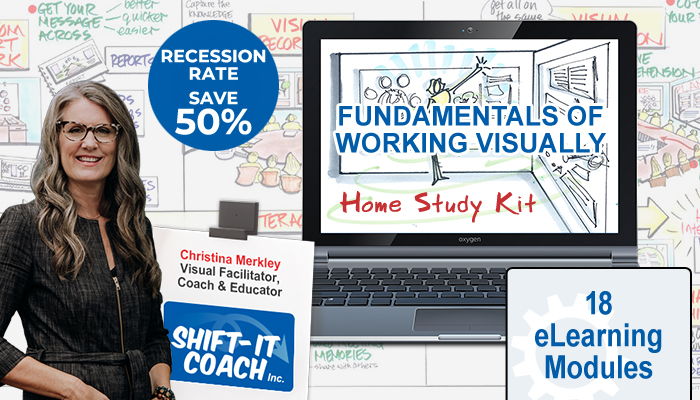 ---
Q. I Want Customized Training, What Can You Do?
A. I'm happy to customize this training to your specific needs. I do offer private trainings (one-to-one or small group) in beautiful Victoria, British Columbia, Canada, see Private Training & Apprenticeships (you come to me). Alternatively, if you have several people in your organization or community (minimum 10), see In-House Training (I come to you). I may also be able to provide customized online training if need be.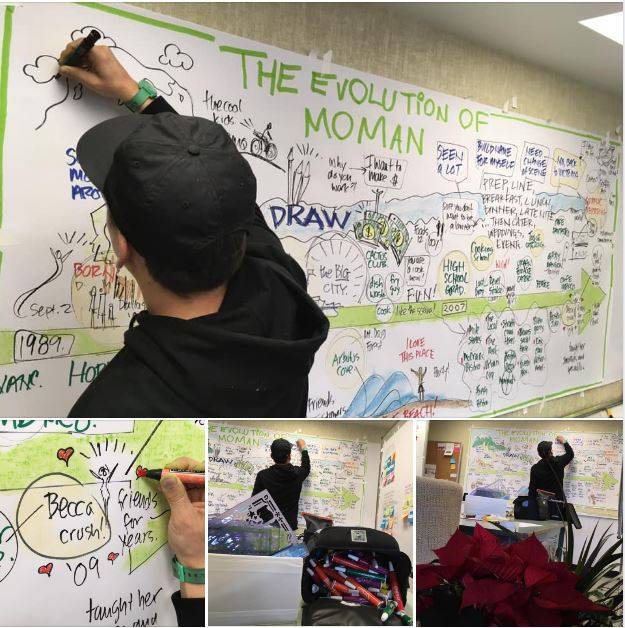 ---
Q. How Does This Course Relate to Visual Coach Certification?
A. This course is one of two pre-requisites for Visual Coach Certification. The other pre-requisite is going through the SHIFT-IT System(r) yourself, either via a public course or Kit, or through private coaching (with myself or a Certified Visual Coach). Certification equips you to properly use all 40+ of my Visual Coaching maps in your own practice (whether you are in an internal role or an independent). For more info, click here.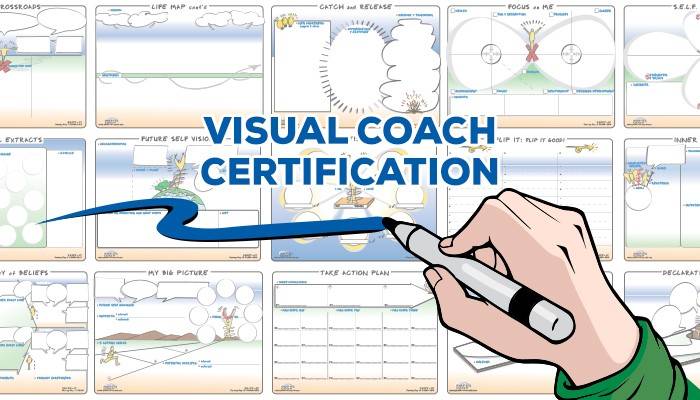 ---
Q. Do You Offer Scholarships or Discounts?
A. Given the value of my work and material, I do not discount it per se. Instead, I offer generous Early Birds, Seasonal Sales and Payment Plans. Since 2018, I have also introduced an 'Accessibility' option on some of my online courses (including this one). This option is offered for folks with legitimate financial challenges, especially currency inequities. Please don't abuse the Accessibility level if you can afford the regular pricing, as doing so will jeopardize those who will really need it.
Due to space costs, I cannot offer an Accessibility rate on in-person trainings, although I may be able to offer a partial trade for one participant in each in-person training (in exchange for specific onsite assistance).
Also, please note that my fees are in Canadian funds, which can translate into significant savings for those whose currencies are stronger.
---
*** That's it for the FAQs. Just click the links below to return to the other course pages.
RETURN TO MAIN PAGE
GO TO PAYMENT / REGISTRATION PAGE
---