Professional Home Study Kit Attracts Process Professionals From Across the Globe!

For Managers, Leaders, Consultants, Facilitators, Trainers, Coaches, Therapists, Scribes and Others Who Work with Groups and Individuals. Also for Illustrators, Designers, Artists and Other Creatives.
NOW AVAILABLE IN 18 MODULE HOME STUDY KIT
LEARN FROM THE COMFORT OF YOUR OWN HOME!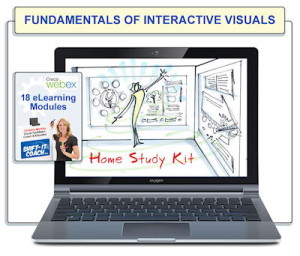 This Graphic Facilitation Home Study Kit is my latest way of getting my valuable knowledge into the hands of Process Professionals across the globe. The structure and material has been honed from my organizational development, change management, facilitation and coaching experience across a broad range of corporate, governmental and not-for-profit settings.
This Home Study Kit is based on my internationally acclaimed FUNDAMENTALS OF WORKING VISUALLY training. If you have not already read about this training, I suggest you visit that info page first, for preliminary context, then return to this page for specifics about the handy Home Study Option.
Then Scroll Below for Specifics on The Kit Option.
Quick Links:
Reasons People Opt For The Home Study Option
Home Study Curriculum: 18 Training Modules
How To Access and Use The Kit
What's Included: Basic and Deluxe
Costs and Payment Options
Instant Online Purchase
---
REASONS PEOPLE OPT FOR THE HOME STUDY OPTION: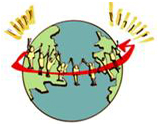 My clientele comes from across the English speaking world: United States, Canada and Europe. As well as Australia, New Zealand, South Africa and even Singapore, Japan and Korea, etc. Now with this Home Study Kit you don't have to wait for a live class offering to get the information you want. Nor do you have to participate in a live class that is at an awkward time for you. Also great for people who have busy schedules who can't consistently attend live classes. Now you can participate from the comfort of your own environment and learn at your own pace and timing!
---
HOME STUDY CURRICULUM: 18 TRAINING MODULES
The curriculum in The Fundamentals of Interactive-Visuals Home Study Kit is the same that I teach in my live training. In fact, you follow a 9-week live class (who meets twice a week online via webinars) as they make their way step-by-step through my material. I guide you, in the same order as the class you are watching. You witness their ahhas and insights and in turn apply the material to the specifics of your own situation.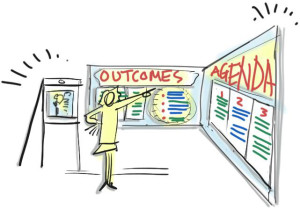 1. Kick Off
2. Context & Definitions
3. More Definitions & Benefits
4a. Space, Supplies & Create Your Studio
4b. Hanging Paper, Graphic Aerobics & Lettering
5. Zen of Icons
6. Formats & Your First Studio Piece
7. Feedback
8. Graphic Recording: Demo & Assign
9. Feedback
10. Graphic Facilitation: Demo and Assignments
11. Feedback
12. Graphic Coaching: Demo and Assignments
13. Christina's Coaching Journey & SHIFT-IT
14. Photo Management, Documentation & Reports
15. Money, Marketing & Biz Development
16. Mindset and Resistance Busters
17. Next Steps and Action Plans
18. Class Closure and Implementation Coaching
PLUS BONUS VIDEOS: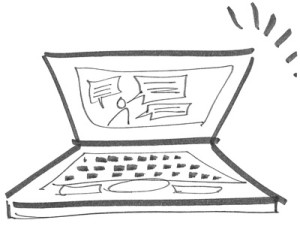 The Neuroscience of Working Visually with Dr. Mandy Wintink;
The Ins and Outs of Whiteboard Videos with Liisa Sorsa and Disa Kauk;
Working Virtually (digital technology: tablets, smartboards, etc.) with Rachel Smith;
Materials and Supplies with Laurie Durnell of The Grove Consultants;
Materials and Supplies with Guido Neuland of The Neuland Company.
---
HOW TO ACCESS AND USE THE HOME STUDY KIT: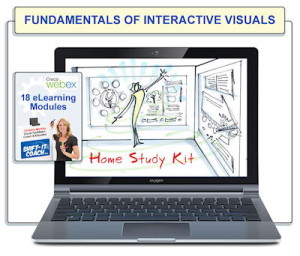 The Home Study Kit is instantly available via instant online purchase. Upon registration you receive a private password to my SHIFT-IT School and access to the Interactive-Visuals class area. I encourage you to proceed through the material in the order it is laid out, however access to all modules is immediately given in case you have an urgent need to view certain topic areas.
The program is in English. A standard video/audio player is required to view videos and MP3s and a PDF Reader to download and print documents. The program is divided into 18 Modules (listed earlier on this page). You simply watch the videos and read the PDFs on each module and follow the assignments.
You are instructed on the materials you need to source (paper, markers, tape, etc) and how to set up a Studio Space to do your assignments. Private coaching (Deluxe Option) is available to answer questions and to provide you with feedback on your work and guidance on your business development. Plus you receive a memberships in The Interactive-Visuals eCommunity (an online forum for graduates of my visual programs so you can mingle with like-minded others from across the globe.
---
YOUR TRAINING INVESTMENT:
When you take valuable professional training don't just look at what it costs, look at what it's truly WORTH to you overall. The going day rate for Visual Practitioners is $500 on the low end and $2500 on the mid-range. Some higher end consultants using visual methods charge $5000+. My day rate is $3000, so in essence I'm teaching you my craft for less than what it costs to hire me for one day.
The cost of this training can be recouped quickly using your new skills. Or if you're internal, in the satisfaction of doing your work in a whole new way that pleases you and your employer (perhaps saving them from having to bring in an external resource). The price of this training is very fair given how you are being 'taught to fish' – a skill that can keep you feed, happy and intrigued for years to come (let alone all the great insights, breakthroughs and results your clients will reap). As you can read in the testimonials, some participants recoup their investment within weeks and many go on to create new careers or enhance existing ones.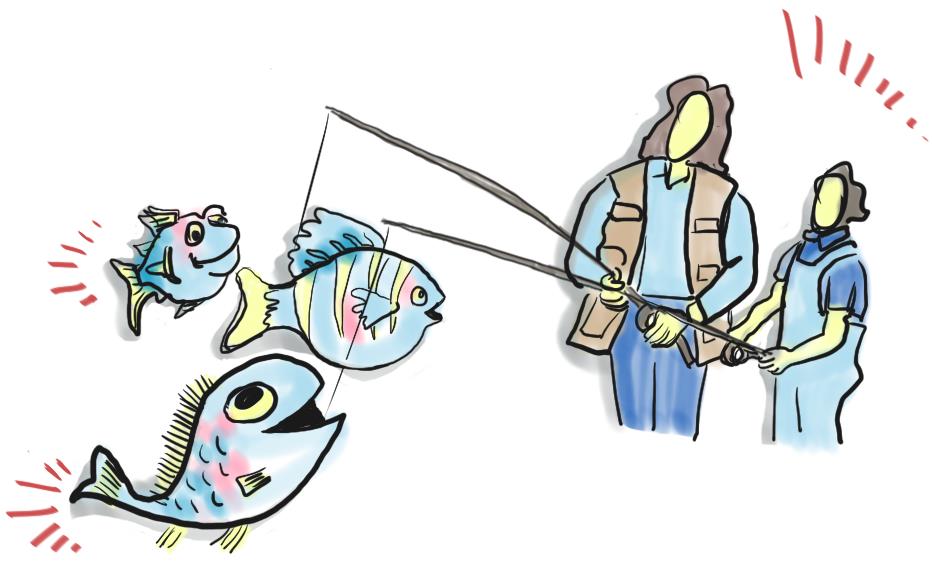 Also, an important FYI … fees are in Canadian funds. Currently the Canadian dollar is low (it hasn't been this low for a decade), so for Americans, Europeans and some other locales this translates into additional savings for you! Now is a really good time to secure these highly useful skills. See currency converter.

---
FEES, LEVELS AND PAYMENT PLANS:
There are TWO LEVELS to choose from: Basic and Deluxe. Plus various payment plans.
OPTION 1: BASIC PACKAGE:
18 Videos of Class Webinars (Plus Class Notes and MP3s)
10 Instruction Videos
Digital Handbook | 15 Chapters
3 Icon Libraries (Basic, Advanced and Personal);
Color Portfolio & Lettering Guide
Contracting & Agenda Examples
Summaries of Class Forum Discussions
BONUS VIDEOS:
The Neuroscience of Working Visually with Dr. Mandy Wintink;
The Ins and Outs of Whiteboard Videos with Liisa Sorsa and Disa Kauk;
Working Virtually (digital technology: tablets, smartboards, etc.) with Rachel Smith of The Grove Consultants;
Materials and Supplies with Laurie Durnell of The Grove Consultants;
Materials and Supplies with Guido Neuland of The Neuland Company.
PLUS VALUABLE IMPLEMENTATION SUPPORT:
Free Membership in our Student eCommunity (Online Forum, Monthly Live Drop-in Webinars and Video Library of Past Sessions … THIS IS A VERY VALUABLE PERK);
Qualification for "Free Repeater Option" to join any live online offering of the training (in case you lack the discipline to work through the material all on your own or want some companionship!).
$997.00
1 Payment
$350.00
3 Monthly Payments
$110.00
10 Monthly Payments
OPTION 2: DELUXE PACKAGE:
Includes the Basic Package
PLUS

These Extras:
Printed Handbook: Mailed to you, so your printer can take a break;
Two Mailed DVDs: 10 Tracks of Demo Videos;
3, 45-Minute PRIVATE MENTORING SESSIONS with Christina Merkley, ($797 value!) Make the most of your investment by securing private mentoring. Great for feedback on your work and for mindset, marketing and business development support. FYI, these sessions are conducted via handy Web Conference Technology (so we can SEE each other and so you can SEE the live scribing I do via my digital tablet). Save significantly off of my regular coaching rates.
$1497.00
1 Payment
$525.00
3 Monthly Payments
$325.00
5 Monthly Payments
$165.00
10 Monthly Payments
* Fees are in Canadian Funds, see www.xe.com for conversion.
* Plus applicable taxes for Canadian residents.
* Payment plans are legal contracts to be fulfilled per terms stated. The 1 pay is the most affordable option, as payment plans include additional fees. First payment immediate, then pulled every 30 days until complete.
SHIFT-IT Coach, Inc. Terms and Conditions.
In closing, if you are attracted to the visual way of working, I hope I have made it clear as to why this Home Study Kit is a smart and convenient professional investment. I look forward to training you!
Yours in visual expansion,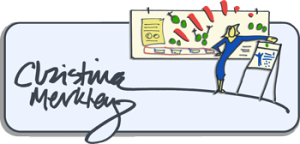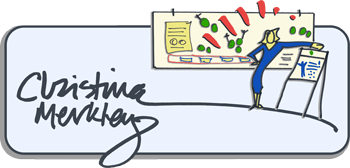 Process Skills Mentor & The SHIFT-IT Coach
P.S. Further Questions? Email admin@shift-it-coach.com. You can also request a free '30-Minute Exploratory Chat' to chat directly with me if you'd like.
P.P.S. Sometimes people are really pulled to come to this training and don't quite understand why, as it's an intuitive hunch not a rational decision. Like my previous attendee Val, who wrote 10 weeks afterwards to tell me she landed an Executive Director position at double her salary by using 'visuals' to seal the deal (she used a visual template to not only interview the Board that was interviewing her, but to engage the front line staff as well – which they loved!). She and her initially skeptical husband were very happy with her return on investment from this training and that she followed her intuition to get it!