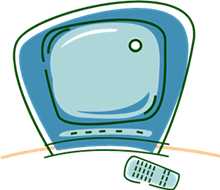 I've had an 'interesting' fall with lots of changes. Good change … but even positive change requires some integration time.
While not a big T.V. watcher generally … I've found myself cocooned in front of the tube (or more accurately my laptop screen) as the days have grown shorter and darker … being a voyeur on other people's transformation experiences.
Yes, T.V. is still on one level a 'vast wasteland' … lots of brainwashing stuffed with drama, materialism, narcissism and tons of pretty bad behavior (kids, don't try this at home!). However, in the reality programming genre, there is some surprising good information to be had for those on a transformation or 'SHIFT' journey. You just need to become a 'selective sifter' to find it.
Below are some of my top picks for "Transformation Via the Tube" and why …
This show follows mother / daughter singing sensations Naomi and Wynonna Judd on their reunion tour … as they navigate old hurts, differentiate their identities and put on a great show.  They travel with their life coach / therapist who facilitates their communication and keeps them respectful to one another.  A courageous look at inner work that shows it's not glamorous, even for a glamour duo like these two.
Note: See previous post about Ashley Judd's powerful bio / travel memoirs.

Ryan & Tatum: The O'Neals
Tatum O'Neal made waves with the release of her bio A Paper Life … both publicly and personally.  This show charts this famous father and daughter's attempt to mend very painful fences – right into the rooms of their therapy sessions!  Shows the ups and downs of relational recovery work with the peaks of narcissism and the lows of toxic shame.  Season one ends as a realistic 'work-in-progress'.
I commented on Ms Twain's recently released bio in a  previous post (feeling that she had laid out her issues but had not resolved them). Her courageous journey of recovering from betrayal (with roots in a traumatic past) is continued on this inside look via Oprah Winfrey's OWN channel. Of particular note is the singer's struggle to 'revitalize her voice'. Something that many of us metaphorically struggle with too. She learns that the problem lies not in her vocal chords but in claiming her greater power and dignity. Powerful stuff (loved the sessions with Lionel Ritchie and David Foster).
Bethenny Frankel is no stranger to reality t.v. having appeared in Martha Steward's Apprentice and Housewives of New York.  In Housewives we saw her eureka moment with her 'Skinnygirl' brand.  In 'Ever After' we see her capitalize on her margarita idea, in the process giving a much needed kick in the butt to the male dominated spirits industry — and causing Hollywood executives to re-write their talent contracts.  Whatever you think about her personality or her drink (I like it!), she's a force to be reckoned with … and gifts us in seeing the hard outer and inner work that preceded her remarkable success.
Cesar Milan: The Dog Whisperer
I first wrote about my fascination and appreciation of Cesar Milan's work back in this article in 2006.  His salt and pepper is more salt these days (and whew … does he ever wear it well!) AND his wisdom about inner energy and how it affects outer results is as perceptive as ever.  As he says 'he's in the biz of rehabilitating dogs and TRAINING people' — to step into their calm and assertive leadership energy.  That same SHIFT is so applicable to all areas of life, not just pets!

Intervention and Relapse
On a serious note, the work of recovery shows Intervention and Relapse are remarkable in their mission of educating about addiction recovery.  Not only for the addicted individual but also for the family system that has been so impacted.  See Sober Coaches and their clients in action. A heroic journey of righting one's life, for one's self. Gorgeous but not pretty.

From histories in Home Improvement shows, best friends Tracy Hutson & Tanya McQueen pair up for this light-hearted transformation romp. Are you tired of our throw away culture? Yearn to transform the old into the new without tossing it all away. These two travel far and wide to transform one person's junk into another person's treasure. A great metaphor for appreciation of the past and personal reinvention. Fun!