J.J. and I hit the road last month … driving down to my old stomping grounds, San Francisco!
Had a great time catching up with my early mentor, David Sibbet from The Grove Consultants. Then over to Oakland to play with Lesley Evers (we both worked as Graphic Recorders with David back in the day). When I say play, I mean PLAY … Lesley is a clothing designer now and it's pretty much a dream come true to play dress up as your friend pulls one amazing design after another straight from her racks. If you see me in person, chances are I'm wearing a Lesley Evers design. Bold, great lines, and a little bit cheeky (just like Les!).

Another stroll down memory lane was meeting up with two of the smartest (and nicest) men I know … Tim Clark and Paolo Salvagione. Many moons ago I drew out their Visions on mural paper taped to shipping containers on the Sausalito docks. Now all of us are living the dreams of our more youthful days. Such a treat to watch fascinating people develop over time. All so supportive of each other with deep appreciation of our unique talents. Love you guys!
In addition to the trip, it continues to be a busy season here at SHIFT-IT Coach, as the 2013 Cohort for Visual Coach Certification launches and we squeak in a new offering "Biz Essentials for Process Professionals" before I take my month off in August. This edition's article is on the 7-stage "Outer Work Model" that the new class is centered around.


Yours in SHIFTing IT,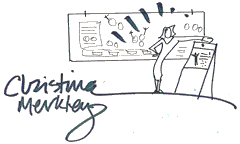 Christina Merkley,
The SHIFT-IT Coach
and Interactive-Visuals Mentor
P.S. Our bricks & mortar expansion continues. FYI, we are currently interviewing candidates for a Part-time Office Manager in Victoria, British Columbia, Canada. Apply if you fit the bill or pass along to others who might.
---