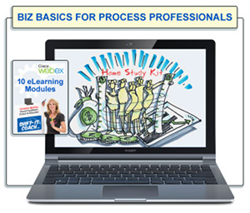 I'm thrilled to report that we had a spectacular launch to the new Biz Essentials for Process Professionals (Home Study Kit). Feels SO GOOD to get this practical info rolled into a handy 24/7 available product and into the hands of the up and coming consultants, facilitators, trainers, coaches, counselors, energy workers, etc who need it. And for the more seasoned folks who have been in biz for a while but need to revamp their brand and offerings.
Coupon Code Until August 5th:
If you missed acting on our Special Launch Offer, here's one last opportunity to snag this info-loaded Kit for your development library. I felt bad for the folks writing in saying they were on vacation when the launch happened. So use this coupon code to save two hundred (on the Deluxe Version 1-Pay Option only, until August 5th).
Biz Essentials Home Study Kit Deluxe Version (coupon code: STORK1)
Talking about vacation, I leave on Monday for two weeks for mine!  Road trip to Portland to visit with friends, then down to the Californian Desert to attend the Contact in the Desert conference (did you know I have a fascination with space, non-physical intelligence and disclosure topics … well, you know now!).  I'll write about my experience on the blog, I'm sure they will be intriguing, mind bending and probably a little kooky too (how can they not be when a bunch of crazy UFO types get together).

Then I'll return to Portland to work with Sarah Moyle (who attended my Fundamentals of Interactive-Visuals workshop). Sarah makes fantastic Whiteboard Animation videos and will be directing me on one I'll be adding to my sites.  I'm so looking forward to our collaboration (to her teaching this old dog some new fangled tricks).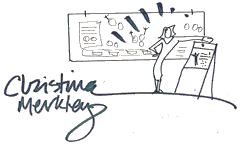 Christina Merkley,
The SHIFT-IT Coach
and Interactive-Visuals Mentor