Contact in the Desert is a conference dedicated to the wide-ranging fields connected to what is popularly known as UFOs. It was held (for the 2nd time) in Joshua Tree, California, U.S.A on August 8-11, 2014. And I attended, along with 2000 others from around the world. Why? Well, for a lot of reasons … not the least being the "UAP" I experienced a few years ago (Unidentified Aerial Phenomena) … which I'll share about later in this article.

Joshua Retreat Center:
The conference was held at the sprawling 400-acre Joshua Tree Retreat Center designed by Frank Lloyd Wright. I heard from folks who stayed onsite that Lloyd Wright's work looks cool, but unfortunately doesn't feel that way (turns out he wasn't great with temperature). While it was a trek down the highway I'm really glad I stayed at the super funky Harmony Motel (see my "Note from Christina" post about the connection to U2). Here's an interesting blog about the park itself Complete Guide to Joshua Tree National Park
The temperatures were HOT (a treat for this Canadian) so I got some sun making my way from one speaker venue to another … thankfully most were housed indoors with the exception of some early morning and later evening events held in the sandy outdoor amphitheater.
The crowd was very diverse, ranging from military, veterans, scientists, journalists, entertainment industry, contactees and many others with some sort of connection to or fascination with the breadth of topics discussed.
One Thing Leads to Another:
My interest in the topics of archeology, advanced technologies, space exploration, quantum physics, dimensional travel and the like have been an unfolding journey that has slowly progressed over the years. My work as a change agent within organizations as a Graphic Facilitator and then with individuals as a Business and Life Coach has over time lead me to explore topics that at one time I would never have considered. But its funny how life works, one topic leads to another and another and then one finds oneself wandering the desert with a jammed packed Conference Program in hand.

Pretty early on in my organizational work in Strategic Planning I began to search for 'Ingredient X' … the thing that made some people triumph in their change plans where others failed, sometimes dismally. While external factors certainly played a role (tangible resources, a clear leader, adequate time, etc) I began to attribute real success in strategic planning to internal, non-visible factors within the leader and team that seemed to be the key. For lack of better words, the 'energy', 'alignment' and 'cohesiveness' of the people and between the people. They were literally 'on the same page' and got 'in the zone' with each other. And believed deeply in the Vision they had co-created together, so much so that they stuck with it until they manifested it.
The Early Ground Work:
A couple years into my organizational work in the 1990s I began interested in Law of Attraction via the material of Abraham-Hicks (I've written about this in previous issues and weave their principles into SHIFT-IT Online). At its roots, Law of Attraction is about acclimatizing oneself to the energy of what one desires. In essence, becoming a 'vibrational match' to that which one seeks. This led me to develop a deep interest in frequency and vibration and how to move myself and others up the 'Vibrational Scale'.
After years of designing and leading various in-person and online curriculum I invited the respected trance medium Sheila Gillette and THEO as guests into my 2010 Biz and Life Accelerator and eventually co-created two levels of joint programs with The THEO Group (Thrive and The THEO Accelerator, although please note I am no longer involved with either).


Working alongside THEO (described as archangelic intelligence) was a fascinating experience and one that shifted my own energy in interesting ways.
Before I brought THEO into my Accelerator program, I had worked with them via private sessions. This is why I introduced my students to them, they were a resource that I had successfully used that I wanted to share.
After my initial contacts with THEO my art took an interesting turn (I moved into large-size acrylic paintings with iconic spiral figures as the main focus) and I also trace a series of energetic openings to this transformational period in my career and life.
My Energetic Openings:
In addition to my art expanding in interesting ways and to the co-programs with THEO emerging, I had several other interesting events precede and follow this time period (that are connected to me eventually attending Contact in the Desert).
First off, while flaked out on my couch in May 2009, I had what I refer to as my 'visitation'. It happened while I was watching a Conscious Media Network interview by Regina Meredith (now of Gaiam TV) with an intuitive named Christine Page. Christine's topic was "2012 and the Galactic Center". Now, I know this is going to sound a little nuts for some … but I'm ready to share this publicly …
Visit by Prism Birds:
While lying on my couch watching this program something in the air caught my eye. At first, I thought it was lint floating in a sunbeam or a little bug. In fact, I swatted it with my hand. But instead of going away, it multiplied and came right at me in front of my face. Tiny, dark and light dots. Light on my left side and dark on my right. Starting with just a few on either side. Eventually growing in volume to around ten.
Whatever these things were they were tiny. I had to move my face back a little to actually see them. When I did, they came more into focus and grew a bit bigger. The dark ones turned light with a halogen-like brightness. And while some of them stayed consistent, others blinked on and off. Disappearing then reappearing. Then, the bright little dots morphed into what I thought at the time were 'little light birds'. The word 'phoenix' came to mind. With a tail like how I draw my airplanes and wings at the side. And they turned from white light into prisms … rainbow colors that were softly translucent with a glow around the border of them (like the mirage glimmer of hot pavement in the sun).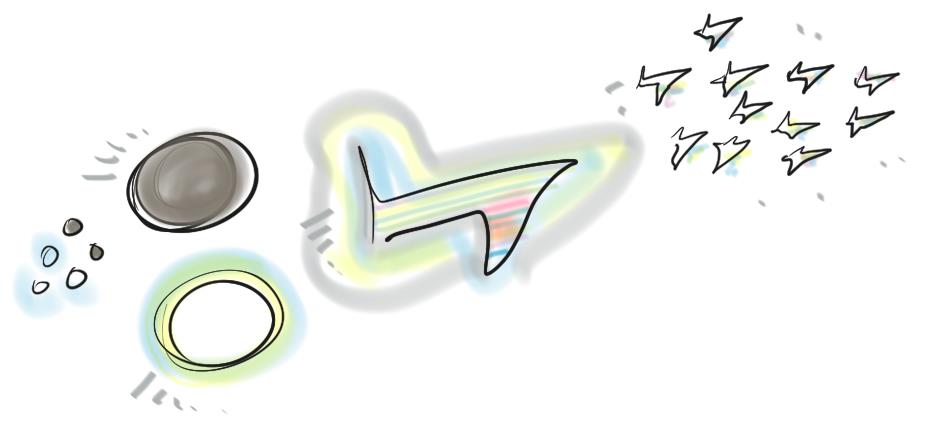 These little birds (ships?)  hovered around me for what I remember being several minutes (10-15 minutes or so). I was reluctant to move cause it was so cool but I gently did to get different viewing perspectives to see if anything changed. Did I have something in my eye? Was it a glint from the window? Or was light bouncing off of something? But no matter how I moved the Unidentified Aerial Phenomena (UAP) remained. Until one by one, they eventually  'powered down' … changing back into a white dot. Then into a black dot. Then finally blinking out all together until none were left visible.
Other Unusual Phenomena:
Later I asked THEO about this experience. They said I had been visited by angelic beings who came in a form that I would not be afraid of. Ummmmm, ok?!  I also had a regression session by May Chu trained by Dolores Cannon (Dolores is a well known hypnotherapist now in her 90s who developed protocols for working with folks who have had various unexplained experiences).  The visitation by these little Prism Birds was one of my questions and the answer that came back (from May via my deep sub-conscious mind) was that I had received a 'tune up'.  And some messages were also relayed about my life purpose … a resistance fighter of sorts that comes through in shift times to assist the flow of positive energy. (well, I certainly can relate to that!).
Another experience in this general time period were two deeply moving experiences with ayahuasca (both oceanic and blissful) including kundalini flow (from the coccyx up to the heart area, then onto my throat … 1st to 5th for those of you into chakras). And with this kundalini flow came spontaneous body movements, like yoga postures or mudras to some extent. Mostly focused in my hands and arms.  These spontaneous movements have continued beyond the ayahuasca journeys for a few years now, usually happening at the end of stressful days (pent up energy being dispelled is my guess and the working out of energy blocks).  And more recently on the massage table with my BodyTalk practitioner.  Fascinating experience.  I have no idea if it will continue to happen and where it will lead … but trust that something energetic is going on in my process.  And its good.
Tying It All Back to Contact in the Desert:
Soooooo, as you can see, many things over the last couple of years led up to my decision to attend Contact in the Desert. I wanted (and received) information and confirmation on what I had experienced with the 'Prism Birds' and the other unusual energy events I have been experiencing.  Turns out  my experiences had elements with other stories that were shared – not so strange after all. And I learned even more about the big picture and energy shift that we are all going through and how this plays out (the story still being created and formed by all of us).  I already knew that we are going through an important evolutionary time, but I know it on an even deeper level. Very important for my work as The SHIFT-IT Coach and for myself as an evolving human being.
And I got to see in person many of the authors, speakers and TV hosts I've been following: Erich Von Daniken, Robert Perala, Laura Eisenhower, Richard Dolan, James Gilliland, Nick Pope, David Wilcox, Linda Moulton Howe, Yvonne Smith, Stephen Basset and Steven Greer. Its one thing to read or watch videos however its another to see someone in-person … to get a visceral read on them. Especially on topics of such a controversial nature. I was impressed for the most part (and given my career of meetings and conferences, I'm kinda a tough critic). Most were excellent speakers with well organized presentations with as many facts as were possible given the subjective nature of the topics.  And their talks fit well with one another, like a giant puzzle assembling itself.  I was particularly impressed with Laura Eisenhower (a new one for me) and David Wilcox (first time I've been able to see in person).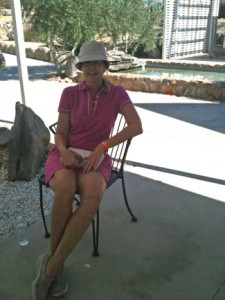 All in all an enjoyable, educational and fascinating experience. Rumor is that the conference is outgrowing its Joshua Tree location so Vegas is being bandied about as next year's location. Not a huge fan of Vegas so I'm very glad I made it to this one in the true desert. Thank you to the organizers, speakers and other participants who made Contact in the Desert such a wonderful adventure!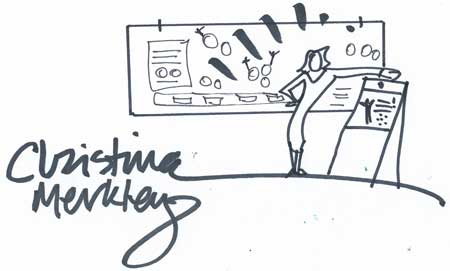 © 2014 Christina L. Merkley
WANT TO USE THIS ARTICLE? You can, as long as you keep it fully intact, including this blurb:
Authors Bio: Christina Merkley, "The SHIFT-IT Coach" is a Visioning and Strategic Planning Expert specializing in Visual Thinking and Energy Alignment techniques. Based in charming Victoria, British Columbia, Canada, she works deeply with individuals, partners and conscious businesses to define and manifest what they truly want. And, trains other Process Professionals in her innovative ways of working. For more information visit: www.shift-it-coach.com
---