Things are whipping along this spring season!
We launched the 2015 Cohort of Visual Coach Certification these last few weeks. Another wonderful cohort to guide through the ins and outs of adding Visual Coaching, and my SHIFT-IT System®, to their process toolkits.

This year's cohort attracts participants from Canada, United States, South Africa, Germany and China — an international crew! Their journey begins with training webinars then a batch of client work where they apply their visual skills in their own coaching practices. Then they'll swing back for testing and a final exam process near the end of the year.
It's an intensive, growth provoking and FUN journey with transformation not only for the coaches but for their clients too. Technology, particularly the use of templates, digital tablets and web conferencing has made a BIG impact on my own visual coaching – so it's fun to share the changes my practice has been going through to help lessen the learning curve for these visual-coaches-in-training.
As Visual Coaching is so on my brain, I've written this issue's article on 'The Riches of Satisfaction Interrupted' … as dissatisfaction is the state that many clients enter into coaching with. Their satisfaction has been interrupted in some way – either subtly or dramatically … and they have chosen coaching, particularly visual coaching, as a way to shift that dissatisfaction.
May you mine the riches of your own dissatisfaction … and SHIFT your world (and in the process our world-at-large) to a better feeling place!
Yours in SHIFTing IT,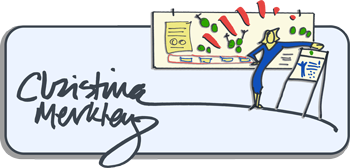 The SHIFT-IT Coach and Graphic Facilitation Mentor