I KEEP COMING BACK BECAUSE THE INVESTMENT IN SKILLS ALWAYS PAYS OFF. COURSES ARE HIGH CALIBRE. PACKED WITH KNOWLEDGE & INSPIRING PEOPLE.
"I first saw a Graphic Recorder at a conference. I was smitten. I found Christina's article – "So You Wanna Be A Graphic Recorder?" I did … however I remember thinking how amazing that career would be but I couldn't have it – it was for others. Years later I desperately needed a career change and that article floated off a shelf during a move. I decided then and there it was time to listen to my whisper of intuition.
It's been an amazing 2 years since I took Fundamentals of Working Visually. Truly better than I could have imagined. I opened my own company, Pondering Turtles, right after. Christina's teaching, support and network have opened doors I did not even know existed and I have created a life that truly makes me happy.
She pushes me to reach just a little further than I think I can and there are more layers than I initially realize. For that reason, I've taken pretty much everything in her curriculum: beginner and advanced in-person trainings, twice. Magic Marker Online Mastermind, amazing cohort who inspire and challenge. Biz Essentials for Process Professionals and SHIFT-IT Visual Coaching System which both taught me so much about myself.
And finally Visual Coach Certification, one of the best things I have ever done in my life — I'm creating a visual template line for Caregivers.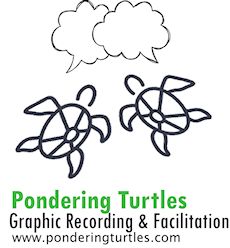 I keep coming back to SHIFT-IT School because the investment in skills always pays off. The courses are high calibre and packed with knowledge and inspiring people. The other reason is Christina herself. I've spent enough time in her presence to say she 100% genuinely cares about her students and works hard to hold space and make sure everyone gets what they need.
Does it take work? Of course, lots! You get the skills, knowledge and inspiration to get started. You become part of an amazing community that is really life changing if you want it to be. I am so glad I listened to that whisper!"
Tara Shanks, Visual Practitioner
Victoria, British Columbia, Canada