For Facilitators, Trainers, Educators, Coaches, Therapists, Graphic Recorders and Other Process Helpers and Creatives — new one-time-only course starts Tuesday!

For the last year I've been collaborating with Rhoda Draws, a Mexican based Urban Sketcher, and Caricature Artist.
Rhoda's specialty is "Fast & Loose Sketching" – an excellent method for those of us who use visual techniques in our process work with groups and individuals (aka Graphic Recording, Graphic Facilitation, and Graphic Coaching).

Rhoda and I have developed a full Fast & Loose Curriculum especially for the niche GR/GF field … see Home Study Kit and the upcoming Easter Sketching Retreat in beautiful San Miguel de Allende, Mexico.
And now, we're hosting a deeper double-click specifically on "Heads and Hands" via 7 live webinars that are also fully recorded as we go.
Why?! – Because drawing decent Faces and Hands are so important for expressing the energy, tone, and emotion of the people we work with and the content they are wrestling with. People love to see themselves, whether you are working analog or digital.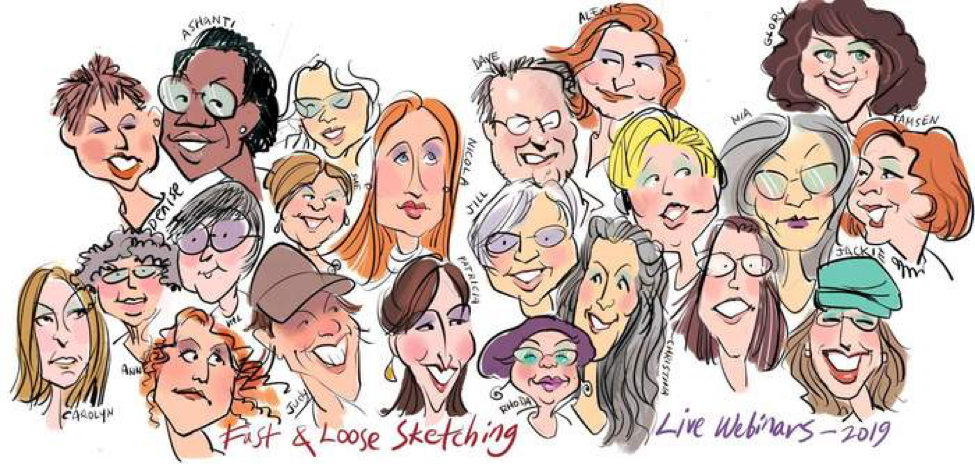 As human beings, we all really relate to seeing other human beings being depicted in the hand-drawn style, especially in the heat of the moment.  Great mirroring devices for emergent work and crowd pleasers!
We start on Tuesday — so register now.  Give yourself the gift of a safe, supportive container to add to your professional toolkit … and for your own artistic pleasure too!
This is a ONE TIME OFFERING, so don't miss out on this unique opportunity to get Rhoda's direct expertise on this important skill and my assistance with integrating it into our GR/GF mediums.
ONE TIME ONLY!
NEW ONLINE COURSE

FAST & LOOSE SKETCHING®
HEADS AND HANDS

ONLINE: 7 Live Webinars
Feb. 18 – March 31
Tuesdays, 4:30-6pm pacific

*** Canadian currency, so Americans, Europeans and other locales save up to 30% on currency exchange.
Yours in visual expansion,


P.S. SHIFT-IT School – for full 2020 curriculum, click here.
---