Estelle has used my Visual Skills Courses including Visual Coach Certification in her powerful work regarding financial dependence and abuse.
With over 38 years of professional experience as a CPA, she's worked with individuals and companies ranging in size from small privately-owned businesses to Fortune 500 companies across various industries.
As a Financial, Business and ICF Certified Coach, she helps her clients break free from financial dependency by empowering them to move past their limiting beliefs and to implement powerful money strategies (see her TED Talk below).
Estelle and her clients love using my SHIFT-IT Visual Coaching System® with its suite of 40+ Visual Maps.
These Visual Tools enable her clients to work both linearly and creatively – to build empowered financial Visions. To see and shift deeply unconscious conditioning and patterns from childhood and adolescence (aka Orphan Rescue). To "get it at a different level" and "take your insides and put it onto the outside – so powerful".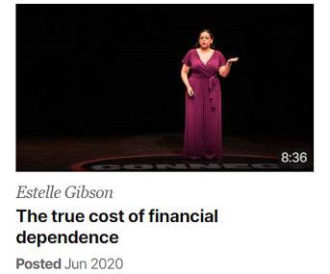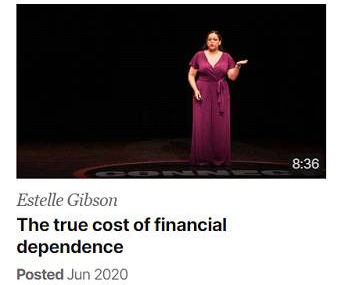 Watch Estelle's TED Talk "The True Cost of Financial Dependence" here.
Giving up control of your finances – voluntarily or otherwise – can leave you powerless and, in some cases, confined to a cycle of abuse.
In this personal talk, Estelle shares her own story of recovering from financial dependence and provides actionable advice to empower others who desire the freedom that comes with being responsible for their own money.
Estelle Gibson, CPA, ACC
TED Speaker. Author. Coach
www.estellegibson.com
Thank you, Estelle, for your sincere and deep application of the tools. You are doing such important work in the world with individuals and couples. It is an honor to have you join our community of Certified Visual Coaches. All the best with your continued unfoldment.