Are You At A Crossroads In Work Or Life (Or Both!)?
Need to Get Clear on What You Want And How To Get It?
Ready to Bust Through Limiting Thoughts and Behaviors?
If so, you are exactly the kind of person that I coach.
In a nutshell, I help people create great lives. I help you get very clear about what you really, really want and then help you get it.
Everything in our world starts as a thought and then works its way into physical reality from there. So I help you SEE and SORT THROUGH your thoughts to selectively create your next stage of things (so you create your life proactively instead of just reactively or by default).
---
A Word About My Visual Methodology:
You may have heard about me because of the unique way that I work (I work visually … meaning I use images, words, pictures, visual concepts, and my own line of visual tools to draw your best thinking out of you). The method is called Graphic Facilitation or Graphic Coaching, depending on whether it is used with a group or with an individual.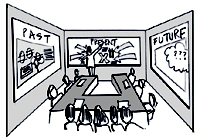 If you are interested in my work with groups or organizations, I have a whole other site dedicated to those services: see
www.makemark.com
.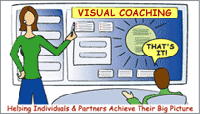 If you are interested in my work with individuals, partners or couples, you've come to the right place, as shift-it-coach.com is the site for my Visual Coaching work.
I work visually because quite frankly it's the best method I've found for facilitating groups and individuals — so you can see what you really mean, reach conclusions and make wise decisions.
For more info on the visualc way of working see: articles.
---
Who I Work With:
I work with people who are ready to take their work or life up to the next level.
People who are drawn to me and my SHIFT-IT work are usually entrepreneurial or creative in some way. They build things, make things, form things, assist things – in the bigger picture they are part of the solution (rather than part of the problem). They are unique people with unique ideas (even if they don't necessarily think they are).
Some are entrepreneurs (they've already got their own thing going and just want to get clear about the next evolution of things so they can go back and share their thoughts with partners, employees and family).
Others are self-employed professionals (living a life where its powerful to have a coaching partner to keep them on track and accountable).
Still others are leaders of some sort or other (who need a confidential place to be themselves, troubleshoot, vent, and explore ideas and find solutions to the myriad of things they deal with day in and day out).
And lots are people who have an idea-hope-dream that they want to manifest (a new way of living, a different way of earning their income, and product or invention they want to get out into the world) — the cultural-creatives of our world.
Most of these folks, whether they define themselves that way or not, are spiritual (meaning they are tapped into the bigger picture and meaning of life and want to feel good). Many times they have sought me out because of my application of 'Law of Attraction' principles … or are curious about what this work is and how it applies to them and their life.
"I've employed Christina Merkley as my coach on-and-off since 1998. Six months after she led me through a vision exercise where I imagined myself on the cover of a magazine, the real thing happened when I made it into Java World. Since then I've been covered in MIT Tech Review, The NY Times, Popular Science, and Motor Magazine and was nominated for a 2003 Corporate Award sponsored by the World Tech Network. Yeah, you could call this work effective! Now I'm working with her again to take it up to the next level."
Tim Clark, VP of Engineering / Director of R & D, VTTI, San Francisco, CA
"I commissioned Christina to help me create a "transformation plan" for my life. Within six months I manifested a new house, ended an unsatisfying relationship, negotiated a more flexible schedule to have more time with my son, aannnddd started meaningful volunteer work that feels like it may open into a whole new career path. Holy #*!", this stuff is powerful. The only thing left is the wedding on the beach!"
Terri Eardley, Associate Investment Advisor, Victoria, BC
"Awesome! That is the one word that describes the services that Christina has provided for me. Since I started working with her as my coach, I've bought my partner out to gain full ownership, have been stabilizing my growing business with improved systems (and growing profits) and have taken more time out for the fun things in life (golf, fishing, Vegas!). When I first heard about her and this visual stuff, I was skeptical and wondered if it was 'blowing on tea leaves'. Not now, I'm a true believer. The visuals bring clarity and focus and give me a high level map of my corporate direction. I highly recommend her and her Shift It! Process to anybody who is serious about success and defining (and getting!) what they really, really want."
Robert Kemp, CEO, Raging Creations Ltd / ZenMed.com, Victoria, BC
See Testimonials for more Client Testimonials
---
What We 'Work' On:
I say 'we' because my work with clients is a strong alliance — you and I work together as a team. We work on getting your light out into the world. We work on making you happy and satisfied. We work on improving your relationships and the levels of love in your life. We get practical and tactical.
Depending on what is happening with you, we might also focus on improving your health, fitness and body. Or on increasing your levels of abundance and prosperity. And on creating a unique life and livelihood – so you have work (whether through occupations, jobs, businesses, and other roles) that you really enjoy and thrive in.
And, often we get you to tie up loose ends, let go of things, get rid of clutter and junk (in all its many forms), and create space — so something new can be born from a clean foundation.
The Big Four topics that come up over and over again (not necessarily in the same person but spread out throughout my practice) are: Money/Prosperity, Health, Enjoyable Work/Business Development, and Relationships.
---
How We Work: The SHIFT-IT Visual Coaching Process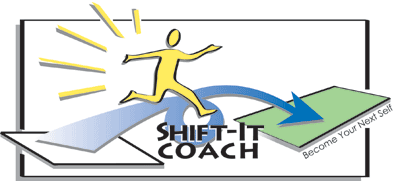 Working with me is generally a two-part process.
Part One:

SHIFT-IT Visual Coaching Work

The first part of our work is doing some visual coaching preparation. I have created a process called The SHIFT-IT Visual Coaching Process — it's a visual way of helping you think through your past, present and desired future, and making an action plan of how to bridge the gap between where you are and where you want to be — a plan for Becoming Your Next Self. Usually the first part of our work is doing a full or partial SHIFT-IT Process with you (unless you already have a vision, goals and a plan in some sort of organized format). Or you do it yourself through the use of the SHIFT-IT tools.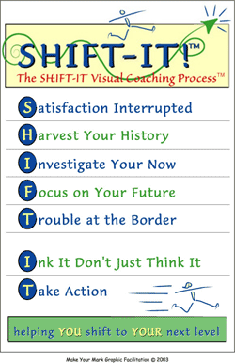 The SHIFT-IT Process
SHIFT-IT is a 7-stage visual coaching process, with 17 different 'graphic moves' in it. The process can be done in its entirety or customized for more specific use. For more detailed information see: The SHIFT-IT Visual Coaching Process
Part Two:

Coaching

The second part of our work is doing ongoing tele-coaching (by phone and email), where we help you implement your plan in the real world – cause after all, the map is not the territory!

Its important to make sure your SHIFT-IT work has legs – that it has a life out in the real world, not just on paper. To do that, we talk by phone, either weekly or every two weeks. Clients normally work for three to six months in this way. Then cycle back in for occasional check-ups. When one set of goals is accomplished, it is not unusual to cycle back through the process again and determine your next round of 'doings' and 'beings' (when the time feels right to launch another round of visioning and planning work).
For more in-depth information on the full spectrum of services available, please see: Packages & Fees